All These People Watching by Four Small Actors. Victoria Fringe 2017. An interview.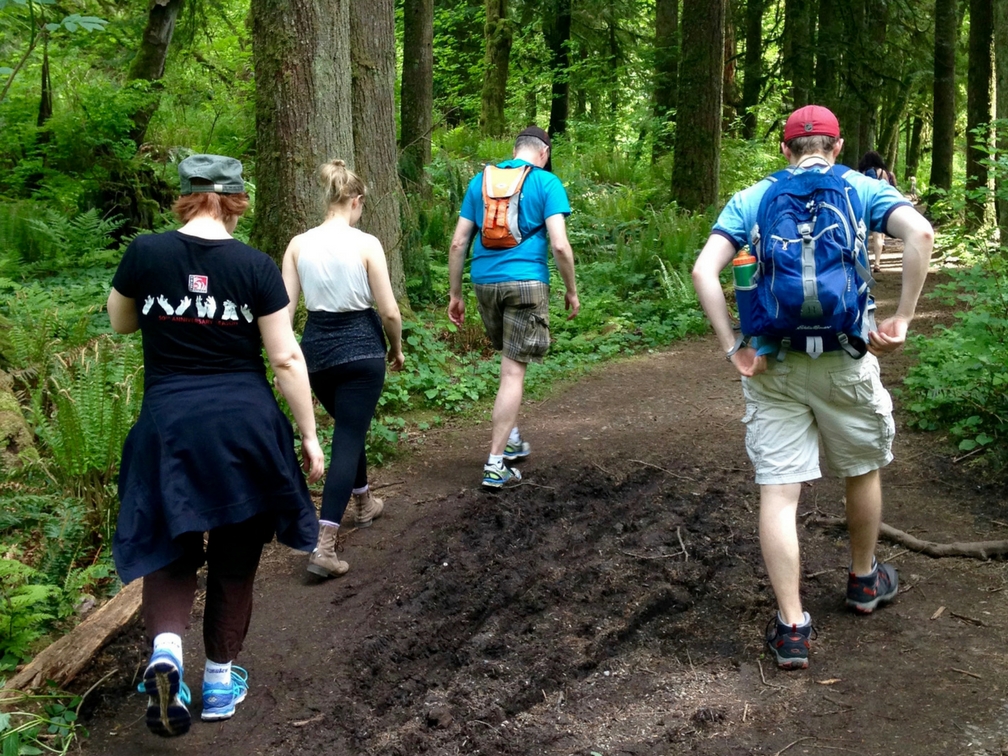 A family of actors! "This quirky family had trouble finding conflict from within, but the universe is happy to provide problems. Sometimes funny, sometimes poignant, always entertaining, All These People Watching is a [mostly] autobiographical, spontaneous journey through the crazy notion of "Let's put on a show!""
How long have you been producing work on the Fringe circuit? 
I (Krista Wallace) have performed in the Fringe a few times, both in Vancouver and Victoria, but not for many years. Boy (David Lees) performed in the Edinburgh Fringe and in Vancouver last year. Dad (Matt Lees) was a Fringe venue technician in Vancouver for many years, again, a long time ago.
As an artist/company?
This is our first time working together as a theatre company, but we've been a family for quite some time. 😉
Is this your first visit to Victoria?
No! Matt and I both graduated from UVic's Theatre program ('90 and '89, respectively). Girl (Maggie Lees) is entering her third year of the same program, and is living in Victoria presently, working as Front of House and Box Office manager for Blue Bridge Theatre. With Maggie being in the Theatre program, Matt and I have seasons tickets to the Phoenix and have fallen in love with Victoria again.
Have you been (or will you be) taking the show to other Fringes?
We have no plans to do so.
Is your show a new work, or has it been performed elsewhere?
We talked for years about how fun it would be to do a show together, all four of us. Matt took the bull by the horns and applied for the Victoria Fringe. Consequently, we had to create a show! It has been an enormously challenging but fun process.
Significant awards or accolades? (not just on the Fringe circuit)
Nope. 🙂 
Can you speak to the creation process of this work?
We began by suggesting we each write a monologue: if you had the full attention of an audience, what would you like to say? As we each completed our monologues we posted them to a shared Google Doc (no peeking at anyone else's monologue until you've posted your own! We didn't want to influence each other). Once we had all posted, we studied them to see if there were common themes. There were: namely family, community, how we support each other. From there we discussed how to focus those ideas, and how to present them to an audience so that the audience would come away with things to think about. "What do you want the audience to take away?" was the question we kept asking ourselves.
Much of the play is autobiographical, though we tied a few things together with some fictional scenes. We added a bunch of stuff and then weeded out the bits that didn't fit well.
The wonderful folk who have helped us hone our script (two fellow actors and a playwright) laughed and cried when they read it, so our hope is that the audience feels those emotions as well.
Who will your show appeal to?
The show is not suitable for young audiences, due to some coarse language, but people who have kids of any age would enjoy it. Lovers of the TV shows Gilmore Girls and Community will enjoy the banter. Someone who has lost a loved one will find themes to relate to.
What would you say to entice a potential audience member to come?
Think of am episode of Downton Abbey, performed in the style of Gilmore Girls, featuring a family of four actors.
What do you hope to inspire in your audience?
You can choose who you wish to call your "family." Your family is the community who surrounds you and lifts you up, supports you, in good times and bad. Who inspires you and loves you.
Is there anything I've missed asking you, or that you would like to comment on?
Our goal was to create a play and be on stage together, the four of us, so we feel we've already accomplished that goal! We are super excited about our performances and hope the audience enjoys our creation.
All These People Watching by 4 Small Actors With Big Parts
VENUE: V5 – Langham Court Theatre (805 Langham Court)
Tickets: $11 at Ticket Rocket online or at the door
Duration: 55 minutes
Genre: Drama, Comedy
Rating: PG 14+ coarse language

Thu 24 Aug – 9pm
Fri Aug 25 – 7:30pm
Sat Aug 26 – 2:30pm
Sun Aug 27 – 4:15pm
Mon Aug 28 – 6:30pm
Sun Sep 3 – 4:15pm
facebook: @4smallactors
instagram: @4smallactorswithbigparts
4 Small Actors With Big Parts (Port Coquitlam/Victoria) at Victoria Fringe to present:

(this game is a lot harder with) All These People Watching.

A family of 4 actors: 1 current UVic Phoenix student, her parents (2 Phoenix alumni), and her brother (Capilano U grad), together on 1 stage for the first time to explore themes of family, friendship, life and death. How does a tight-knit family stay that way amidst life's challenges? Pie and beer may be mentioned.

This quirky family had trouble finding conflict from within, but the universe is happy to provide problems. Sometimes funny, sometimes poignant, always entertaining, All These People Watching is a [mostly] autobiographical, spontaneous journey through the crazy notion of "Let's put on a show!"

Featuring:

Mum: Krista Wallace – actor, jazz musician, published author, UVic BFA, Theatre '89.
Dad: Matt Lees – actor, General Manager of Riggit Services Inc., UVic BFA, Theatre '90.
Boy: David Lees – actor (Waiting for Garbo, Edinburgh/Vancouver Fringe '16), CapU, ASAS '16.
Girl: Margaret Lees – actor/stage manager, FOH/Box Office manager, UVic BFA, Theatre '19.

Island Stage Manager: Molly McDowell-Powlowski, UVic BFA, Dir/Applied Theatre '19
Mainland Stage Manager: Heather Corbould, Langara BRM '18
Director/Dramaturge: Taylor Stutchbury, Leaping Thespians, Vancouver
Dramaturge: Nicole "Coco" Roberge, UVic BFA, Theatre in Education '98