Dave Flello, teacher and director of the Reynolds High School Band, contacted me recently about a very interesting development at the school.  Staff and administration have created the Reynolds Fine Arts Collegium to help facilitate and support the efforts of Reynolds Fine Arts Students to:
experiment in fine arts
network with artists locally, regionally and nationally
develop their individual crafts
collaborate with other artists to create innovative presentations of their art
present their artistic endeavors to receptive audiences
The Fine Arts teachers have brought presentations into the school and classrooms, and created collaborative opportunities for the students to work with each other,  as well as local, regional, and national touring artists.  They are also creating new presentations of art with professionals and semi-professionals with the goal of modeling and nurturing the idea of a life-long artistic journey.
Help support young talent at two upcoming presentations in October 16th and November 1st.
October 16th, 2012   in the Reynolds Secondary School Theatre    7 p.m.
Karl Schwonik Jazz Ensemble
Tickets at the door               $5.00 Students $10.00 Adults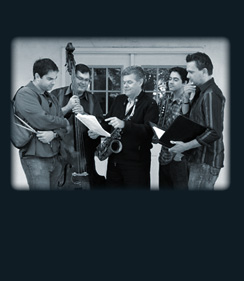 The Karl Schwonik Jazz Ensemble is on a Western Canadian 10-day tour in support of their latest CD 1+4. The recording was nominated for a Western Canadian Music Award 'Jazz Recording of the Year' and spent nearly two months at #1 on Canadian Jazz radio charts! This tour is the group's 4th and one of Schwonik's over 20 as a leader throughout North America over the past number of years.

They will be joined by the "Se Bastion Jazz Ensemble" from Reynolds Secondary School

The Karl Schwonik Jazz Ensemble is an engaging, exciting combination of some of North America's finest musicians from the West and from the East. The ensemble is a melting pot of cultures, languages and musical experiences, which gives performances featuring culturally diverse compositions from all members of the band. Award-winning Albertan drummer Karl Schwonik and Chicago trumpet virtuoso James Davis provide the catalyst for this high-energy, sensational ensemble. In just a few short years, Schwonik has established himself as a new creative force on the Canadian music landscape. His youthful energy is a perfect compliment to Davis' intense lyrical sound and rhythm. Joining them on stage are: pianist and CBC's Galaxie Rising Star Chris Andrew, Western Canada's bass stalwart Kodi Hutchinson and young sax phenom Bryan Qu.
November 1st, 2012  in the Farquar Auditorium at the University of Victoria    7pm
Meridiem Insula Ventis Symphonic Wind Ensemble
Tickets at the UVic Box Office                 All seats    $5.00
Under the direction of Dr. George Corwin and sponsored by the Reynolds Fine Arts Collegium, the Meridiem Insula Ventis Symphonic Winds Ensemble has been created this fall as a model ensemble with 3 mandates:

– to Model wind and percussion ensemble music for over 1500 young people involved in Band programs all over the Greater Victoria region.
– to Create a collaborative experience for the music educators, professional musicians and highly motivated amateur musicians in the Greater Victoria region.
– to Inspire music lovers with high quality performances of outstanding repertoire written for the symphonic wind ensemble.

The membership of this ensemble includes professional musicians who also perform with the Victoria Symphony, the Victoria Operatic Society and the Naden Band of Maritime Forces Pacific.  It includes music educators from the Greater Victoria School District, Sooke School District and the Saanich School District as well as students from the University of Victoria.