Canadian College of Performing Arts Announces their  17th season 2014-2015.
My regular readers know that I am a big supporter of the Canadian College of Performing Arts–my son graduated from the college in December 2007 and I've been volunteering regularly since 2005.  I love the opportunity to meet young passionate individuals who are pursuing their dreams, and then follow their careers when they leave school.
To many Victorians, the college remains an unknown. Here's your chance to learn more, and experience the excellent productions of one of Canada's finest performing arts training facilities.
CCPA Presents a Year of Firsts and World Premieres!
The Canadian College of Performing Arts (CCPA) is pushing the performance envelope for its 17th season; beginning with its first production. Company C, the Year III program of the college will present a two week run with the Tony Award-Winning musical Spring Awakening in association with The Belfry Theatre and with Direction by Michael Shamata.
"This is not only an opportunity to bring in one Canada's most renowned  artistic leaders but a chance to provide Victoria audiences with an extended run," says Darold Roles, the college's Artistic Director. "This is only one of the exiting high points of a very different season for us," adds Roles.
Season highlights include:
Spend the Day with CCPA Saturday, September 20
Celebrate the performing arts with   3-4:30 AGM
4:30-6pm Open House Celebration
7:30- Company C Cabaret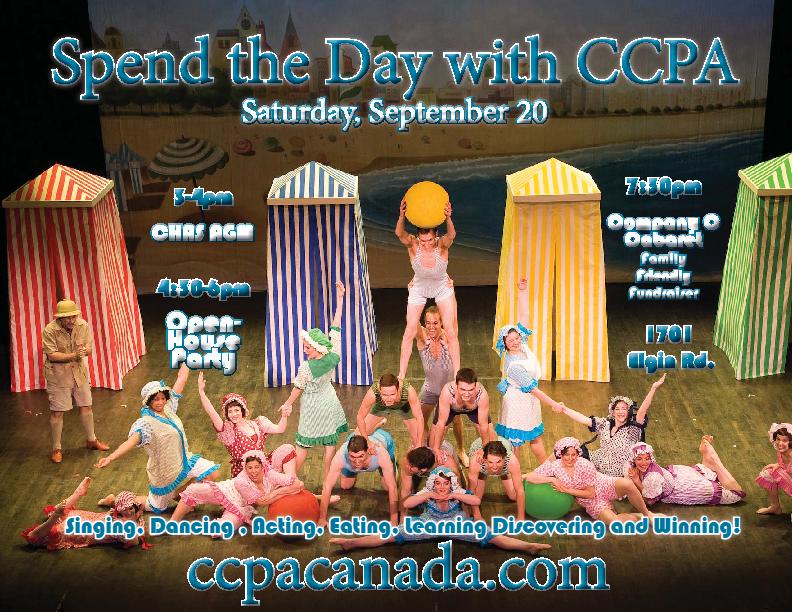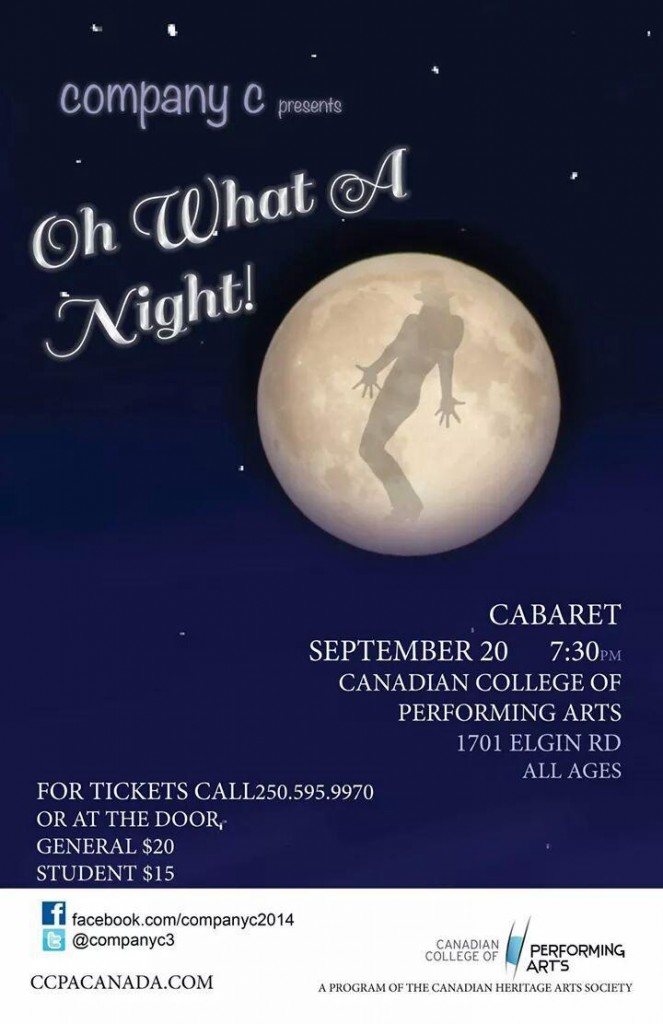 Company C Presents Spring Awakening with The Belfry Theatre October 21 – November 2
Music: Duncan Sheik  Book and lyrics: Steven Sater Director: Michael Shamata;
Music Director: Heather Burns Choreographer: Laura Krewski
Company C Presents Jane Austen's Sense and Sensibility December 3–7
Adapted and Directed by Glynis Leyshon
The TD Festival of New Works December 10-13 at the CCPA Performance Hall features original works and direction by the college's Year II students. A provocative and engaging showcase.
Company C Presents Six Characters in Search of an Author  January 29 – February 1
By: Luigi Pirandello, Director: James Faigan Tait
Casino Royale 006 Never Say Never Again Thursday February 005
Voted Victoria's Favourite Artsy Fundraiser, Join us for an extraordinary evening at the Oak Bay Beach Hotel.
Theatrical Treasures presents the Cities & Girls World Premiere February 19-21
Book by Myra Davies, Music by Gudrun Gut Theatre Consultant and Director Christine Willes.
Cities & Girls is a riotous post dramatic music theatre event adapted for the stage from the album of the same name by renowned Canadian performer Myra Davies and German Electronica composer Gudrun Gut.
Performances with the Victoria Symphony: Broadway Lights March 20-22
Giuseppe Pietraoria, conductor
Royal Theatre. Tickets and info at victoriasymphony.ca
"On Broadway!" Presents Smokey Joe's Café April 16–25 (the first two week run of this ever-popular year-end showcase in a new location—the CCPA Performance Hall).
Director Darold Roles; Featuring the music of Leiber and Stoller
CCPA presents the Grammy Award winning Broadway review, bringing New York to Victoria and showcases the singers, dancers and actors who will become some of the country's top emerging stars.