Chelsea Tucker first caught my eye on Twitter talking about her rehearsals. I then found out she was  rehearsing not one, but two shows – the first " Broadway: Decades in Revue" for the Victoria Operatic Society (VOS) running til May 15th at the McPherson Playhouse, and the other "Little Women – the musical" by BlackBox Productions set for The Ridge Playhouse (at Claremont Highschool)  June 9-12th.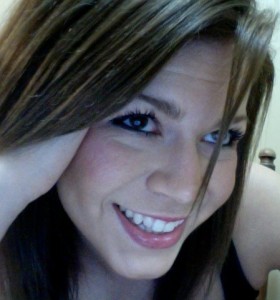 In addition Chelsea holds down a full time job. Impressive!
Intrigued, I asked Chelsea if she would agree to an interview a bit closer to the dates of her shows and she agreed.
What I did not know was that she would be nominated for an "M" award and win in her category – Favourite Performer. Her fellow nominees included Thea Gill in the role of Blanche in "A Street Car Named Desire" and Benjamin Butterfield in "Rodelinda".  In addition, after years of trepidation, she auditioned for, and was accepted to, the Canadian College of Performing Arts.
Chelsea has always been interested in musical theatre. Growing up in the Fraser Valley, she was introduced to it at an early age by her father who directed church plays and musicals. Later she performed for the Fraser Valley Gilbert and Sullivan Society (they produce more than just G&S shows).  She performed in Grease and Pajama Game, among others – at a rate of one to two shows a yea.
Upon graduation Chelsea enrolled at UVic for a year but the Victoria musical theatre community remained unknown until an open call for Grease drew her attention.  "I'd already performed in Grease three times before, and really wanted to get my toe in the door here".
Here's what Monday Magazine had to say in their review:
A highlight was Chelsea Tucker, whose take on the confident Pink Ladies leader, Rizzo, had just the right amount of sass—and when she belted it out for her big number, Act Two's "There Are Worse Things I Could Do," she brought the house down.
Chelsea's role of Dorothy in the Wizard of Oz was equally well received:
Best thing about this production? There's not a weak voice among the leads; Chelsea Tucker's Dorothy has a great set of pipes and can really belt when needed.
I asked Chelsea if she's ever thought about why she does what she does:
I've never asked myself that. There is nothing like performing, the adrenaline rush; it's so much work, so much effort but to have the people who do come say that they really appreciate it – that's what motivates me. It's not about praise, not about people saying  "you're so good" it's about doing something for people that lifts their spirits, that makes them feel something. To be able to make someone in an audience cry because they thought something was so sad, or beautiful or tragic.  To make them laugh because it's the funniest thing they've ever heard.

It's about taking people to a place where they are not themselves, a place where they have never been, and make them feel something they've never felt before.
Chelsea is excited to be playing the role of Jo in Little Women.
When I read the book as a teenager, there was a time that I made my family call me Jo. I'd write my name "Jo" in my text books.

There are so many words that speak from my heart in the role of Jo. She's got such passion, she wants to "shine as brightly as the sun". I feel very close to her.
Little Women  is a show that is suitable for young audiences – it's a modern musical (opening on Broadway in 2005) that has a lot of interaction between the sisters and their friend Laurie – swordfights, playing around. The music is easy to listen to.
For more information please see Black Box Productions website a bit closer to the dates of the show. Tickets will be in the $20 range. I'll update this post when I have more details.
This You Tube video is of Sutton Foster in the role of Jo, on Broadway, singing "Astonishing".