I have declared 2013 to be The Year of Taking More Risks, Having More Fun, and  Expanding Cultural Horizons, and will be exploring this theme on my blog. I can't think of a better way to do all three than to attend Finding The Poem in Your Heart's Garden with Wendy Morton at Royal Roads University, Saturday February 9th.
Wendy is my poetry mentor, the woman who re-ignited my passion for the form, both written and spoken. You can read more about our initial chance meeting here.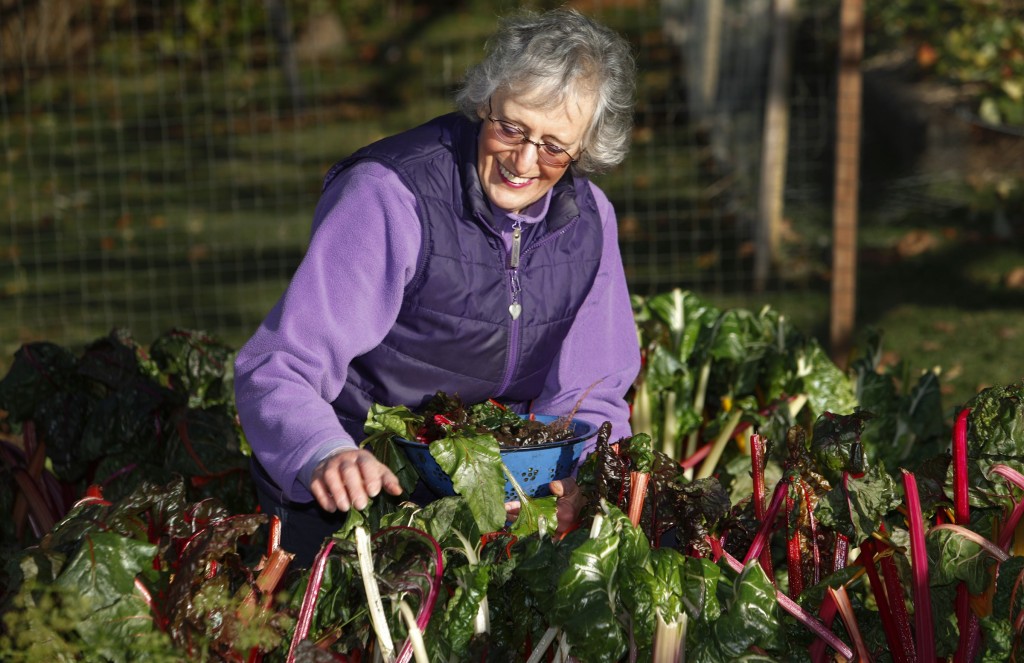 Wendy Morton in her garden Photo: Deddeda Stemler provided by Wendy
She is best known for founding Random Acts of Poetry (a day where poets stroll their cities and "poem" unsuspecting passersby), and being WestJet's "Poet of the Skies", and was instrumental in establishing and growing Planet Earth Poetry (a reading and performing series). In 2012 the Canadian League of Poets presented her with the inaugural Colleen Thibaudeau Outstanding Contribution Award.
Established in memory of the late poet and honourary member Colleen Thibaudeau (1925?2012), this award has been created by the League of Canadian Poets and the poet's family to honour and recognize a substantial volunteer project or series of projects that significantly nurture and support poets and poetry across Canada.
Wendy is currently working on The Elder Project with First Nations elders and students across BC, teaching the students to craft poems based on their interviews.  Together they have published a half-dozen booklets of poetry.
Wendy Morton believes that poetry is the shortest distance between hearts. She has five books of poetry, and a memoir, Six Impossible Things Before Breakfast, in which her adventures as a corporate sponsored poet are revealed. Her latest book of poetry, What Were Their Dreams, is a book of photo-poems of Canada's history. She is the founder of Canada's Random Acts of Poetry and is the recipient of the 2010 Spirit Bear Award and the Golden Beret Award. For her day job, she has been an insurance investigator for the last 28 years. She lives in Sooke, B.C. and is a raven watcher.  From Planet Earth Poetry website. 
Since meeting Wendy I've attended several of her workshops, and begun to tease the words from my soul.  You can too! Here's what a participant in last year's RRU workshop has to say (reprinted with permission).
If you're a poet already, Wendy will show you new poetic forms. If you don't know whether you're a poet, Wendy will find the poet in you. And if you're a 'stuck' poet, as I was, Wendy will unlock the door where your poems hide.

How does she do this? By offering simple exercises to write and share;  by loving people and the poetry in people;  by arriving at the workshop with books, photographs, nature magazines, recipes, photographs, poetry and her own irresistible enthusiasm to prompt the poet within.

Enjoy Wendy's life-changing workshop experience. Take your paper and pen and go! You'll come away with five new poems you didn't know you had in you. Guaranteed. How's that for a life-changing event?
Finding the Poem in Your Heart's Garden – TAWC2981-Y12
Date: Sat, Feb 9, 2013
Length: 3 hours
Times: 1pm – 4pm
Cost: $65 + applicable taxes
Phone: 250-391-2513.
Best to Register By: Sat,Jan 26, 2013
For me, poet Wendy Morton will ever be the cheerleader, an excellent example of how to live your life by "just saying yes".