The Flick at Blue Bridge Repertory Theatre. An interview with director Chelsea Haberlin.
When I started my return to theatre-going in 2006, one of the first shows I saw at the Victoria Fringe Festival was Death of a Clown by ITSAZOO Productions.  Thereafter I had the opportunity to view several of their site-specific works (Grimm Tales and The Road to Canterbury).  ITSAZOO last appeared in Victoria in 2010 as an Alumni Spotlight with Death of a Clown at UVic's Phoenix Theatre.
Now, ITSAZOO returns as part of Blue Bridge Theatre's Presenter's Series with Annie Baker's hit show The Flick, about a group of young 20-somethings working in a movie theatre.
I had the chance to ask the director, Chelsea Haberlin, a few questions about her process and evolution since graduating university.
Is your approach to work by another playwright different than for original work you self-produce? Describe your journey as a director in the years since graduation.
I have gained significant experience as a director since graduation.  When I first left Victoria I directed primarily ITSAZOO shows, up to five a year. These were mostly original site-specific productions that we either co-created or hired playwrights to write.  I developed strong working relationships with hard working, creative artists that ITSAZOO still works with today, several of them are working on The Flick. Together we created plays in parks and parkades and on the water and in houses and in dank basements and toured black box shows across BC.  We worked hard with extremely limited resources and grew together as artists.

In 2011 I decided I was ready for a change and I began pursuing my MFA in directing at UBC. During this time I became fascinated with In-Yer-Face Theatre and the theatre of the absurd. I studied these forms and expanded my skill set. These are forms I now love and work in whenever I can. My experience in site-specific theatre, theatre of the absurd and In-yer-face theatre informs every play I do. You will see elements of all of those styles in The Flick.

Coming out of UBC I was provided with a variety of opportunities that served to deepen my connections in the Vancouver theatre community and helped me to learn through observing/assisting. In 2013 I was the dramaturgy intern at the Arts Club, Directing Apprentice at Bard on the Beach (assisting Rachel Ditor on Elizabeth Rex) and started working as Resident Producer with Neworld Theatre. At last year's Jessie Richardson Awards (Vancouver's theatre awards) I was nominated for Outstanding Direction Small Theatre for my work on Mojo and won the Ray Michal Award for Outstanding Body of Work by and Emerging Director. This feels like the perfect time in my career to come back to where it all began.
Can you speak to the importance of returning to Victoria—you haven't been here since Death of a Clown at the Phoenix in 2010—particularly as UVic Phoenix alumni and students of Brian Richmond?
All three of ITSAZOO's Co-Artistic directors got our BFAs at UVic's Phoenix Theatre. It was there that we founded ITSAZOO in 2004. We had no idea what we were taking on when we began but we had a ton of passion and were tireless and had enough taste that the stuff we made kept an audience coming.  And in time we got better and we grew. In 2008 we moved the company to Vancouver but have always kept connections in Victoria and in so many ways we feel this place is home.  Since BlueBridge was formed it has consistently provided ITSAZOO's Co-Artistic Directors with opportunities as individuals. I was BlueBridge's first General Manager in 2009 which led to more opportunities for me as a producer. Sebastien Archibald has been in two BlueBridge shows (Of Mice and Men and Brighton Beach Memoirs). To be invited back as a company to perform on the stage of the Roxy is a true honour. It is a full circle ten years in the making.

Brian Richmond taught me directing at UVic. He was intimidating as a professor. Sort of because of his take-no-bullshit personality but mostly because of his massive talent. I always wanted to prove to him that I had what it took to be a real director like him. For me, when he asked ITSAZOO to produce The Flick he was finally telling me that I had built something worthwhile. To please a mentor is a great feeling.
Do you have any comments about producing a play about a movie theatre in an actual former movie theatre?
What you see on stage at the Roxy is a mirror image of where you're sitting. We matched everything right down to the colour in the projection booth and the popcorn buckets. It's a very cool experience to see where you are reflected back at you. The audience will feel a certain intimacy with the piece; they will be fully immersed.
Who would appreciate seeing The Flick?  Why?
This is such an honest human story full of humour and heart. I honestly believe that just about anyone would appreciate it.  You will connect with this show If you've ever experienced unrequited love or worked a minimum wage job. You'll appreciate it if you've ever seen a movie at the Roxy. With over 35 films referenced in the script, if you love movies you'll love this play.
Can you comment on Blue Bridge, their mandate, and their importance to young (and emerging) artists and companies such as yourselves?  You were part of the founding group of artists in 2009.
In 2007, after completing my BFA at UVic, I moved to Vancouver. In Victoria I had been doing well: ITSAZOO was producing regularly to sold out houses and I felt confident that the skills I had gained in school were going to serve me well. When I moved to Vancouver I immediately became a small fish in a big pond. It was back to square one.  People who had gone to school in Vancouver were fast tracked into great opportunities and I found it really difficult to break in. It took many years. When BlueBridge came into being it created a home for people who came out of UVic, and really any emerging artists, to gain experience on a professional stage. This is something that had not previously existed. It has literally created a bridge for so many people between student and professional artist. You spend a long time as an 'emerging' artist, far longer than I ever anticipated, and it's really vital that companies provide work to those just starting out.  Without a chance to work regularly there is no growth and an artist may never make the difficult transition into being 'established'.

Here's a personal story: ITSAZOO's Co-Artistic Director (and my fiancée!), Sebastien, moved to Vancouver at about the same time as me. He spent 5 years banging down doors in Vancouver. He worked regularly with ITSAZOO but was cast in very few other shows. He was forever the runner up.  After a long dry spell he was cast in a small role in Of Mice and Men.  Getting this role significantly boosted his confidence and provided him with necessary professional experience. Right after that he went on to be cast in a large role in a show at the Arts Club, then a show with Blackbird Theatre and then back to Blue Bridge to take on a lead role in Brighton Beach Memoirs. BlueBridge was the catalyst for this career growth. I feel very grateful for that.
Is there anything you would like to add?
I am incredibly grateful to the cast and creative team on this show. I have been floored by what they have been able to accomplish.  This is a group of emerging artists that's going somewhere, in my opinion. If you want to see the work of he big names of tomorrow see this play. I also want to publicly thank Kyle Sutherland, Simon Farrow, and JustineShore. Man oh man these are hard working people. These are the people who work 12 hours a day for weeks on end and don't complain a bit. These are the behind the scenes unsung heroes of theatre. Come see what they helped create!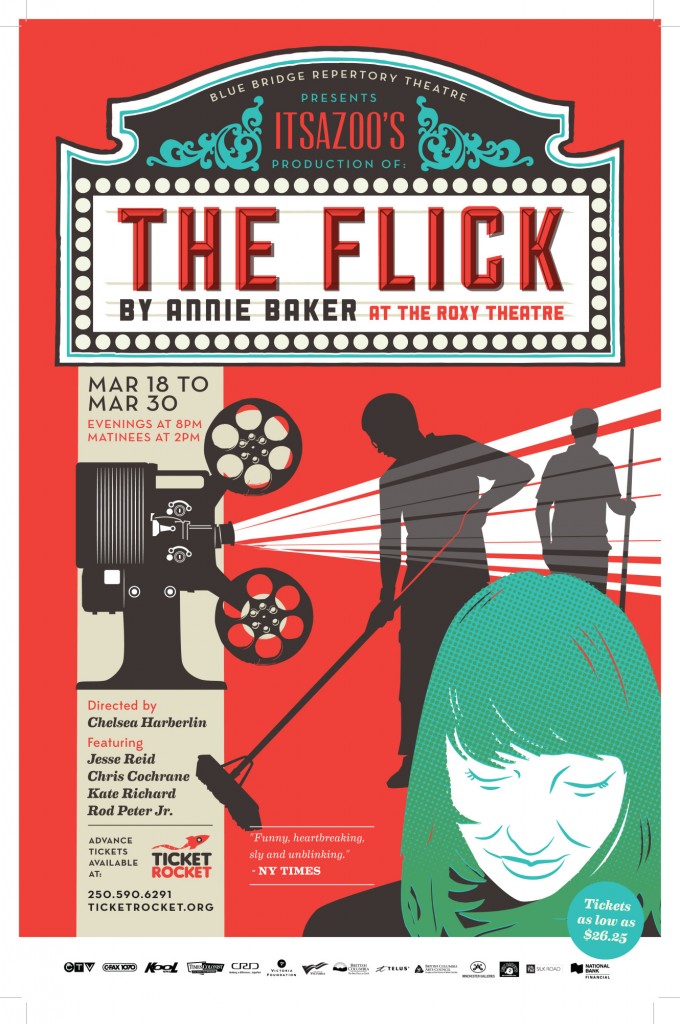 Next up at Blue Bridge Repertory Theatre from March 18-30, 2014 is the Vancouver based ITSAZOO Productions' production of contemporary American playwright Annie Baker's newest play The Flick. First presented to great critical acclaim at NY's Playwright's Horizon in 2013, The Flick has been described as a "hilarious and heart-wrenching cry for authenticity in our fast-changing world." Set in a run-down movie theatre in central Massachusetts, three underpaid employees mop the floors and attend to one of the last 35mm film projectors in the state. Their tiny battles and not-so-tiny heartbreaks play out in the empty aisles, becoming more gripping than the lack lustre second-run movies on screen.
The Flick  is directed by Chelsea Haberlin with set design by Kyle Sutherland, lighting design by Simon Farrow, costume design by Meredith Grantier and sound design by Chris Adams.  Shelby Bushell is the stage manager and Drew May the ASM.
The cast features Jesse Reid (Avery), Chris Cochrane (Sam), Kate Dion Richard (Rose) and Rod Peter Jr. (Skylar).
The Flick, produced by ITSAZOO Productions
Blue Bridge Repertory Theatre March 18-30, 2014
Roxy Theatre, 2657 Quadra Street
Tickets $25.50-$42.00.  Student rush tickets $20
Tickets through Ticket Rocket online or by phone 250-590-6291
Disclaimer: I have a close association with Blue Bridge Repertory Theatre; my son, Elliott Loran, was one of the founding artists from the 2009 season and I am a past board member. I have been offered complimentary tickets to review The Flick.