The Canadian College of Performing Arts (CCPA) presents MASC (Move, Act, Speak, Create) a two-week summer camp for teens in Victoria BC, July 21st to August 1st, 2014.  The young actors will be devising and performing a new original work.  The pilot project SOAR  in 2013 culminated in an original work inspired by Kevin Kerr's Unity 1918.
This workshop may qualify for 4 graduating credits.  Geoffrey Ewert, one of the instructors (with Adrienne Smook and Jessica Hickman) answered a few questions for me.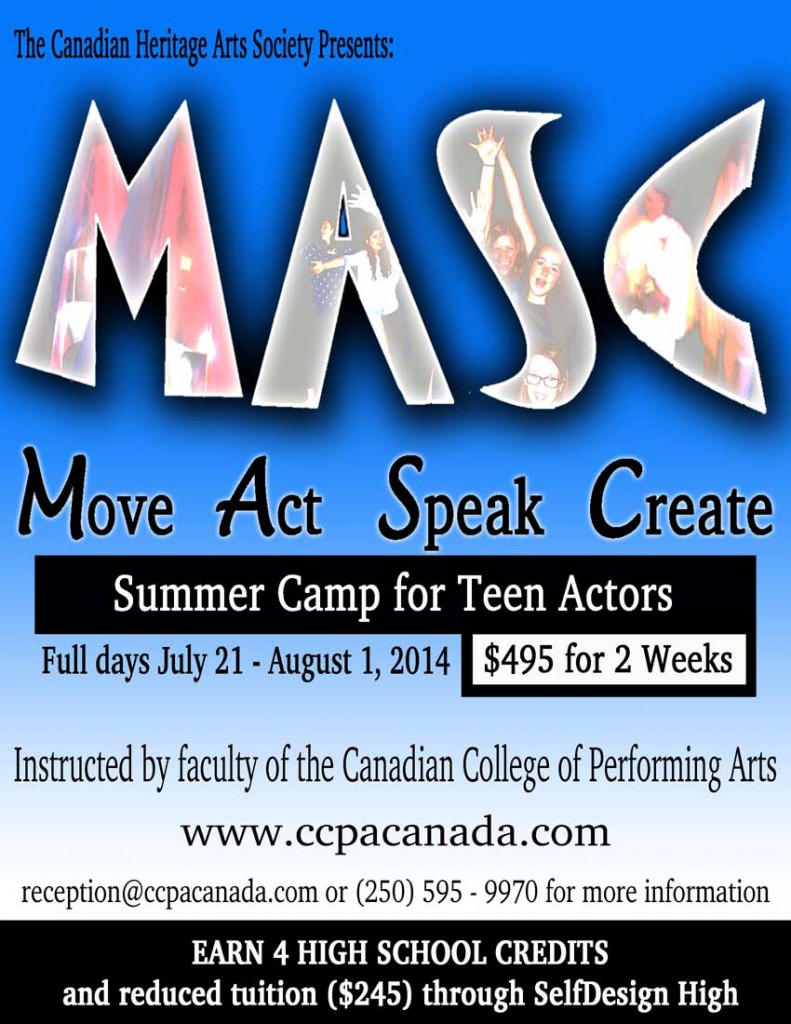 Who is the ideal teen for this two week camp? 
This particular drama camp is open to a wide spectrum of students.  Our two weeks will be focused on creating a unique devised performance through interdisciplinary creation methods – it will be a process that does not require any previous performance experience.  The ideal teen for MASC has an open and generous spirit, works well as a part of a team, is excited to explore a variety of different methods of performance, and is looking to embrace the joy of art.  The camp may not satisfy the needs of teens who are not interested in anything outside of a traditional performance process: get a script, get your role, memorize your lines, and perform.  In addition to acting, students will also be contributing as writers, directors, dancers, set/lighting/media designers, and visual artists.
How does this programme differ from other summer theatre/acting camps?
We have a few things that set us apart:
·         These students will be receiving an education in devised theatre methodologies rather than just acting.  This means that they will engage in a collaborative creation process as an ensemble to create a unique and original new performance piece for an audience
·         This program takes place at the CanadianCollege of Performing Arts where we have access to the college's resources.  More importantly, students have the opportunity to work and learn in an environment that trains students for professional theatre – and they are treated with the same respect as CCPA students
·         MASC provides special guest speakers to engage in a Q&A with students over lunch.  Last summer, our guests included the directors of CCPA to talk about post-secondary training, a professional talent agent to talk about getting into film/TV, and a professional actor to talk about working in the professional theatre/film/tv world.
·         This program is taught by three highly qualified (working) professional artists – two of which are CCPA faculty (I will go into more detail with the next question).
Can you comment on your professional backgrounds and your unique approach?  Is there a performance of the work at the end?
There will be a public performance of the work at the end.  Last summer we had an almost full house to see our performance inspired by Unity 1918.  Afterwards, a reception was held where students, audience, and instructors could mix and mingle for an informal discussion of the performance (i.e. the use of puppetry in the play, the integration of object theatre into the production design, the elements of choral speech and contemporary dance/movement as storytelling devices).  We plan to have the same format this year.
You are able to offer students 4 high school credits and two weeks of training all for $245?
Yes, the regular price is $495 for the 2 weeks; however, this year (based on our highly successful program last summer), we are collaborating with SelfDesign High (http://www.selfdesignhigh.org/).  High school students are able to register through SelfDesign High to qualify for 4 high school credits, and part of their tuition will also be covered through SelfDesign High.  Further information for registrants and instructions for application can be found through CCPA by calling 250-595-9970. MASC is limited to 25 students.
I've included, below, the biographies of the three instructors.
Geoffrey Ewert – Devising Theatre, Acting, Directing

Geoffrey Ewert is a director, performer, and devising theatre artist.  He is the founder of the project-based company synesTHEATRE, former Artistic Associate with Sage Theatre in Calgary, was a founding member of Canada's Etcetera Theatre Collective(ETC), and is a founding ensemble member of the international performance company Head of a Woman based in London, UK.  As a performer, deviser, or director, Geoffrey's worked with numerous professional companies such as: Sage Theatre, the Citadel Theatre, Theatre Calgary, Vertigo Theatre, Ghost River Theatre, Lunchbox Theatre, Workshop West Theatre, Nakai Theatre, Sunset Theatre, Alberta Theatre Projects, Quest Theatre, Evergreen Theatre, Shadow Theatre, Chelsea Theatre (UK), Rich Mix (UK), Istropolitana (Slovakia), and Nordurpollinn (Iceland), amongst others.  Recent award recognition includes: as director, productions The Dazzle and One Flea Spare (Sage Theatre) both combined for a total of 8 Betty Mitchell Award Nominations; as performer, Betty Mitchell Award Nomination – Outstanding Performance by an Actor in a Drama, for Trainspotting (Sage Theatre), and Betty Mitchell Award Recipient – Outstanding Performance by an Actor in a Comedy or Musical, for Hedwig and the Angry Inch (Sage Theatre).  This past year, Geoffrey lead the Belfry Theatre's Incubator program in the creation of Firewall for Target Theatre, and was a co-facilitator of the Belfry 101 program for teens.  Geoffrey received his MA in Advanced Theatre Practice (with Distinction) at the prestigious Central School of Speech and Drama (London, UK).  In addition to his workshops, Geoffrey has been a guest instructor for programs such as the Mount Royal University Conservatory Theatre Program, the Playhouse North Theatre School, and the Central Memorial Performing and Video Arts Program, and this the founder of Quest Theatre's Adventures Program for teens.  Upcoming: The Last Voyage of Donald Crowhurst (Ghost River Theatre / Alberta Theatre Projects).

Adrienne Smook – Voice and Speech

Adrienne is a Victoria based Voice/Accent Coach and is a faculty member at CCPA where she teaches voice, speech, and dialects. After graduating from the BFA Acting Program at the University of Alberta, Adrienne spent 10 years working as a professional actor before turning her attention to teaching voice. She taught Voice and Speech I and II at RockyMountainCollege in Calgary before moving to the UK. In London, she graduated with distinction from the MA Voice Studies program at The Royal Central School of Speech and Drama. Adrienne enjoyed teaching placements at The Royal Academy of Dramatic Arts, CentralSchool, and Mountview Academy of Theatre Arts. Adrienne also had the opportunity to provide the voice coaching for Elfriede Jelinek's Sports Play, which toured the UK and was presented at The Chelsea Theatre during the 2012 Olympics. In Victoria, Adrienne teaches Actor's Voice to first and second year students at The Canadian College of Performing Arts. Outside the college, she provides voice/accent support to actors, non-actors, and casts of theatre productions such as A Christmas Carol at The Belfry Theatre, and the upcoming co-production with Pacific Opera Victoria – Let's Make an Opera and The Little Sweep.  Adrienne is an active artist in the development of new work.  Past projects include The Oasis (Edmonton Fringe), The Alan Parkinsons Project (Ghost River Theatre), and The Autism Project (synesTHEATRE).

Jessica Hickman – Movement

Jessica is currently in Alberta working as the Crowd Director on the Canadian Badlands Passion Play with a cast of 300 and live animals.  She is the co-artistic director of Open Pit – a Whitehorse based not-for-profit theatre company, and teaches dance at the CanadianCollege of Performing Arts and Victoria Academy of Dramatic Arts.  You may have recently seen her choreography in A Christmas Carol, Let Me Call You Sweetheart, and Goodnight Desdemona (Good Morning Juliet) (Belfry Theatre), and Smalltown: The Pickup Musical (Theatre SKAM).  Her directing credits include: Thoroughly Modern Millie (VOS), Leave A Message (Apres le Bip) (Nakai Theatre), and ALICE: A Staged Reading (Sum Theatre).  Up next is a trip to the Banff Centre for the Arts where Jessica will be co-creating a new puppet show called Tombstone: A Sci-Fi Western with Ramshackle Theatre.
As my readers may know, my son Elliott Loran graduated from CCPA in late 2007 after 2 1/2 years of training that included the unique Company C—students create  their own student performance company and produce three shows in four months.  As with many CCPA grads, he has gone on to work professionally both locally and across Canada, and is currently at the Stratford Festival along with three other CCPA alumni. (Matt Alfano, Matthew Armet, Galen Johnson).  Since his graduation, I remain an active volunteer with the college, and continue to spread the word about their programs and graduates.