Music in the Park. The Rutledge Park Series 2013 (corner of Cloverdale and Inverness), Tuesdays in August, from 6 – 8pm. Free concerts for the entire family.
Years ago when I lived just off Quadra, near the intersection of Cloverdale and Inverness, the area now occupied by RutledgePark was populated with houses that were past their prime.  The  district of Saanich has long had a policy of buying up properties in areas where they wish to establish parks.  Over many years of negotiations, acquisitions and development, the result is a beautiful multi-purpose park with picnic tables, a basketball court, tennis court and play equipment.
The Music in the Park concert series is in its eighth year, and takes place in various parks throughout the municipality.  The Rutledge Park Series 2013 is coordinated with assistance from the Quadra Cedar Hill Community Association and the Saanich Legacy Foundation.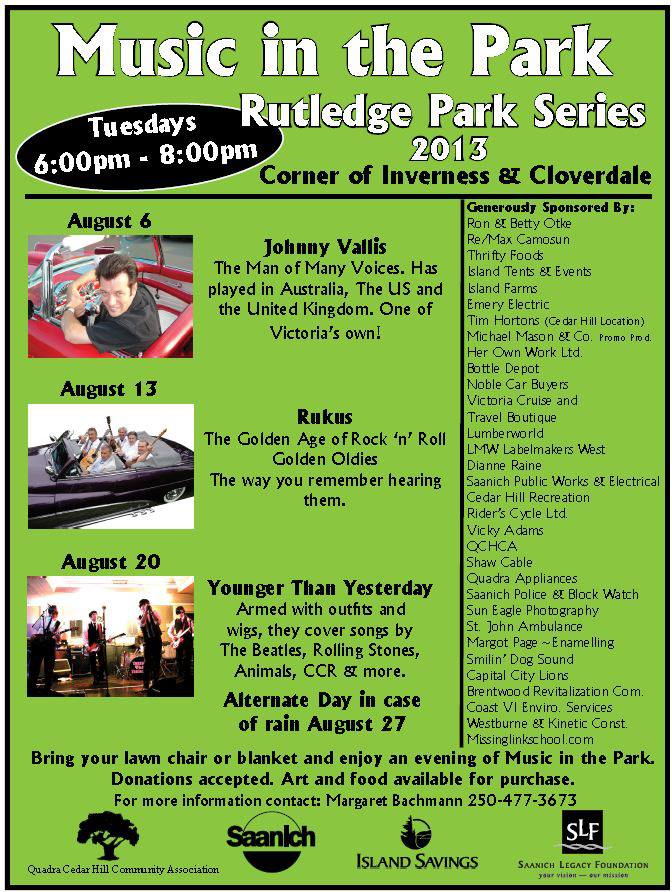 August 6th
The Man of Many Voices. Has played in Australia, The US and the United  Kingdom. One  of Victoria's own!
August 13th
The Golden  Age of Rock 'n' Roll. Golden Oldies. The way you remember hearing them.
August 20th

Younger Than Yesterday
Armed with outfits and wigs, they cover songs by The Beatles, Rolling Stones, Animals, CCR & more.
Bring your blankets and lawnchairs to enjoy an evening of music in the park.
Alternate date (in case of rain) August 27th.