It's a busy time of the year in Victoria BC for theatre.  Here's a recap for this coming week.
Death of a Clown by Itsazoo Productions  at the Phoenix Theatre UVic, ends Saturday October 23rd  
Written by Sebastien Archibald, and originally presented at the Victoria Fringe Festival in 2006, this play is part of the Spotlight on Alumni.
"Meet Roy! He's a floppy, fun-loving clown born into a rigid and oppressive metropolis. A natural outsider, Roy is forced to suppress his clowning nature and claw his way up the corporate ladder. But when he meets Anna, a sassy clown with radical plans, Roy's life is thrown into chaos. A hilarious multi-media satire of our corporate world told through the art of clowing."
Clark and I Somewhere in Conneticut  presented by Intrepid Theatre at the Metro Studio, 2 nights only Friday October 22nd and Saturday October 23rd.
Pay What You Can rush seats Friday night from 7pm.
"One of the most notorious theatre pieces to come out of Vancouver in recent memory".
Winner of an Innovation Award at the Jessie Richardson Theatre Awards.
CHALK Phyical Theatre Behind Bars, by SNAFU and WHoS (William Head on Stage) opens Friday October 22nd and runs til November 20th.  All tickets must be purchased in advance.  See my previous blog post for more information.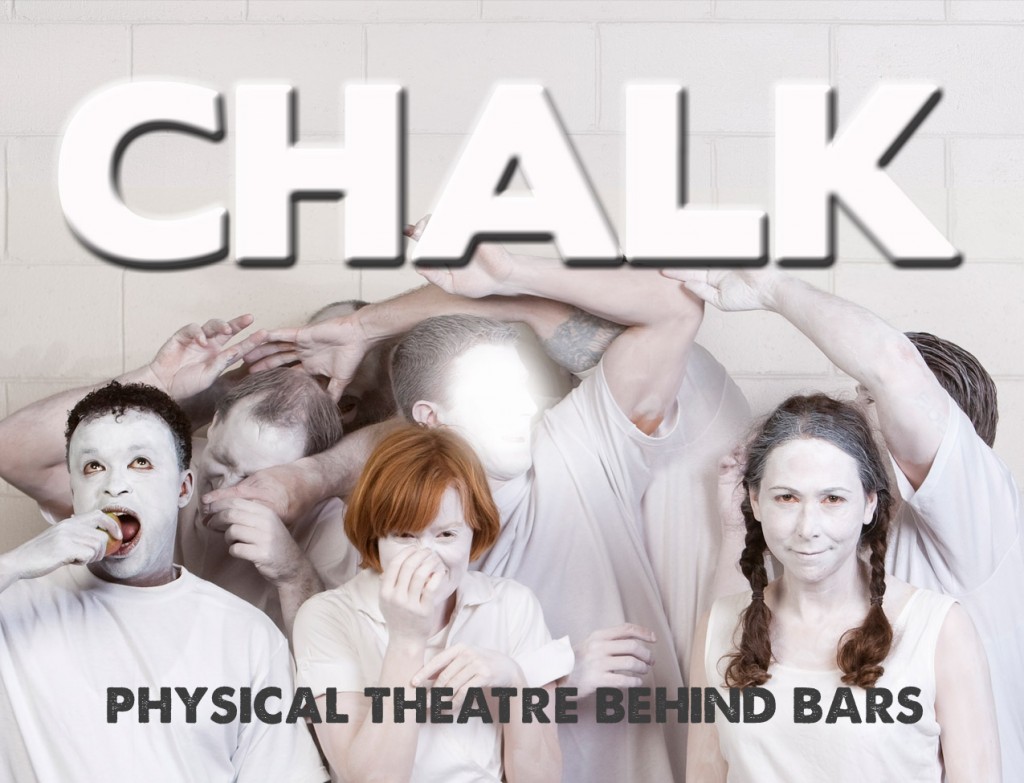 Love Kills, a Rock Musical by Theatre  Inconnu at Little Fernwood Hall 1923 Fernwood Road, til October 30th
 "Based on a true story, Love Kills (the inspiration for the movies: Oliver Stone's Natural Born Killers and Terrence Malick's Badlands) is a moving and disturbing examination of criminal behaviour, as all four characters are forced to examine – and ultimately assume responsibility for – their own actions and responses."
Count on Theatre Inconnu for challenging work. They never fail to generate discussions.
The Cursed Cabaret of Kelowna Day Taylor by Giggling Iguana at Craigdarroch Castle – til October 30th. An original play, writtten by Karen Lee Picket with music by Brooke Maxwell, directed by Ian Case.
"The Cursed Cabaret of Kelowna Day Taylor tells the story of Nancy, a harried young executive with a terrible secret.  Young Nancy is host to a roaring 20's fundraising event in a local historic house when things go terribly terribly wrong.  The spirit of legendary, glamourous and ruthless speakeasy hostess Kelowna Day Talyor arises.  Trapped in a terrible limbo by her own terrible secret, Kelowna will do whatever it takes to find release from her endless entrapment and Nancy seems to be the key to that release."
Please note, this is site specific theatre. You will be moving around the castle. NOT wheelchair accessible.
Nevermore, a non-linear musical based on the life of Edgar Allen Poe, opens October 21st & runs til October 30th at the Maritime Museum of BC. Performed by Urban Arts Productions, Victoria's newest theatre company.
"The imaginative Canadian premier of the musical Nevermore uses Poe's poetry and short stories as a base for the plot and his shifting obsessions with the women in his life as a catalyst. With hauntingly beautiful melodies, Nevermore breathes new life into Poe's work and explores a twisted true-life tale as bizarre as his classic stories of the macabre."
"And Beethoven Heard Nothing", an intimate audio-visual tale by LaSam Music at Merlin's Sun Theatre. Saturday October 23rd and Sunday October 24th
"And Beethoven Heard Nothing invites audiences into an intimate world informed by their personal experience of hearing and listening intertwined with soundscapes of the inner ear, visual images, sonic imaginings of Beethoven's thought process and elaborations from fragments of Beethoven's music."
This little gem of a theatre is one of Victoria's best kept secrets. Located across from Abhkazi Garden on Fairfield Road in a quiet residential neighbourhood. Please respect the neighbours, and bike, walk or use transit. If you must drive, please take care where you park.
Coming Up:
The Pilgrimage of the Nuns of Concepcion by Puente Theatre runs Oct 27-31 at the Metro Studio
Charlie Ross returns with his one man Lord of the Rings and one man Star Wars November 3-7th in alternating performances as a benefit for Intrepid Theatre.
Blood Brothers by The Canadian College of Performing Arts is scheduled for November 12-14 at the Metro Studio.