I've lived on Vancouver Island almost all my life, first on the West Coast, and then in Victoria. In the late 1980s my parents retired to  Oceanside (Parksville – Qualicum Beach).  We've spent many hours on beaches and in the forest exploring.  One popular event we've enjoyed in the past is the Pacific Brant Wildlife Festival.
This year, wanting to surprise my husband (an avid bird watcher and photographer) for his birthday, I remembered the festival.  It had been years since my last visit.  Searching the website for more information, I found a Brant viewing tour (Brantastic Observations Nature Tour) offered by Gary and Rhonda Murdock of Pacific Rainforest Adventure Tours and field ornithologist Guy Monty.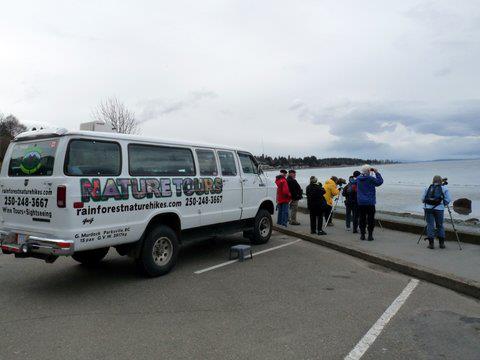 Photo: Pacific Rainforest Nature Tours, used with permission
I made reservations with Gary and Rhonda, and at the Travelodge in Parksville (always a family favourite).  Our weekend away was set.
Saturday March 31st dawned cool and cloudy. After a quick and uneventful trip up island, we arrived at the community and conference centre in Parksville for our pickup.
Gary, Rhonda and Guy donate all the proceeds of the tours (a very reasonable $25 for 4 hours) to the Brant Festival.
Powerful spotting scopes are provided. Most participants also came with their own binoculars.
Photo: Guy Monty on Flickr. Creative Commons used with Attribution
Destinations depend on daily brant viewing. We headed first to Rathtrevor Park, and the beach.  This was the location of the biggest flocks we saw that day.  The tide was out, but not completely, allowing us good visibility.  We learned about the brant, the importance of herring to the coastal eco-system, the impact of humans on the brant, brant banding, flight patterns, migration, how to profile a brant for health, wintering grounds, age, mating, natural enemies, preening, flushing, species of brant, breeding and more.
Photo: Guy Monty on Flickr. Creative Commons used with Attribution
What a pleasure to spend time with people who are so knowledgeable that every story has a wealth of information to ponder.
After Rathtrevor, we travelled to the main beaches at Parksville and Qualicum, and finished off with a trip to the estuary of the Little Qualicum River, and the French Creek marina.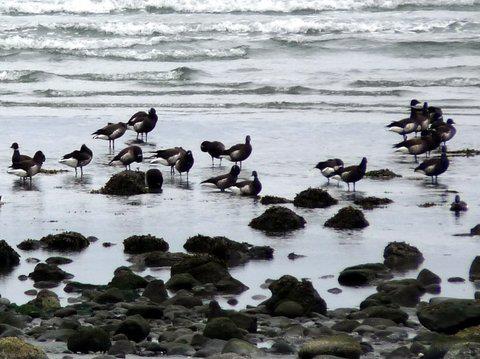 Photo: Pacific Rainforest Nature Tours, used with permission
We'll be back for more tours with Gary and Rhonda based on this experience!
The Brant Wildlife Festival has been a mainstay in Oceanside since the early 1990s, and has gone through several structural changes.  In my opinion, it's important to support efforts to educate and interest people in the natural environment. Often, living on Vancouver Island, surrounded by its incredible natural beauty, we can come to take it for granted, and be unaware of the impact of seemingly simple activities like taking a walk on the beach with our dog.
If you have a chance to travel to Oceanside during late March – early April, why not make the Brant Festival a destination?  There are free tours and bird watching activities organized, including a Big Day Bird Count.
The Brant Wildlife Festival takes place in the Parksville – Qualicum Beach Wildlife Management Area.
The abundance and diversity of natural resources found in this WMA are outstanding on a global scale. The many estuaries, beaches, and foreshore gravel bars provide critical staging grounds for the internationally important Pacific Brant Sea Goose. These habitats are equally significant to over sixty other waterbird species; over 100,000 waterbirds come to feed in the productive foreshore waters. The estuaries and foreshore zones provide vital rearing habitat to all Pacific salmon species and Steelhead and coastal Cutthroat Trout. Millions of Herring spawn each spring on the abundant Eel Grass and algal beds found within the WMA foreshore. This in turn attracts several marine mammals such as California Sea Lion, Harbour Seal, Northern Sea Lion, and Harbour Porpoise.
It's only a two hour drive from Victoria, to an area I thought I knew well, yet I learned a great deal.
After our tour, we were on the hunt for a good hamburger, and stopped at Bugsy's Bar and Grill on Guy Monty's recommendation. They did not disappoint! Home-made hummus, island craft beer on tap, and two stellar hamburgers.  It's one more location to add to the list.
The Travelodge has been one of our go-to hotels in Oceanside whenever we've needed a place to stay. They offer a special rate for the Brant Festival, and have a complete deluxe continental breakfast bar (cereal, fruit, waffles, bagels, toast, yogurt) which definitely makes them an affordable option for families.
It was a wonderful weekend. Thanks to the citizens and businesses of Oceanside for making it a fantastic birthday.