Sense and Sensibility by Company C at St Ann's Academy. A review.
With crisp precision and nuanced flourish, under the inspired direction of Glynis Leyshon, CCPA's Company C brings Jane Austen's 200 year-old romantic comedy of manners Sense and Sensibility to life in the sumptuous setting of the chapel and grounds of St Ann's Academy.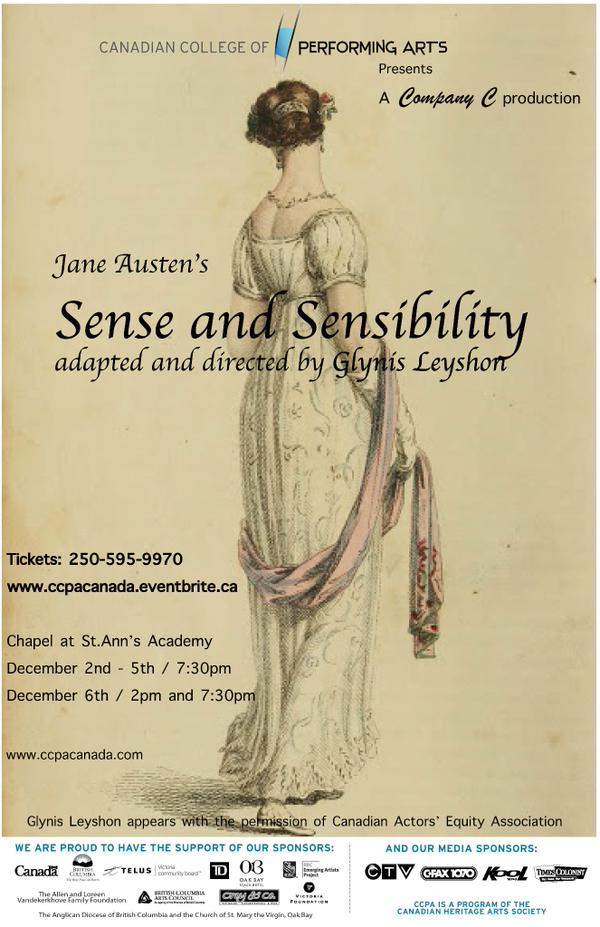 As readers of my website know, I'm a big fan of site specific theatre; Victoria is fortunate to have incredible locations for staging. To my knowledge, this is the very first time that the chapel at St Ann's has been used. What a discovery—I'm quite ashamed to admit, that though familiar with the grounds and theatre, I have never visited the historic chapel.
Can any décor or set compare to these beautiful vaulted ceilings and gilded columns? Sky blue surrounds and calms.  Rich iconic and contemplative art adorns the walls.  High above in the loft, the organ (played expertly by Jim Hill) draws the audience into the sanctuary for the funeral of the dearly departed Mr.Dashwood.  With the altar hidden behind a large screen (also used for projections (design—Nick Heffelfinger) that indicate the many locales of the story), the casket takes centre stage.  Mourners gather in quiet and respectful silence.
Leyshon has condensed the story of the Dashwood sisters Marianne and Elinor to a well-paced two hours, beginning by setting the stage during this scene. Even those unfamiliar with Austen's first novel will come rapidly to grips with the underlying tensions inherent in the complex relationships of the landed and gentry class in early 1800 England.
Disinherited by the death of the senior Dashwood, the women—mother (Sadie Fox in a quiet, assured and determined portrayal), and sisters Marianne (Alexa MacDougall), Elinor (Amy King)and Margaret (Christine Baker) are forced to depend upon the charity of family and friends.  Driven from their home by the unlovely Fanny (played with snippy perfection by Siobhan Barker) they count on the kindness of Sir John Middleton (Jesse-Alan Negraeff) and resettle at Barton Cottage where his mother-in-law, whirling dervish-like Mrs Jennings (Ursina Luther) soon has them caught up in the social life of the parish.
Austen's wit has found its match in Leyshon's signature sly irreverence.  The actors oblige with gusto and flair—capturing character traits with abandon and rigor, not to mention impeccable accents (thanks to the dialect coaching of Adrienne Smook and Iris MacGregor-Bannerman)—boisterous Sir John Middleton (Negraeff drew titters from the crowd with his emphatic cane thumping), whole-hearted Marianne, considered Elinor, impetuous Margaret, flighty and calculating Lucy (Colleen Macguire), kind Charlotte Palmer (Kaely Cronk). The beaux are alternately dashing gentlemen—Colonel Brandon (Ian Crowe), Edward Ferrars (Nick Hellelfinger—who also has a comic turn as his brother Robert)—or reckless cads—Mr Willoughby (Austin Eckert).  Kirsti Hack makes a saucy Cook with winks, nods and nudges, and doubles as Phoebe and Mrs. Maxwell.
Costumes, so essential to any period piece, are lush and detailed (Sandra McLellan). Wardrobe design borrowed heavily from Pacific Opera Victoria and Langham Court costume lofts, although Company C members sewed several originals.  Music (Christine Baker—sound design) set the tone in the interludes, underscored dance numbers—choreography Siobhan Barker—executed to great merriment in the aisles of the chapel—and provided opportunities for Alexa MacDougall to display her considerable prowess on the violin particularly during the "musicale" hosted by Mrs Jennings in the drawing room.
Lighting design (R.J. Peters) centered around rigs to the sides of the main stage area in the chapel, and was not only impressive, but artistically effective in the outdoor scenes in the garden (with the audience watching from the veranda). Marianne's dream-induced pas-de-deux with Willoughby in the gazebo drew sighs from patrons.
Wit and educated banter have often been replaced by sarcasm in today's society; the cast of Sense and Sensibility tackle the text with evident delight in the intricacies of language, and excel at conveying mood.  Elinor's pleas as Marianne lies ill would move even the most hardened and cynical heart—in this moment, Amy King shines as the loving and distraught sister.
Austen purists will be mightily pleased while neophytes will not be lost thanks to this sensitive, smart and stylish adaptation. At heart a love story with complications, Sense and Sensibility is suitable for a wide-ranging audience.
The 14 members of Company C are involved in every aspect of the production of  Sense and Sensibility, working with local industry professionals to learn every aspect of their respective mentorships including stage management (Taylor Cnossen), music direction, set design and publicity. This behind-the-scenes tutelage will assists them in enhancing their careers as professionals.
Sisters Elinor and Marianne find themselves captivated by two very different men in this lively and dynamic adaptation of Jane Austen's classic novel. When sense and sensibility meet, love can't be far behind.

Be a part of the experience in a site specific production!
The Canadian College of Performing Arts Company C presents:
Sense and Sensibility by Jane Austen, adapted and directed by Glynis Leyshon
St Ann's Academy Chapel (enter the grounds off Humboldt)
December 2-6,2014 at 7:30pm with a matinée December 6th at 2pm
Tickets: $24, $20 (seniors), $15 (students). + Service Charge.
Available online up to 3 hours before the show, and at the door.
St Ann's Academy is fully wheel chair accessible. There is an elevator on the east side of the building and the Front of House staff is more than happy to accommodate patrons.  If you are in need of assistance entering the building, please give Johan a call at 778 977 3952.
Further reading:
Sense and Sensibility-SparkNotes: http://www.sparknotes.com/lit/sensibility/
Disclaimer: I was offered a complimentary ticket to attend Sense and Sensibility