Graft, corruption, bribery and human perfidy – these are heady topics for a group of teens to address, but the Advanced Performance Group from Kate Rubin's Theatre and Drama Studio is ready for the challenge when they perform  Gogol's The Government Inspector for Victoria audiences May 2 -6th.
Since the beginning of the school year they have been honing their craft during regular studio sessions and rehearsals, and will be involved in every aspect of the production, from costumes and sets, to lighting and publicity.
This adaptation, by one of my favourite Canadian playwrights, Morris Panych, makes relevant the comedy originally written by Russian Nikolai Gogol in 1836.
……its humor transcends barriers of language, time and culture. Panych makes the depiction of government corruption in a small city in the Russian outback a hilarious study of how fraud, trickery and malfeasance have a way of backfiring, with most unpleasant (but comically fitting) consequences. Many Victorians may find added humor in the play's examination of how those in a small centre, far from the nation's capital, can take advantage of the distance that is both a blessing and a curse.
The students chose the material, and then decided, due to the number of young men and women in the company, and the ratio of male to female roles, to gender-bend the cast – the young men will play women, and the young women – men.
I had the opportunity to interview two of the young actors about their experiences – with theatre in general and the Government Inspector in particular.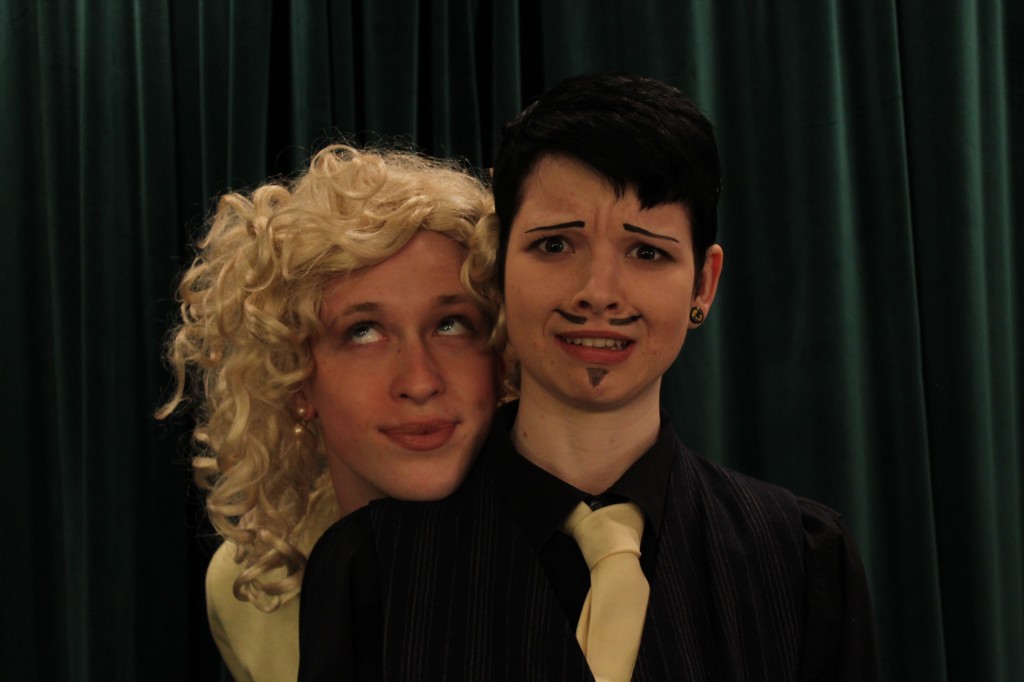 Photo: Rose Jang, submitted.
Shayna Linds saw her first show from the lighting booth at the age of one month – her dad, Brian Linds, is a respected Victoria-based lighting designer and actor.  She's known all her life that she wanted to be a theatre professional, but didn't start to take classes until she was 12 – (she's now in Grade 11).
I've always played male roles – there aren't that many women's roles, so women often have to play men.  Sometimes (when rehearsing) I'll find that I'm doing a woman's reaction (to an event) and I have to rethink it.

I've spent so many hours in the theatre receiving the gift of theatre, now I want to give it back – to make someone cry, to change someone, to make them think.
Corin Wrigley is home-schooled and has been performing since the age of 5; he's been at Kate Rubin's studio for five years, and would like to attend Studio 58 atLangaraCollege.
I'm here because I want to be.  I love playing a woman (in The Government Inspector).

Some of the challenges are finding the right voice and timbre.  I need to consider the way I interact in the scene and get used to the woman being there instead of me.
Both Shayna and Corbin mention "this is a very funny show" "one of the greatest comedies ever written".
"It's a passionate production, because Kate (Rubin) herself is passionate."
Kate Rubin has lived and worked professionally as an actor and drama teacher in Victoria for over twenty years. She has worked in this capacity with many theatres, schools and organizations in the city including The Belfry Theatre, Kaleidoscope Theatre, Theatre Inconnu,CamosunCollegeand theUniversityofVictoria.Shehas been running her own studio since 1996. Her most recent work as an actor was in William Head on Stage's Gormenghast in the fall of 2011 directed by Ian Case. Recent directorial work includes Puente Theatre's World Play series Jan 2012, Wave Theatre's Rosie at Intrepid Theatre Feb 2012, and Belfry 101 Spark Festival March 2012.
Nikolai Gogol's The Government Inspector
Intrepid Theatre's Metro Studio at 1411 Quadra (at Johnson).
Wednesday, May 2 at8 pm  (Preview)
Thursday, May 3 at 12:30 pm(school matinee) and8 pm
Friday, May 4 at 12:30 pm(school matinee) and8 pm
Saturday, May 5 at8 pm
Sunday, May 6 at2 pm
TICKETS AT THE DOOR:
Adults: $12. Students and Seniors: $9. Preview prices: $9/$6
ADVANCE TICKETS: Available through Kelly Green, 250-370-9800. Group rate for ten or more.
SCHOOL MATINEES:
Thursday May 3 and Friday May 4 at 12:30pm(running time approx 2hrs)
$8 for students/teachers and assistants are free.
To reserve seats for a school group, please call or email Kelly Green, 250-370-9800, kellygreenandgold@gmail.com.
For more information about The Government Inspector, please contact Erica Petty at 778-430-7845
Disclaimer:  I was offered complimentary tickets to attend the preview of this play. I was not paid to write a post nor was I required to do so. As always, I retain editorial control over all the content published on this blog