Graham McDonald, principal of Mr UG Productions is proud to present the first Little Fernwood UFO (UNO Festival off-site) May 22nd – June 2nd, 2013.
Inspired by the success of Little Fernwood Hall as a venue at the Victoria Fringe Festival, and by UNO Fest (North America's longest running festival of solo performance at 17 years), McDonald approached Janet Munsil, artistic director of Intrepid Theatre, producers of UNO and the Fringe, to broach the possibility of an off-site festival.
Happily, the answer was an enthusiastic "Yes!". With the blessing and assistance of Intrepid, lucky Victoria theatre-goers have the opportunity to appreciate solo shows and performers they might have missed during previous runs at the Victoria Fringe or UNO Works.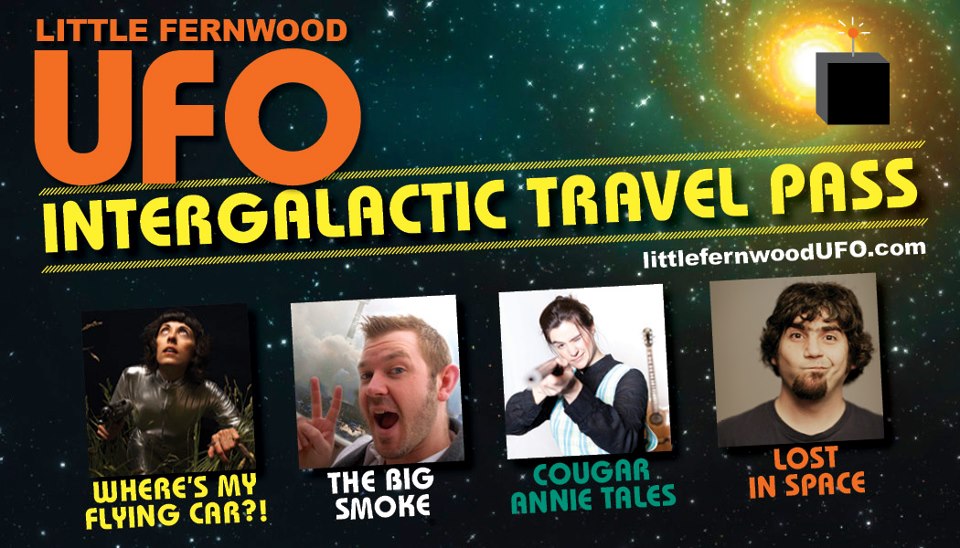 McDonald is great friends with Jeremy Banks, producer of the Fringetastic Theatre Festival, Nanaimo's revived Fringe Festival, and so including his show The Big Smoke was a natural.
Audiences and Fringe enthusiasts will remember Banks' escapades in 2010 when he toured the Fringe circuit from coast to coast, working in various backstage capacities, or volunteering, before arriving in Victoria to perform "The Big Smoke".  En route, he fell in love with the Fringe, and the next logical step was to actually produce a Fringe festival, which he has done successfully since 2011.
The Big Smoke, written by Ron Fromstein, is an easy, natural and honest look at a young man's life as he moves from small town to big city and slowly realizes who he is.  Critical acclaim followed Banks' performances during the 2011 Fringe season in Winnipeg and Edmonton.
McDonald knew that Katrina Kadoski was self-producing her show Cougar Annie Tales on the island, and wanted to build a festival around her.  Kadoski is a talented singer-songwriter; the back story of Cougar Annie Tales is almost as intriguing as the story of Cougar Annie herself.
In 2007 Kadoski left the city behind and moved to the remote west coast community of Boat Basin (Cougar Annie's home) as caretaker; her fans were disconsolate.  She fell in love with the land and the irascible and determined woman who created a garden in the midst of the wilderness, and began to craft songs to illustrate her life. Drawing on rare archival and family materials, this show brings alive the not-so-distant and difficult past of one of the West Coast's most remarkable pioneers, a woman who outlived 4 husbands and bagged more than 40 cougars. Kadoski's sweet true voice weaves in and out of episodes. Cougar Annie Tales premiered at UNO Works in 2012, and was Best of Fringe at the Victoria Fringe Festival the same year.
Missie Peters is an award winner poet and performer, and producer of the Victoria Spoken Word Festival and Singe (Victoria's first off-Fringe Festival).  I remember catching her first solo show Public Confessions of a Public Servant at the Fringe in 2010 and remarking on the incredible polished and precise tone she exuded.  Since then she's continued to write, and debuted Where's My Flying Car?! at UNO Works last year, before touring it on the Fringe circuit, and at Victoria's first Singe Festival.
Geeks young and old or anyone who has ever wondered why our present is not exactly as depicted by Popular Mechanics in the 1950s, will revel in images Peters conjures as she appears complete with silver one-piece.
Dave Morris is Victoria's improv artist of note, and the creative spark behind Paper Street Theatre.  He's been teaching and performing for years, taking the form to an extremely high level locally.  Before launching Paper Street in 2011, Morris performed his completely improvised long form shows Dave Morris is an Ass**** and PhotoBooth at the Victoria Fringe in 2010 and 2011. In 2012 he co-founded the inaugural Singe Festival with Missie Peters.
An audience is always in good hands with Morris as performer – his riffs on the most mundane words or objects will have you in stitches, or pleasantly pondering the path from there to here as he ties off the narrative arc of his spontaneous creation. Lost in Space will intrigue you as "Dave explores the philosophies and never-ending darkness with the help of audience engagement and suggestions".
Why not add on some UFO shows with your UNO Fest?  I've seen them all and can promise you entertainment and performance of the highest value.
Little Fernwood UFO and these award-winning shows could not be presented without the help of sponsors Intrepid Theatre, Fernwood Community Association and Langham Court Theatre.
Little Fernwood UFO
May 22–June 2, 2013
Little Fernwood Hall
1923 Fernwood Road (across the street from The Belfry)
Featuring…
Where's My Flying Car?!
Written and performed by Missie Peters
May 23 & 30 at 8:30 pm
May 25 at 7pm
May 26 at 2:30pm
June 2 at 4pm
The Big Smoke
Written by Ron Fromstein and performed by Jeremy Banks
May 22 & 29 at 8:30pm
May 24 & June 1 at 7pm
May 26 at 4pm
June 2 at 2:30pm
Cougar Annie Tales
Written and performed by Katrina Kadoski
May 22, 23, 28 & 29 at 7pm
May 26 & June 2 at 1pm
Lost in Space
Performed by Dave Morris
May 24, 25, 28 & June 1 at 8:30pm
May 30 at 7pm
Tickets
Regular tickets are $17 or get the IntergalacticTravelPass (see all 4 shows) for $32.
Book your tickets through Ticket Rocket, Victoria's Community Box Office,  online at ticketrocket.org or by phone at 250-590-6291.