Did you know 2013 is the 50th anniversary of the African Union?  To celebrate, join members of the African, Caribbean and Créole communities for Victoria's first-ever AfriCa Fest, May 17th – 25th.  Free family-friendly activities will be centered around Centennial Square for the opening weekend May 17th – 19th and include musical performances, activities for children, exhibitions, and interactive games.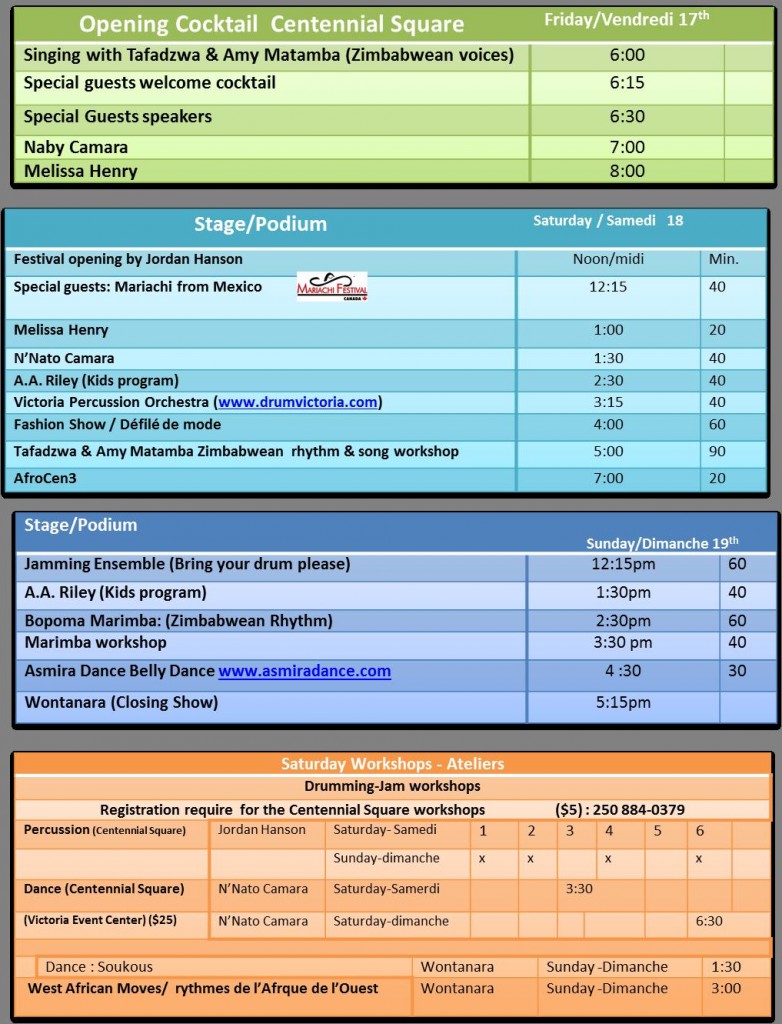 "All communities in Victoria can come to enjoy the beautiful cultural mosaic we enjoy in one of Canada's most stunning cities. This festival is a unique opportunity for the City of Victoria to bring together different cultures and showcase our African and Caribbean heritage", said Pulchérie Mboussi, organizer of the Festival and founder of the Victoria African and Caribbean Society.

Performers include Jordan Hanson from Drum Victoria, Dance by Wontanara Dance and Drums, N'Nato Camara, Balafon with Naby Camara, vocal performances by Tafadzwa Matamba & Amy Vaesen, and readings by A.A. Riley, Mr. Fantastil, and lot more. There will also be African dances, drumming workshops, as well as food and beverages, cultural artwork, crafts, clothing, beauty products, and movies.
Later in the week (May 23rd – 25th) there will be a movie night, dance and other activities at the Victoria Event Centre. (some costs apply).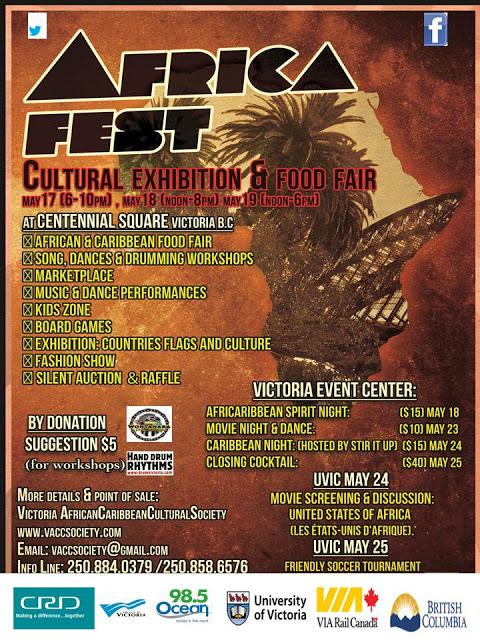 One of the highlights of the festival will be a performance by the celebrated, Juno award-winning, master of the Balaphon, Guinean Gaby Camara.
[vsw id="rOFMKQx2rvk" source="youtube" width="425″ height="344″ autoplay="no"]
I can't wait to celebrate with communities I was first introduced to while living in the cultural hotpot of 1970s Paris.