Victorious Voices Festival April 9-11, 2018. Preview.
One of my favourite arts activities occurs next week; Victorious Voices Festival is the high school poetry slam championships–the longest running youth poetry festival in Canada. Now in its 9th year it brings eight lower Vancouver Island teams together for competition, workshops and showcases. Founded by Jeremy Loveday, a slam poet who has represented Victoria at the national level for many years, this festival represents the voices of a new generation of articulate and passionate artists.  I firmly believe they deserve respect and a wide audience. Each year I'm frankly astonished that few adults outside the spoken word community, or parents and friends, bother to come, and yet, how can we ever hope to tap into the zeitgeist of Generation Z if we won't take the time to listen to their concerns, hopes and plans?  I can guarantee you will be moved by the bravery of  these young people who do not hesitate to open themselves up in a frank and direct manner.  Their words are powerful and beautiful.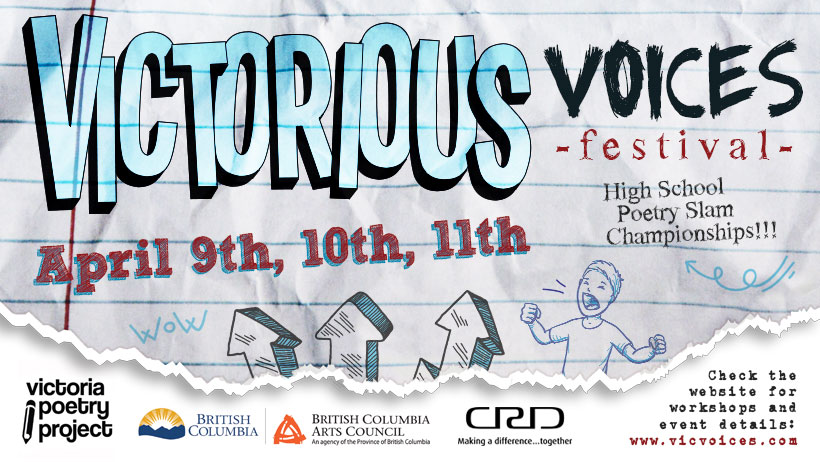 Local youth and International spoken word stars to perform at Victorious Voices Festival
Forget angsty teen poetry – these 40 high school students from across the Lower Island will prove to you that youth poetry is powerful, insightful and inspiring.

"Anticipation for the Festival is really building. The quality of poetry that these young poets bring to the stage is unbelievable," explains Jeremy Loveday, Founder and Festival Director. "Every year, I am blown away by the strength, vulnerability, and eloquence expressed by the participants". Victorious Voices, in its 9th year, is the longest running youth spoken word festival in Canada. This year, the festival has attracted two of Canada's top spoken word poets to give feature performances: Jillian Christmas from Vancouver, and Sabrina Benaim from Toronto.  Sabrina Benaim's poetry videos have garnered over 100 million views online and her book Depression and Other Magic Tricks is currently on International bestseller lists for poetry.

"We have world class talent coming to perform at the festival," says Loveday. "It's exciting for the youth poets to be able to perform alongside their favourite spoken word artists, who they've been watching online for years."

Giving youth a platform to perform has always been at the heart of the Victorious Voices festival, and this year will be no exception as 8 teams from across the lower Island compete for the Victorious Voices high school poetry slam championship title.

A poetry slam is a competition where poets are judged by audience members on a scale of 0-10. Poets have 3 minutes and must perform original work, without costumes, props or music. Victorious Voices is a team competition, and teams are required to perform group pieces as well as individual poems.  Audience members are invited to boo the judges, cheer wildly, and participate in call and repeat chanting throughout the night.

The festival runs from April 9-11th at venues across Victoria with performances in schools during the day, workshops for youth in the evening, and public performances at night.
Monday, APRIL 9th,
HIGH SCHOOL SLAM SEMI-FINALS
7 PM, DOORS AT 6:300PM @ the VEC, 1415 Broad St, Victoria, BC
Tickets $5
Kicking off the festival this year's semis features 9 teams from across the south island as they battle for finals stage. $5
TUES, APRIL 10th, 2018
WORKSHOP – SABRINA BENAIM
5PM – 6:30PM @ CITY STUDIO, 742 Johnson St, Victoria BC
Victoria Poetry Project: Tongues of Fire & Vic Slam and Victorious Voices Festival are thrilled to offer a youth spoken word workshop with Sabrina Benaim!
Sabrina Benaim is the author of the poetry collection Depression & Other Magic Tricks & one of the most-viewed performance poets of all time, whose poem "Explaining My Depression to My Mother" has become a cultural phenomenon with over 60,000,000 views. Sabrina has competed in many poetry slams, most notably as a member of the 2014 National Championship Toronto Poetry Slam team & as the 2015 Toronto representative at the Women of the World Poetry Slam. Sabrina has published with ESPNW & made her TV debut in 2016, writing & voicing the third instalment of Sport Chek's Olympic Manifesto commercial series. Sabrina facilitates writing & spoken word workshops all over North America to groups of all ages, focusing on the ways stigma stops us from connecting with one another & the mental health benefits of a daily writing practice.
Open to folks 24 years old and under. Space is limited, please pre-register. $5-10 sliding scale, free for registered competitors (have your coach email us to confirm your spot). 
Tuesday April 10th
STILL VICTORIOUS ALUMNI SHOWCASE feat. Jillian Christmas!
7:30PM, DOORS AT 7:00PM @ Caffe Fantastico, 965 Kings St (Quadra Village), Victoria BC
$6-10 sliding scale, free for registered poets and coaches.

Over the last 9 years we have had many amazing poets come up through Victorious Voices. On Tuesday, April 10th, we will showcase some of these awesome poets at Caffè Fantastico. The line-up includes past Victorious Voices and Hullabaloo Champions, Vic Slam team members, Youth Poet Laureates and poets who've gone on to make a big impact in the local spoken word community.
Featuring:
Hannah Berry
Sam Ferraby
Juniper Mae Gittens
Logan Simonson
Maita Cienska
and more to be announced!
About our stellar feature:

Jillian Christmas was born and raised in Markham, Ontario. She currently lives on the unceded territories of the Squamish, Tsleil-Waututh and Musqueam people (Vancouver, BC.), where she serves as Artistic Director of Vers?s Festival of Words. Jillian is an enthusiastic organizer and activist in the Canadian arts community, her focus being to increase anti-oppression initiatives in spoken word. She has participated in, developed and executed programs in partnership with Toronto Poetry Project, Wordplay, Brendan McLeod's Travelling Slam, University of British Columbia, Vancouver Opera, and the CULTCH Mentorship, and facilitated spoken word workshops for youth and adults across the country." 
WED, APRIL 11th, 2018
HIGH-SCHOOL SLAM FINALS featuring SABRINA BENAIM!
7PM, DOORS AT 6:300PM @ the VEC, 1415 Broad St, Victoria, BC
$10 for presale tickets, $5 for high school students at the door (cash only), free for registered poets and coaches.

THIS IS IT. The top 4 teams from semis compete for the championship title. With feature performances by Sabrina Benaim and this year's Alumni of Honour (TBA!), it will be an evening you won't want to miss.