Voice ++ at Open Space March 19-22 2015 in Victoria BC. Media Release.
I still remember the concert by Christian Zehnder at Voice ++ 2013–incredible artistry and mastery of the human voice. Open-minded music lovers are encouraged to go outside their normal listening and participate in this fantastic festival.
Voice ++ (March 19-22) is Open Space's festival that focuses on the exploration of the human voice and its intersection with sound and music.  Voice++ 2015 will feature the work of Tomomi Adachi, Janice Jackson, and Erik Bünger. This year's offering includes a workshop, improvised music for voice, voice and electronics, art song, contemporary vocal techniques, one-woman operas, and a performative lecture.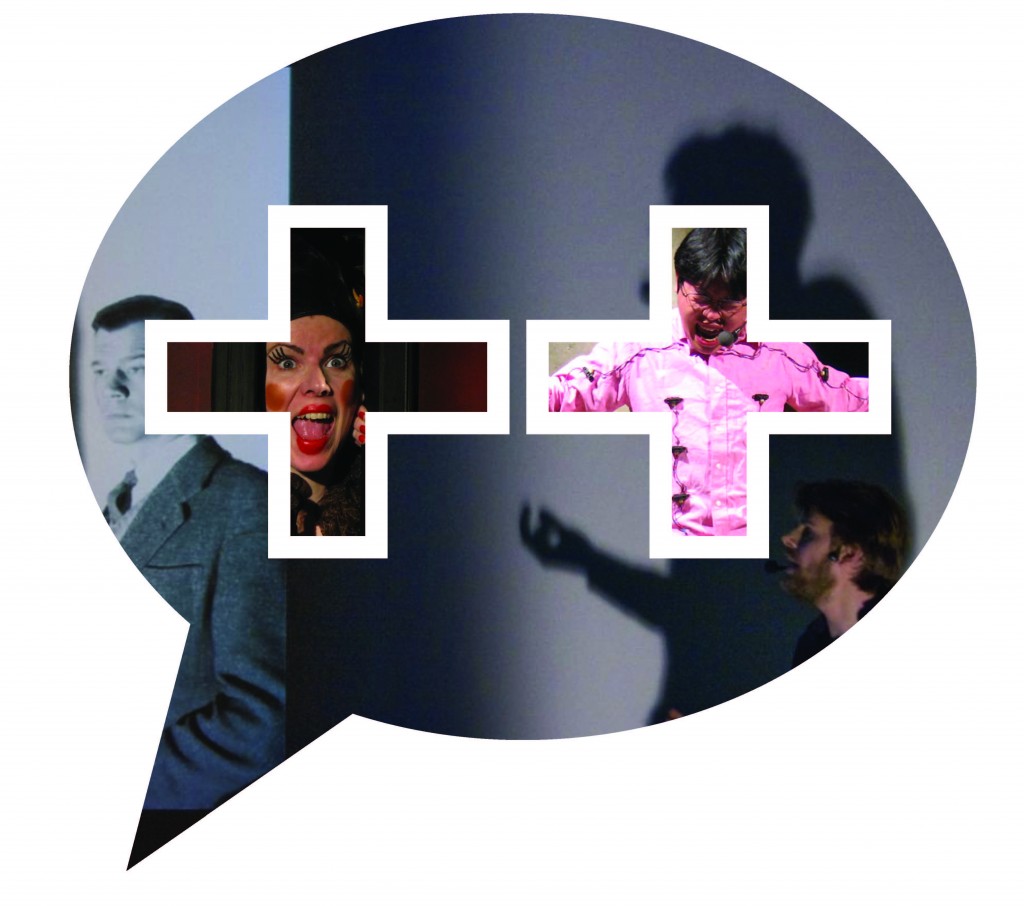 Events
Workshop with Tomomi Adachi: March 19, 2015, at 7 p.m. By Donation
In conjunction with his solo voice/electronic improvisatory performance, Tomomi Adachi guides participants in finding connections between the voice, visibility, tactility, acoustic space and the body. Participants are not required to have any musical skill, dancers and visual artists are welcome. No experience necessary, all are welcome.
Tomomi Adachi Sound poetry, Improvisation, Electronics: March 20, 2015 at 7 p.m.
Experimental vocalist, sound poet, improviser and instrument maker Tomomi Adachi (Japan) transforms into a technology enhanced performer with the help of his self-made instruments like the "infrared sensor shirt," which creates sounds based on what he says and how he moves. Adachi will present a mix program with sound poetry, improvisation and compositions with self-made electronics and voice. His radical take on vocal techniques will impress and amaze.
Janice Jackson: Echoes of Time: March 21, 2015 at 7 p.m.
Saturday's concert Echoes of Time is a program of Canadian contemporary vocal music written in the past 20 years.  Part art song, part opera, all of the music in this program is theatrical, powerful, and engaging.  The music contains bel canto singing, extended vocal techniques, improvisation, ritualistic movement, and exemplifies the music which Janice Jackson has specialized in over the past 25 years.  This concert will include a performance of Sandy Moore's Echoes of Time Weeping, a mini-opera based on the Mexican myth of La Llorona.
Erik Bünger The Third Man: Sunday, March 22, 2015 at 2:30 p.m.
On Sunday afternoon, artist, composer, musician and writer Erik Bünger  (Sweden) performs his internationally renown live lecture and screening, The Third Man. This performative lecture is part of a series of works on the human voice in relationship to recording technology, music and language. The Third Man includes his childhood memories of discovering a music box to watching the Sound of Music however, it is in fact an exploration of the negative power of music. Displacing and recombining familiar material, Bünger challenges the separation between authentic and simulated experiences.
"The links [Bünger] makes between Kylie Minogue and zombies – between popular melodies and the Pied Piper of Hamelin – are not only novel but also witty in a subtle way."
– Thibaut de Rugter  frieze-magazin.de
Biographies
Tomomi Adachi is a Japanese born, Berlin residing performer, composer, sound poet, installation artist, occasional theater director. He studied philosophy and aesthetics at Waseda University in Tokyo. He has played improvised music with voice, live electronics and self-made instruments. He had composed works for his own group "Adachi Tomomi Royal Chorus" which is a punk-style choir. He has performed contemporary music: vocal, live-electronics or performance works by John Cage, Cornelius Cardew, Christian Wolff, Tom Johnson, Dieter Schnebel, TAKAHASHI Yuji, YUASA Joji and Fluxus including world premiere and Japan premiere as Cage's Variations VII, Europera 5, and Waterwalk. He is the only performer of sound poetry in Japan and has performed Kurt Schwitters' Ursonate for the first time in Japan. He has made several sound installations and original instruments (e.g."Tomomin", his hand made electric instrument is familiar with many musicians). Recently, he is focusing his activities on solo performance (with voice, sensors, computer, self-made instruments), sound poetry (especially to the unknown great Japanese sound poetry tradition), video installation and workshop style big ensemble with non-professional voices and instruments.
Janice Jackson has sung over 200 world premieres, many works written specifically for her, and performed with contemporary music ensembles, in modern music festivals and concert halls around the world – Beijing, Paris, Vienna, Amsterdam, Hamburg, Torino, Toronto, Montreal, New York, Berlin, Johannesburg and more.   She is the Artistic Director of the Halifax based contemporary vocal music society Vocalypse Productions.  In 2009 – 2010 she produced 4 shows through Vocalypse Productions including Vonda de Ville in Temporal Follies by Lukas Pearse (a one hour / one woman melodrama in which she sang and acted the role of Vonda de Ville) and a jazz opera with libretto by Nova Scotia's George Elliott Clarke and music by New York's D.D. Jackson entitled Trudeau: Long March / Shining Path in which she sang the role of Margaret Trudeau.  During the 2010 – 2011 Season she premiered 2 works written my Montreal's Tim Brady: a melodrama entitled 15 Stages in the Search for Radium and Love about the life of Marie Curie with Victoria's Aventa Ensemble and 7 songs entitled  We're Hardcore based on texts by the Tragically Hip's Gordon Downie with the Vancouver Symphony Orchestra.  During Season 2011 – 2012 she premiered a new mini opera by Anna Pidgorna entitled Mirror Mirror for voice and electronics during Oscillations 2012 as well as singing Jerome Blais' Dremlen feygl with Montreal's Orchestre Métropolitain.   In May 2013 she gave eight performances of 3 new mini operas entitled HOWL at Dalhousie Art Gallery and reprised her performance of Tim Brady's We're Hardcore during the Scotia Festival of Music.  In the fall of 2013 she put on a choreographer's hat and presented her first dance production entitled Oppression with a grant from Kinetic Studio's Explorations program.  She also showcased 2 contemporary vocal solos in Montreal's Place des Arts during the International Artist Managers Conference.  In October 2013 she was the recipient of an Established Artist Award through Arts Nova Scotia.
Erik Bünger is a Swedish artist, composer and writer living in Berlin. His work revolves around the human voice and its contradictory relationship to the body, to language, to music and to technology. The voice is not addressed as a phenomenon, which gives rise to personal, human presence and interpersonal communication but rather as the very thing that allows something other, radically inhuman, to enter and take control of the human body.