Now that the heady days of summer are over, and we've fringed until we can't any more, what's a theatre-goer to do during the fall theatre season?
There are plenty of options between now and the winter (Christmas) holiday.  Many people are familiar with The Belfry Theatre, the Phoenix Theatre and Langham Court  but what about Theatre Inconnu, Giggling Iguana, WHOS (William Head on Stage), Sin City, Paper Street Theatre, Island Repertory Theatre, This is Twisted Theatre or Theatre SKAM?
In addition, perhaps you saw a Victoria Fringe Festival show that impressed you, and wonder where the actors are performing.
Here's a list of all the theatre productions I could find. There may be shows missing – it is not intentional. If you know of a show, company or event I have not highlighted, please let me know, and I'll include it.
October
This is Twisted Theatre at the Victoria Event Centre opens October 2nd. Brought to you by some of the people behind the popular "Tara Firm and the Lunar Chronicles" at the Victoria Fringe Festival.
This is Twisted Theatre is an all new theatre company based in Victoria BC and created by Theodore Sherman and Rod Peter Jr. You can see Twisted Theatre at least once a month at the Victoria Event Centre ( 1415 Broad st ) on the first sunday of every month.
Their next show will be Sunday November 6th.  Now, this looks like fun!
Shining City by Conor McPherson at Theatre Inconnu. Closes October 8th.
Shining City opened at the Royal Court in 2004 and prompted the London Telegraph to describe him as "the finest dramatist of his generation…" It subsequently opened on Broadway in 2006 and was nominated for two Tony Awards, including Best Play.

In Dublin, a man seeks help from a counselor, claiming to have seen the ghost of his recently deceased wife. But what begins as just an unusual encounter becomes a struggle between the living and dead — a struggle that will shape and define both men for the rest of their lives.
Be sure to catch Shining City before it closes. Theatre Inconnu brings hard hitting contemporary theatre to Victoria and is the city's oldest surviving alternative theatre company (established in 1978!).
The Melville Boys at Langham Court. Closes October 15th
A tenderly funny and unsentimental look at four lives in transition, The Melville Boys captures the essence of the human experience. This blend of comedic gems and genuine humanity will touch your heart and tickle your funny bone. Another hit from Canada's favourite writer of comedy.
And Slowly Beauty by Michel Nadeau at the Belfry Theatre  until October 23rd. I loved this show. My review is posted here:
A love letter to life. Mr. Mann, like many of us, is quietly passing through life. A random office draw wins him tickets to the theatre, to see Chekhov's The Three Sisters and in those few precious hours his life begins to make sense. His quiet yearning for happiness seems to take on meaning. And Slowly Beauty… is a fresh, gentle revelation of the beauty of life and the transformative power of art.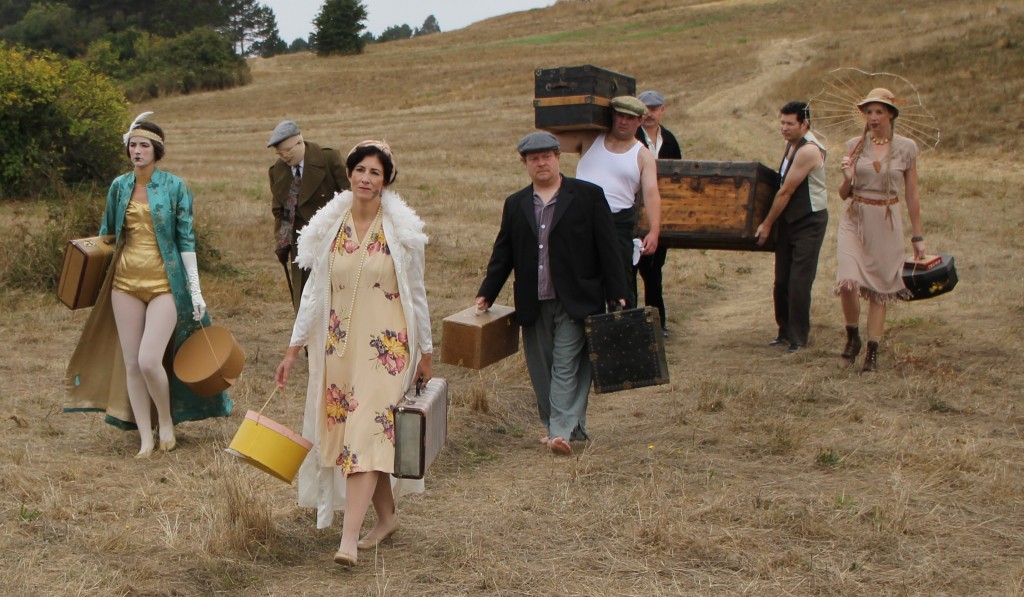 Sin City Season Two: Carnies
Karen Brelsford, Chris Gabel, Kirsten Van Ritzen, Wes Borg, Morgan Cranny, Alan Penty, Robert Conway, Christina Patterson
Photo: Chris Boots Orchard used by permission
Sin City The Live Improvised Soap Opera returns for Season Two: Carnies. Opening night – October 18th at the Victoria Event Centre.
CARNIES takes places in the dust bowl of the 1930's Great Depression. Enter the world of the travelling sideshow – with astounding characters that may include Ava the Snake Lady, an Amazing Mentalist, The Man without a Face, the Cootch Girlie show revue, the Falling Wallendas and assorted barkers, rousties, stooges and marks.

Every scene is made up on the spot, and the story continues weekly for 24 episodes. This unique format takes the art of improvisation to a whole new level: hilarious, poignant, and thrilling unscripted theatre.
If you're familiar with Atomic Vaudeville, you will recognize some of the faces. Founder Kirsten Van Ritzen recently presented her one woman show "All My Day Jobs" at the Victoria Fringe Festival.
Love Kills at UVic's Phoenix Theatre October 13 – 22. This is an Spotlight on Alumni production originally staged at Theatre Inconnu
Based on the 1958 killing spree by Charlie Starkweather and Caril Ann Fugate that shook America to its moral core, OBIE Award-winning, New York playwright, Kyle Jarrow's critically acclaimed rock musical and psychological drama brings us inside the jail and inside the heads of two teenage lovers accused of murder. When interrogated by the town sheriff and his wife, facts blur and loyalties shift as the teenage lovers are pressured to confess before dawn.
Theatre Inconnu consistently presents plays that challenge me. I look forward to their season and am a regular attendee. I saw Love Kills during their 2010/11 season.  It confronts our presumptions about the nature of love!
Charles Ross-A- Thon October  14-15 at Metro Studio
Dust off your lightsabers: Victoria performer Charles Ross is back by popular demand with a 2-day run of his smash-hit shows, One-Man Lord of the Rings andOne-Man Star Wars Trilogy. Inspired by the popular films, Ross' brilliant one-man shows have sold out theatres around the world, from Off-Broadway in New York to the Sydney Opera House.
Charles Ross last appeared in Victoria in the very popular Tara Firm and the Lunar Chronicles.
Gormenghast, an adaptation of Mervyn Peake's satirical and fantastical tale at WHOS, William Head On Stage. Directed by Ian Case October 14-November 12.
WHOS is the legendary program for inmates at William Head Institution in Metchosin. Gormenghast is their 50th production in 30 years.  The cast  features 9 inmates and three local actresses – Ingrid Hansen (last seen in Little Orange Man at the Victoria Fringe), Kate Rubin (The Importance of Being Earnest) and Michelle Chowns (The Cursed Cabaret of Kelowna Day Taylor).
Tickets MUST be purchased in advance, and only theatre-goers 19+ may attend. No personal belongings may be brought into the facility.
Tickets via Ticket Rocket online.
Fall of the House of Usher at Craigdarroch Castle. Presented by Giggling  Iguana.  October 20-31
Ian Case has been presenting site specific theatre at Craigdarroch Castle for 11 years. I can't imagine a more appropriate (or spooky) way to celebrate than with this adaptation of Edgar Allan Poe's masterpiece.
Ian has a singular talent for exploiting the castle's unique ambiance to perfect effect and audiences will not be disappointed. Scenes take place throughout the Castle and visitors move from room to room as the plot progresses during the evening. from Craigdarroch Castle website.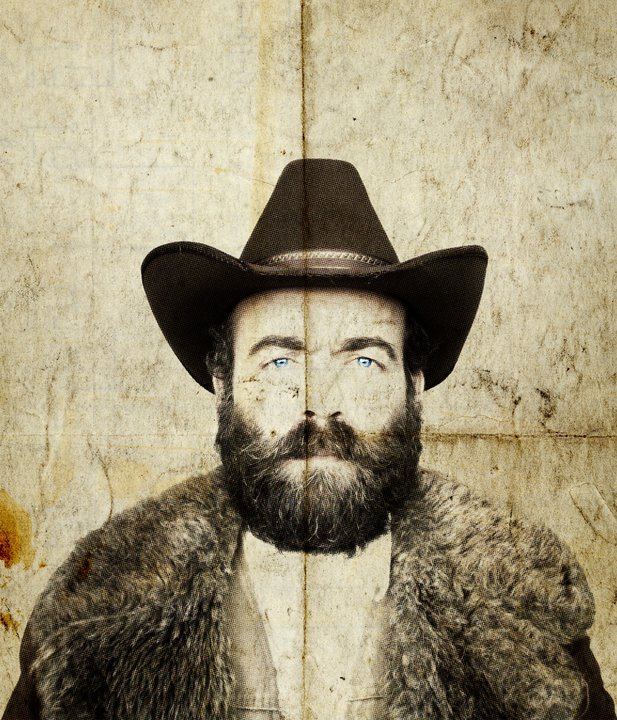 Photo: Matthew Payne used with permission
Cariboo Buckaroo by Theatre SKAM at Intrepid Theatre Club October  25 – 30
This true tall tale of an 1864 cattle drive full of surprise, magic and beans explores three actual historical events in B.C. history, including the Chilcotin War of 1864. Includes epic cowboy poetry, water, and secrets for any children in attendance.
I saw Cariboo Buckaroo during it's last Victoria run. It's a great show for families. I learned LOTS of BC history and it was FUN too!
Moscow Stations by Theatre Inconnu originally part of the 2010-2011 season, Clayton Jevne and Graham McDonald are headed to New York for the 2nd annual Solo United Theatre Festival.  Fundraising performances Oct 26 -30th and November 5th.  This is a solo tour-de-force that you should not miss!
Urban Arts Productions returns to the Maritime Museum of BC with a production of Nevermore, just in time for Hallowe'en. A musical adapted from the writings of Edgar Allan Poe.  October 27th – 29th and November 3rd – 5th, 2011 with a special midnight performance on October 29th.
Atomic Vaudeville returns with their Halloween cabaret show Oct 27,28,29 & 31 at the Victoria Event Centre. One of the hottest tickets in town, particularly on October 31st. My recommendation – buy your tickets early. They usually go on sale 2 weeks in advance at Rebel Rebel 585 Johnson. There are sometimes tickets available at the door – but for the Halloween show I would not count on it.
Enchanted Halloween at Heritage Acres is presented by Shine*ola Productions and Intrepid Theatre, as a fundraiser for Intrepid. Now in it's 2nd year, it's a wonderful way for a family to experience this holiday in a safe environment.  Luminara displays, train rides, live music and strolling entertainment. There's sure to be something for everyone!
November
ROOKERY NOOK at the Phoenix Theatre, UVic, November 3-19, 2011.  By Ben Travers. Directed by Bindon Kinghorn.
Fast paced and full of witty repartee, this stylish 1920s British farce is comparable to the comedies of Traver's contemporary, Noel Coward.
Support theatre students and see some great productions for a very modest cost. Season subscriptions may still be available – see 4 shows for $48 or 3 shows for $36. Contact 250-721-8000 for more information.
A One Night Stand With  Michael Delamont – November 11th at the Victoria Event Centre.
Did you miss Michael Delamont as GOD at the Victoria Fringe Festival?  Grab your tickets soon for what are sure to be sold out shows. Michael is now in Toronto and this prodigious talent, who many may know from his work with Atomic Vaudeville and Random Selection of Chairs (The War of 1812) is headed to New York. You don't want to be saying "I didn't see him when".
Michael is bringing new material but here's a brief clip of an improv moment from GOD.
Jitters at the Belfry Theatre  November 15 – December 18.
by David French, Directed by Patrick MacDonald

A delicious backstage comedy about life in the theatre. Jitters opens on the night of a preview of a new play, The Care and Treatment of Roses. Within minutes, the audience is plunged into the world of the theatre – larger-than-life personalities, easily bruised egos, contradictory interpretations of role and script – complicated by faulty props, close quarters, lost lines, and bad reviews, and all magnified by the opening night "jitters" of cast, crew, writer, and director
I'm a Belfry subscriber and appreciate the diverse programming of their season.
Buddy Holly Story , the Arts Club production, presented by Blue Bridge Theatre. November 15th and 16th at the Royal Theatre.
The World's Most Successful Rock 'n' Roll Musical! Viewed by more than 20 million people in over 17,000 performances worldwide!
If you saw Zachary Stevenson as Hank Williams in 2010 or in this year's Fire, you'll want to return for the Buddy Holly story. Zach is a high energy, engaging performer.  Tickets at RMTS.
GlenGarry Glen Ross by the Island Repertory Company  November 16-27 at the Metro Studio Theatre.  This ferocious drama by David Mamet has a stellar local cast, including Howie Siegel, Morgan Cranny and Wes Borg. Tickets go on sale October 27th through Ticket Rocket. The Facebook event page is here and a there's  a listing on the Metro Studio calendar. Check back frequently for updates on tickets.
An Improvised Samuel Beckett by Paper Street Theatre November 17th and 18th at Intrepid Theatre Studio.
Under the direction of master improviser Dave Morris, The Paper Street Theatre co. creates improvisation that feels like theatre. By studying great playwrights, and theatrical styles then performing them with no script, our ensemble sets out to change what people often perceive improvisation to be. Some of what we do may be comedy, but first it will be theatre.
I saw the first show by this new company, An Improvised Tennessee Williams and was incredibly impressed by the flow of the two pieces – one in the style of A Glass Menagerie, the other in the style of A Streetcar Named Desire. 100% improvisation – no pre-determined storyline.
The Beauty Queen of Leenane at Langham Court Theatre, November 17 – December 3. Written by Martin McDonagh. Directed by Judy Treloar
Secrets, deceptions, and betrayals abound in the Irish backwater of Leenane. Oppressive, fiery Mag will stop at nothing in her attempts to keep her long-suffering daughter, Maureen, from leaving home and finding love. Suspense interweaves with high drama and black comedy in this four-time award-winning West End and Broadway hit.
Martin McDonagh is famous for his dark theatrical vision and is considered to be one of Ireland's greatest living playwrights. You may have seen The Cripple of Inishmann at the Belfry in 2001 or Pillowman at Theatre Inconnu in 2008.
A Day in the Life of Joe Egg at Theatre Inconnu. Written by Peter Nichols. November 29 – December 17
Peter Nichols' Tony Award Winning play has done a masterful job of treading a fine line between the absurd and the universally familiar; as he tells the tale of a family coping with life that has been defined by their daughter's severe disability. This drama/comedy is a far cry from the didacticism usually associated with "issue" plays.
I have worked with and for people with disabilities several times during my career. This piece has captured my attention.
December
The Canadian College of Performing Arts presents: Theatrical Treasures "10 Lost Years" and "Village of Idiots" December 1st – 3rd. Year II actors in classic and cutting edge theatrical presentations, a moving mixture of comedy and drama.
I've got a special attachment to CCPA as this is where # 2 son completed his training. It's an opportunity to witness young and vibrant talent, on the cusp on their careers. Support the future of the arts in Canada.
A Christmas Carol by Theatre Inconnu featuring Clayton Jevne in a one-person version of this Christmas Classic.  December 18-24 (2pm) at Emily Carr House  with a special Christmas Eve showing December 28th 8pm at Little Fernwood Hall (1923 Fernwood Rd). Tickets: 250 360 0234.
It's been several years since Clayton Jevne has performed this annual tradition. It's a great show for families.
Check the website closer to the date for more information.