Blue Bridge presents War of the Worlds October 30/31 2017. A preview.
At a time when "old media"—television, radio and print—is engaged in what some deem a to-the-death struggle with "new media", Orson Welles' adaptation of HG Wells' classic science fiction tale War of the Worlds could not be more relevant, according to Brian Richmond, artistic director of Blue Bridge Repertory Theatre.  The company is staging War of the Worlds on Hallowe'en Eve, 79 years to the day that Welles instigated panic among thousands of Americans who truly believed, in listening to his radio broadcast, that an alien invasion was taking place (there is also a show on Hallowe'en).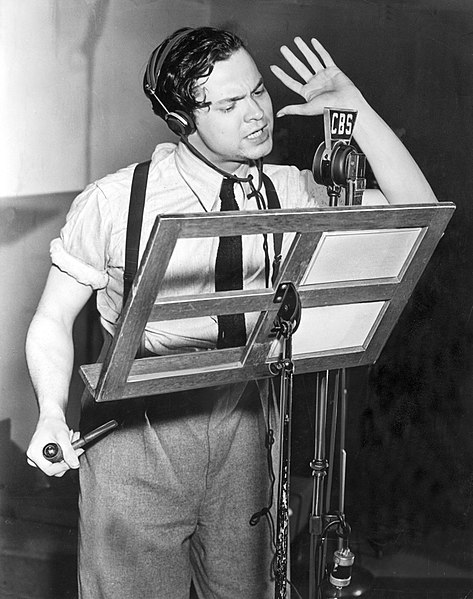 Source: Radio Mirror
People have a fascination with listening to the radio, even today—"we all have a connection", says Richmond, noting the popularity of shows like This American Life and S-Town. There are definite parallels between the "fake news" struggles playing out around the world, and the rising pre-eminence of radio in the late 1930s.
Blue Bridge has been producing radio plays at Christmas since their second season, beginning with It's A Wonderful Life in 2010 and adding Miracle on 34th Street to their repertoire in 2011. (This year, December 14-17 join the company for It's A Wonderful Life and Shop Around the Corner).
Unlike the afore-mentioned, where the actors are consciously playing to the audience, in War of the Worlds the fourth wall is firmly in place.  Rather than a foley artist creating live sound there is a sound track.
Richmond has recruited some of Victoria's finest voices, including Jacob Richmond as Orson Welles, and is focusing on the very essence of good theatre—"great actors and great scripts" to recreate this extraordinary moment in radio history.
In advance of the radio play, there will be a screening of the PBS documentary – War of the Worlds – the Panic Broadcast. The show will be followed by a discussion with the director and members of the cast on the relevance of this seminal media event in the digital age.
War of the Worlds
Blue Bridge Repertory Theatre at the Roxy (in Quadra Village)
October 30/31 at 7pm
Tickets: $30/$25 (seniors)/$15 (youth)
Cast:
Shauna Baird, Sheldon Graham, Adrian Hough, John Krich, Griffin Lea, Brian Linds, R.J. Peters, Brian Richmond, Jacob Richmond and Lindsay Robinson.
Set and Lighting Design by Rebekah Johnson, Costumes by Patricia Reilly with Sound by Jason King.
Further reading:
https://news.iu.edu/stories/2017/10/iub/releases/26-orson-welles-release.html
http://www.history.com/this-day-in-history/welles-scares-nation