When I'm 64. Playreading July 21-23 2013. Victoria BC.
JS Hill's "ode to older women", When I'm 64 returns to Victoria July 21-23, 2014 for staged readings at Shakespeare By The Sea in CloverPointPark.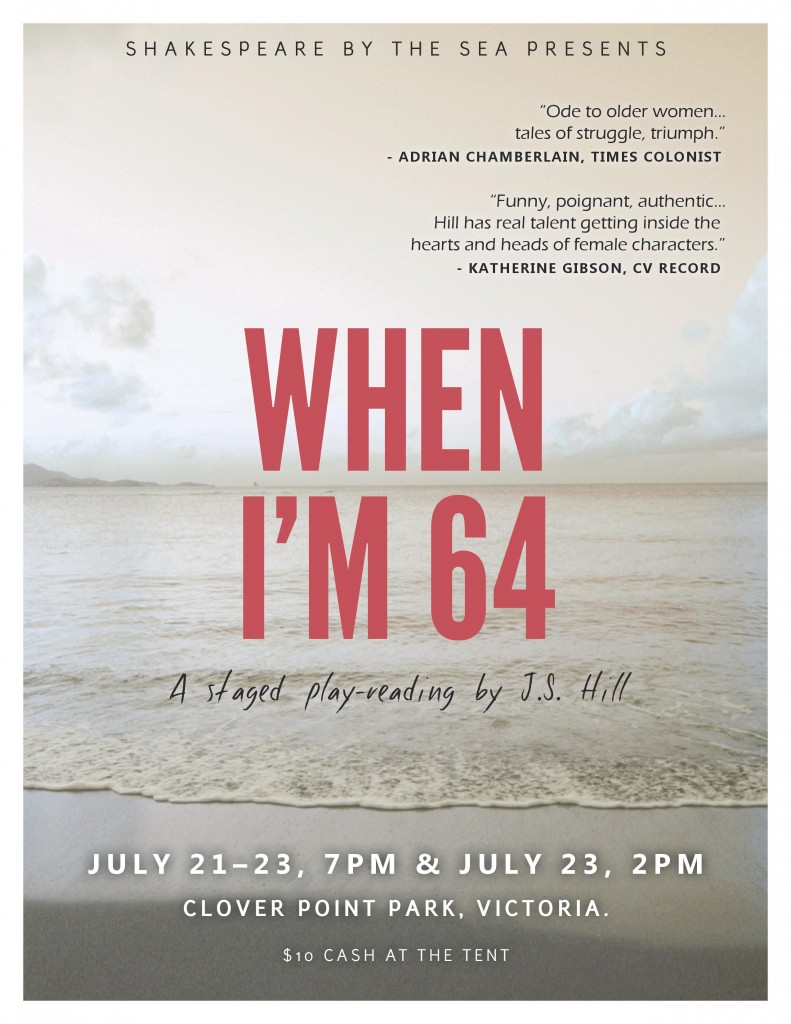 Featuring the inter-mingled stories of 7 women—all 64—When I'm 64 takes its audience on a journey through discovery, grief, illness, celebration, transition and change.  These vignettes are sure to resonate, regardless of age, stage, background, or gender.
Novice playwright JS Hill spent his working life as a spiritual counsellor, most recently as chaplain at St Joseph's General Hospital in Comox. The stories in the play definitely reflect a Vancouver Island sensibility, but the issues these women face are universal.
Somehow it seems like only yesterday that a generation was humming along with the song. What do you do when life doesn't quite turn out the way it was supposed to at 64?  The women in these stories definitely have some ideas.
When I'm 64 is still in development, after successful readings in Victoria (August 2013 and February 2014), Cumberland and Comox. In December 2013 it received dramaturgy from respected playwright Sharon Pollock.  If you'd like to help this new play take another step, or have ideas for further readings, please contact JS Hill at playtrain@gmail.com or 250 941 3976
When I'm 64 by JS Hill
Presented by Victoria's Shakespeare by the Sea at Clover Point Park
July 21-23, 2014 at 7pm and July 23 at 2pm
Tickets $10 at the tent ½ hour before the show
Featuring "These Are the Days" by Sue Medley
Lynn Hodge (Trish)
Louise Salter (Tiller, Alexandra)
Patricia Foster (Streetwoman)
Darlene Keene (MJ)
Vivien Douglas (Joan)
Elaine Hanson (Sonja)
[vsw id="AVwAyXO8N4A" source="youtube" width="425″ height="344″ autoplay="no"]