Langham Court Theatre 2017-2018 season their 89th.
Home of the Victoria Theatre Guild & Dramatic School, Langham Court Theatre is an intimate 177 seat theatre in the historic residential Rockland neighbourhood, just minutes from downtown Victoria, BC.

For 88 years, the Victoria Theatre Guild, which owns Langham Court Theatre, has been producing engaging and high quality theatre with dedicated actors and creative teams. Since 1929 over 27,000 volunteers have presented nearly 3,000 performances using over 4,000 actors in more than 500 shows to 250,000 patrons. This is community theatre at its best offering 6 productions per year that are a mix of traditional and modern works.

Thanks to the current complement of members, audience support and experienced staff, the Victoria Theatre Guild & Dramatic School continues to be one of Western Canada's community theatre success stories.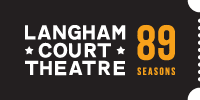 Girl in the Gold Fish Bowl by Morris Panych, directed by Janet Munsil
September 27-October 14
"My mother says you know when you're grown up: it's the moment you stop being happy and start remembering when you used to be." As Amahl the goldfish is flushed away, precocious pre-teen Iris savours the final golden hours of her childhood­­ amid threats of an atomic disaster, the disintegration of her parents' marriage, and the arrival of a mysterious stranger who washes up on the doorstep.
MATURE THEMES / NOT SUITABLE FOR CHILDREN
"An uncommon, quirky blend of humour and compassion" National Post
"Equal parts Pinter, Orton and Disney" Variety
Single tickets on sale Tue, Sep 5, 2017
Les Belles Soeurs, A Comedy by Michel Tremblay, Directed by Judy Treloar
November 15-December 2
Montreal housewife Germaine has won a million Gold Star stamps – given out by grocery stores and exchanged for goods like BBQs and lawn chairs – and invites all the women she knows to help her stick them into redemption booklets. As they stick, the women discuss the men in their lives, the church, and their small joys – like Bingo. What Germaine doesn't realize is that while the women are talking, they are also robbing her of her Gold Star stamps.
MATURE THEMES / COARSE LANGUAGE
"Lively and boisterous… an all-female cast who keep the laughs coming" Broadway World
Single tickets on sale Mon, Oct 16, 2017
Urinetown: The Musical, by Mark Hollmann and Greg Kotis, directed by Roger Carr
January 17-February 3
During a twenty-year drought and dire water restrictions, private toilets have become unthinkable. Despairing citizens must pay megacorporation Urine Good Company for the "privilege to pee." Urinetown is a hilarious satire of the legal system, capitalism, social irresponsibility, populism, bureaucracy, corporate mismanagement, municipal politics – and even musical theatre itself!
SUITABLE FOR ALL AGES
"I'd certainly recommend spending a penny (and more) on Urinetown" Time Out Magazine
Single tickets on sale Mon, Dec 4, 2017
Sense and Sensibility, Jane Austen's Classic Dramatic Comedy, Adapted by Kate Hamill
Directed by Keith Digby and Cynthia Pronick
February 28-March 17
You've never seen Austen like this! As the "greatest stage adaptation of this novel in history," this rollicking, ingeniously-staged new adaptation follows the adventures (and misadventures) of the Dashwood sisters – sensible Elinor and hypersensitive Marianne – after their sudden loss of fortune. Bursting with humour, emotion, and bold theatricality, Sense and Sensibility asks: when reputation is everything, how do you follow your heart?
SUITABLE FOR ALL AGES
"A whirlwind of delicious gossip… furiously funny and memorably moving" New York Times
"Wry, sharp-witted, engaging, intimate, and often hysterical" Towle Road
Single tickets on sale Mon, Feb 5, 2018
The Clean House, a Romantic Surreal Comedy by Sarah Ruhl, directed by Alan Penty
April 19-May 5
"A clean house is the sign of a sick mind," so says the bumper sticker. This theatrical and wildly funny play is a whimsical romantic comedy centered on Matilde, a quirky Brazilian cleaning woman who hates to clean and would rather be a comedian. It is an examination of our first world values and a poignant look at class, comedy and the true nature of love.
SUITABLE FOR ALL AGES
"A gorgeous production… tart humour, theatrical audacity, emotional richness"
New York Times
Single tickets on sale Mon, Mar 19, 2018
A Chorus of Disapproval, a Comedy by Alan Ayckbourn, directed by Wendy Merk
June 6-23
A diffident widower attempts to escape loneliness by joining the local amateur light operatic society. By accident, rather than by design – in fact, by not saying no to anything, be it a request to obtain confidential information from his company or an offer of illicit sex – he advances from a small part to the lead. Parallels are skilfully drawn between The Beggar's Opera and the day-to-day activities of the society which is performing it.
SUITABLE FOR ALL AGES
"A serious comic masterpiece: brilliantly constructed, ruthlessly observant, hilarious and hard as nails" Sunday Times
"A magnificent comedy: symmetrically shaped, psychologically acute and painfully, heartbreakingly funny" Michael Billington, The Guardian
"Humour, pathos and unnerving insight into human idiosyncrasy."
Francis King, Sunday Telegraph
Single tickets on sale Mon, May 7, 2018