Warning
: Undefined array key "width" in
/home/janislac/public_html/wp-includes/media.php
on line
1622
Warning
: Undefined array key "height" in
/home/janislac/public_html/wp-includes/media.php
on line
1623
Verbatim playwriting brother-sister duo Francesca Albright and Jude Thaddeus Allen of Castlereigh Theatre Project mine the individual to present the universal in their latest project, Ocean Fox.
Subtle in its delivery, true to its subjects, this tale of larger-than-life erstwhile rolling stone turned tropical entrepreneur hints at larger issues – environmental destruction, the cost of amenity tourism, legacy, and vantage point.
Most of us can only dream of the life of American dive-master Jef Fox on the outer Bahamian Harbour Island – the beautiful tropical sunsets, stunning coral formations and underwater life, soft pink sands and warm breezes. Yet, all is not calm in paradise.
For over 30 years this admitted rolling stone managed to stay put and run his business and life without too many complications, just the way he wanted to.
Now, at 65 he's at a crossroads, with many decisions to make.
Albright and Allen became interested in Fox while on vacation, and asked for permission to write his life. They were surprised at the unfettered access they had to his circle of employees, acquaintances and friends.
Written as a solo show, Ocean Fox portrays 15 characters – from people in their 20s to their 70s, from individuals native to the island to those from away, black and white, male and female. Other than Fox himself, a couple of stand outs are Prince Mather, local historian, tour guide and narrator, and Rosie Mitchell, an American sea-plane pilot.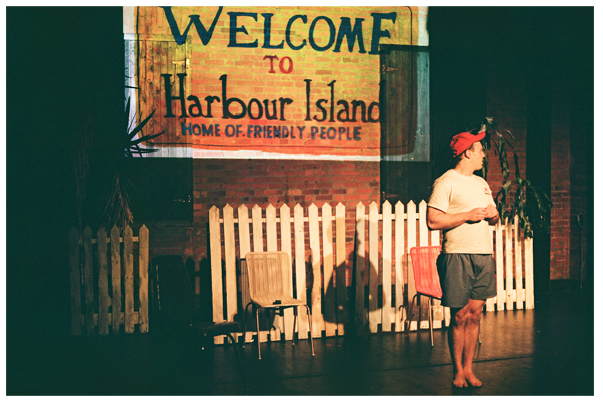 Grayson Ogle as Jef Fox. Photo: Sanja Lukac
Actor Grayson Ogle acquits himself handily of the challenge, through simple costumes changes, gestures, accents and speech patterns.  With director Kyle Schulte he carefully studied pictures of the subjects, and the voice files of the interviews conducted by Allen and Albright, in order to pinpoint the special features of each individual character.
I saw the original workshop presentation of Ocean Fox in the summer of 2012, and definitely found it easier this time to follow the storyline, and the people in it. A simple storyboard device – chapter outlines projected at the beginning of some scenes – also helps.
Original music sets a lively tropical tone.
Allen and Albright were chosen to participate in Calgary's Sage Theatre Ignite Festival in 2013, giving them the opportunity to re-work Ocean Fox. Together with director Schulte and dramaturge Gordon Pengilly, they added monologues and characters, and redefined and clarified the major themes of the piece.
Schulte says, "In my opinion, the show has come a very long way since the first draft I read".
Playwrights, actor and director remain true to the original objective of presenting the story of real people with real lives.
Ogle states, "I think an audience living on an island can see many parallels between their lives and life on Harbour Island."
Audiences looking for an authentic and very human experience will appreciate the dedication it took to crystallize hundreds of hours of interviews into a coherent and beautiful piece of theatre that weaves a strong connection between subject and viewer.
One can only wonder what the results would be if someone were storytelling our lives.
"Jef's story is touching and really makes you think about your own life and the choices you have made. His incredible journey is sure to inspire." Kyle Schulte
OCEAN FOX A Play by Francesca Albright & Jude Thaddeus Allen
Belfry Theatre (Studio A) 1291 Gladstone Avenue
July 19th at 8pm and July 20th  at 4pm and 8pm
Tickets 250-385-6815 or online at www.belfry.bc.ca
Directed by Kyle Schulte
Dramaturgy by Gordon Pengilly
Starring Grayson Ogle
Stage Managed by Chelsey MacDonald
Original Music by Dannard Anderson, Clement Fowler, Renaldo Grant and Dwight Stewart
Art by Caleb Speller
 I was offered a complimentary ticket to attend Ocean Fox for the purpose of writing a review. As always, I retain full editorial control over all content posted on my blog.