Roller Derby Saved My Soul at OUTstages Festival 2016. An interview with Nancy Kenny.
She's back! Nancy Kenny returns with her hit one-woman show to the 2nd annual OUTstages Festival produced by Intrepid Theatre.
What sparked the creation of this show?
I've been participating in Fringes since 2002. I always admired one person shows. I never knew how to approach it until one day I read an article about roller derby in Ottawa. It was the lightbulb moment for me. I found the sport so fascinating, the women involved so inspiring, I knew I had to write about it.
Is there an autobiographical element?
While there are some elements inspired by my own life, this is a work of fiction. I didn't know how to skate & I had never played roller derby before. I learned for the show, but along the way I fell in love with the sport. Now I am involved in the roller derby community. My 'derby name' is Drama Mean & I trained with primarily with a team in Toronto.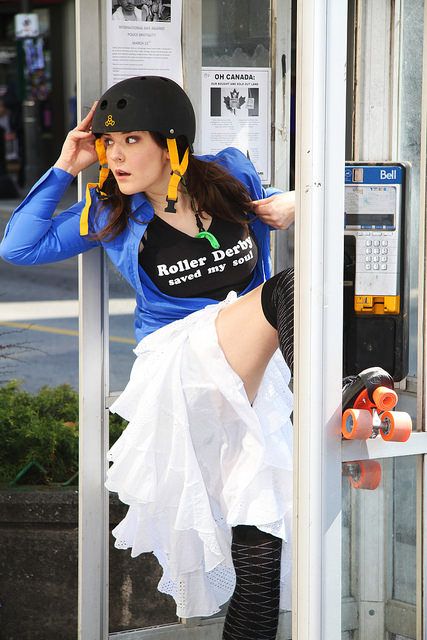 Nancy Kenny/Broken Turtle Productions
Can you comment on the physical challenges of the play—I saw it at the Victoria Fringe in 2014 and was captivated by the almost constant motion.
It is definitely a great workout! And I do have to train before a production to make sure I can still portray those skills on stage. With the nature of Fringe placing you in different venues, stage limitations often mean I can't be as physical as I want. The Metro, however, is the perfect size so I look forward to being able to do more. As I said, I learned to skate for the show.
Roller Derby Saved My Soul is now 5 years old—how has the piece changed and evolved?
The differences in the script from 2011 to today are astronomical. I recently performed in Ottawa & Orlando and still made changes before those productions. It's the beauty in being the writer performer which allows me to keep working at my craft. Today I feel like the story is the best it has ever been and I am incredibly excited to bring it back to Victoria.
What do you hope to inspire in your audience?
I always hope people walk away feeling inspired to try something new, to become the hero in their own lives.
Who will be interested as a potential audience member?  What would you say to entice someone to come?
Do you like to laugh? Then this is the show for you!
In all seriousness, this show has a broad appeal. It's an easy introduction to theatre for people who might not be regular theatre-goers. Lovers of roller derby or people curious about the sport will have a great time, especially if they show up on the same night as the Victoria Roller Derby league. There's a heavy geek element to the show, so it's great for fans of comic books, Star Wars & Buffy the Vampire Slayer. It's a powerful story of sisterhood & female empowerment and, of course, there's a lady love story that brings me to OUTStages in the first place.
What's next—both for the show and for Nancy Kenny?
I've got a regional theatre tour Roller Derby Saved My Soul in eastern Canada scheduled for 2017, but my main focus this summer is for my new one-woman show, Everybody Dies in December. I'm currently premiering it at the London Fringe Festival with stops scheduled in Ottawa, Winnipeg & Edmonton. In 2014, I also produced a documentary film about Fringe Festivals called On the Fringe, which my team and I are now ready to screen.
Is there anything I haven't asked you that it would be important to know?
Looking forward to my time back in Victoria!
Roller Derby Saved My Soul follows Amy, a shy comic book geek, enamored with female superheroes like Wonder Woman and Buffy the Vampire Slayer, who finds love with another woman, discovers roller derby, and unleashes the super-hero within. Mixing heartwarming honesty, snappy observations, knee-high socks and roller skates, this charming queer comedy on 8 wheels has been a hit at Fringe Festivals across the country.

"Roller Derby Saved My Soul skates straight into your heart." – Edmonton Journal

"Nancy Kenny is a charmer… undeniably original." – Montreal Gazette
Roller Derby Saved My Soul (Broken Turtle Productions, Ottawa)
Performed by Nancy Kenny
Metro Studio Theatre (corner of Quadra and Johnson)
Thursday June 23 at 9pm
Saturday June 25 at 7pm
Tickets $20 through Ticket Rocket online, by phone 250 590 6291, or in person Monday-Friday 10am-5pm at #2-1609 Blanshard
Directed by Tania Levy
Choreographed by Patricia Allison
Composed by Steven Lafond