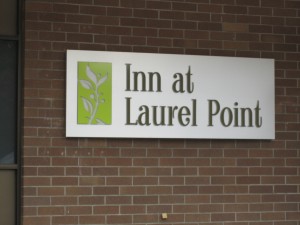 Aura Restaurant and the Inn at Laurel Point have provided me with 2 tickets to Sips and Seafood, Friday July 22nd 6:30-9:30pm (part of Taste Victoria) as a Twitter/blog contest.
Feast on local, sustainable seafood (prepared by Executive Chef Takashi Ito and his culinary team and supplied by Finest at Sea) and taste an array of BC wines, beer, spirits and tea while wandering through the hand-tended Japanese garden at the Inn at Laurel Point.
Simply retweet my #sns11 tweet and/or comment on this blog post to be entered. You must be able to attend the event in order to be awarded the tickets.
I will draw at noon on Tuesday July 19th using Random.org and contact the winner immediately. If unable to contact the winner within 24 hours, I will re-draw.

July 21 – 24, 2011 marks the third-annual Taste: Victoria's Festival of Food and Wine – a popular event that celebrates Vancouver Island cuisine and British Columbian wines. The festival, known for its culinary consciousness and integrity, kicks off on Thursday, July 21 with The Main Event, a local tasting and grazing evening, and follows with three days of gastronomic indulgence. Taste is supported by a number of local winemakers, chefs, artisan producers, farmers and fishers – all key players in helping to make Vancouver Island a vibrant culinary destination. All proceeds from the event will go to The Land Conservancy, an organization with a strong future vision of the region's food scene.

Taste is the brainchild of local Victoria gal Kathy McAree. As a culinary tour operator, facilitator, writer and speaker, Kathy has blazed culinary trails around the globe, is proud to call Victoria home and loves to share stories about this region's rich culinary offerings. Kathy is a board advisor of the International Culinary Tourism Association and her industry knowledge, skill and passion is evident in her hour-long radio show, "In Good Taste" (Saturdays on CFAX 1070). For the past three years, Kathy has worked tirelessly to ensure Taste maintains its spot as Victoria's top culinary and wine event.