What child doesn't love to climb all over a firetruck or get behind the wheel of a dump truck? They'll have that opportunity and more as Team 4 Hope hosts the 2nd Annual Touch a Truck for Pediactric Cancer Research on June 23rd, 2013 at Panorama Recreation Centre.
Some of the vehicles include police cars, limousines, cement trucks, and excavators.  This fun-filled family-friendly afternoon includes other family activities and a BBQ.  Touch a Truck is one of Team 4 Hope's highest profile events. In 2012 the team quietly raised over $100,000 for critical neuroblastoma research – mainly by participating in races and marathons.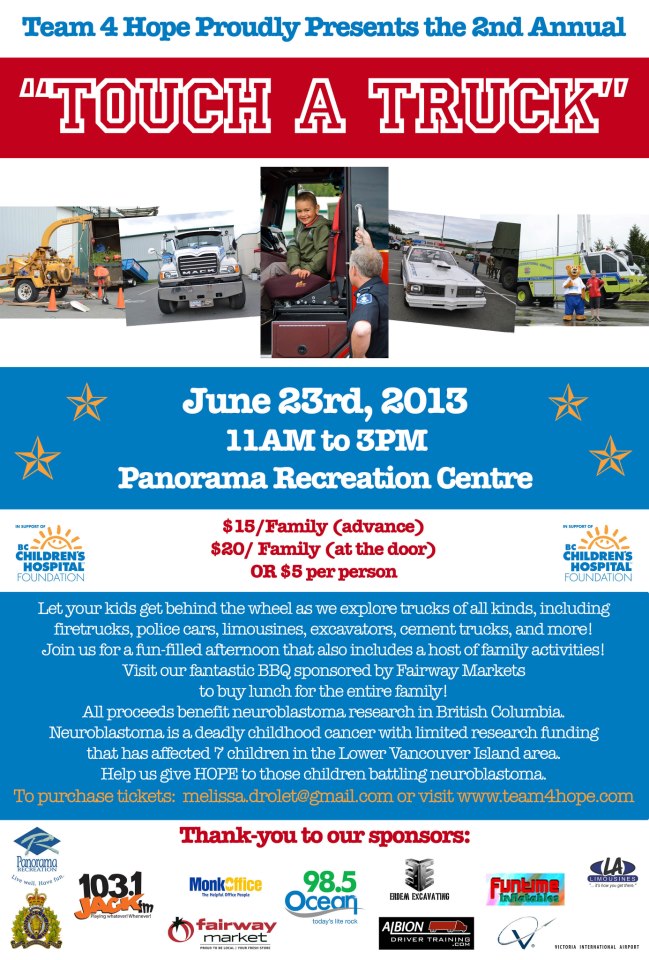 Team leader Lisa Hopkins life changed forever when her then-2-year-old son Jordan was diagnosed with neuroblastoma, a rare and often fatal pediatric cancer of the nervous system. The prognosis was grim, but today Jordan is a healthy and active fourteen year old.  However, this outcome is not the norm. There is no standard treatment for neuroblastoma, no cure, and little research given the relatively small number of cases (approximately 70 cases in Canada per year).
Team 4 Hope is dedicated to raising awareness about childhood cancer (neuroblastoma), and providing funds for further research at facilities including the BC Children's Hospital Foundation and Canada's world-renowned Michael Smith Genome Sciences Centre, both of which are located right here in BC.  The team is small and expenses are kept to a minimum – 13% in 2012.
Currently in Victoria there are seven families with children affected by neuroblastoma – three are in remission, two have relapsed and two have passed away.  Survival rates have not changed in 20 years, mainly due to the lack of research.
Bring your children and grandchildren out for a fun afternoon, and support pediatric cancer research.
Touch a Truck Fundraiser for Neuroblastoma Research
Sunday June 23rd 
11am – 3pm, Panorama Rec Centre
Tickets $15 in advance/$20 at the door per family
$5 per person