Aventa Ensemble presents the world première of Gavin Bryars opera, Marilyn Forever, in Victoria BC September 13/14, 2013.
I had (ashamedly) never heard of the critically acclaimed and local new-music ensemble Aventa before an insert for the upcoming world première of their commissioned opera, Marilyn Forever, arrived with a local art gallery's regular mailers.
Intrigued, I contacted artistic director Bill Linwood to learn more.
The Aventa Ensemble was founded by Linwood in 2003, and over the last ten years has established itself as a leader in the contemporary music scene, nationally and internationally. Committed to Canadian repertoire, they regularly present and commission works by Canadian composers.
Marilyn Forever is composed by internationally acclaimed British composer Gavin Bryars, and was commissioned over 6 years ago. "It's been a long process", admits Linwood.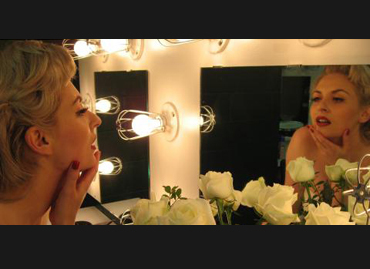 Bryars is a long-time collaborator of Aventa; the ensemble regularly performs his pieces, including the cult favourite The Sinking of the Titanic at Fisgard Lighthouse.
The libretto for Marilyn Forever is based on the poem Anyone Can See I Love You (1987) by Metchosin-based poet Marilyn Bowering.  Bryars, who has a home in Metchosin, and Bowering are actually neighbours which is how the opera had its genesis.
It begins on the day Marilyn Munroe dies, and covers her transformations from small-town girl to sex-goddess.
Marilyn Forever examines Marilyn Monroe's intellectual and emotional relationship to death and love. As the work progresses, the performance interweaves what is taking place on stage with the trajectory of Monroe's life through relationships, fame and myth. Ultimately, the characters of the musicians as performers and men in Monroe's life fuse with the forces that lead to her death. Marilyn Monroe is often looked at as a sex object, victim or fantasy. In this work, we are given through Monroe's own voice, her combination of sensitivity and exhibitionism, allied to the narrative of the "chorus", a view from the 'inside' of the conflicting emotion and ambitions of this compelling and timeless personality.
According to Bryars, the music he writes is not the image most people would have of new music – difficult, unapproachable, and extreme. Rather, "it has familiar connections with the music they may know. In this case, I've deliberately linked it to music of Marilyn's period. There's an onstage trio (Bryars, Tony Genge and Phil Dwyer), and she sings with them."
The role of Marilyn was written with Faroese folk/pop singer Eivør in mind.
"She's an extraordinary performer with an amazing stage presence – absolutely riveting.  Her vocal range includes incredibly high notes.  She'll be improvising on certain passages, because if I wrote these crazy notes, no one else would be able to sing them." says Bryars.
Danish opera singer Thomas Sandberg (who is also a composer) plays "the men" in her life. Stage director Joel Ivany was a recent prize winner in the European Opera Directing prize for his concept presentation of Bellini's I Capuleti e i Montecchi.
Marilyn Forever is a sinfonietta, a chamber orchestra with 15 musicians (all members of Aventa).
Victoria is fortunate to experience a world première of this calibre, with an extensive array of accomplished and note-worthy musicians, performers and creators.  Given the iconic nature of the subject, it is sure to be of great interest to a wide-range of musical fans.
Marilyn Forever, world première
composed by Gavin Bryars, libretto by Marilyn Bowering
September 13 + 14, 2013 8PM
MacPherson Playhouse Theatre, Victoria BC
Tickets: $42.50 for adults, discount available for senoirs/students and groups
Eivør Pálsdóttir, Marilyn
Thomas Sandberg, The Men
Joel Ivany, Stage Director
Bill Linwood, conductor
Aventa Ensemble
I will be attending Marilyn Forever as a guest of Aventa Ensemble. As always, I retain complete editorial control over all the content published on this blog.