One of my highlights of the 2010 Victoria Fringe Festival was seeing Saltwater Inc's production of Kurt Weill's Mahagonny Songspiel. Joanna Hounsell had only recently formed Saltwater, and this was an ambitious project, complete with projections and choreography.  Now, she brings the music of one of musical theatre's most-awarded composers and lyricists, Stephen Sondheim, to the stage with Side by Side by Sondheim. This revue features songs from well-known classics like Something Funny Happened on the Way to the Forum, Follies, Gypsy, Company, and West Side Story.
Cast members include: Sara-Jeanne Hosie (Little Shop of Horrors and A Closer Walk with Patsy Cline, Blue Bridge Repertory Theatre), Mike Delamont (God is a Scottish Drag Queen; Oklahoma!, Chemainus Theatre), Alison Roberts (West Side Story, Vancouver Opera), Alan Macdonald (Albert Herring, UBC Opera), Joseph Bulman (Mahagonny Songspiel, Mummer's Masque and Seussical, Saltwater Inc), Kat Palmer (Fiddler on the Roof, Gateway Theatre)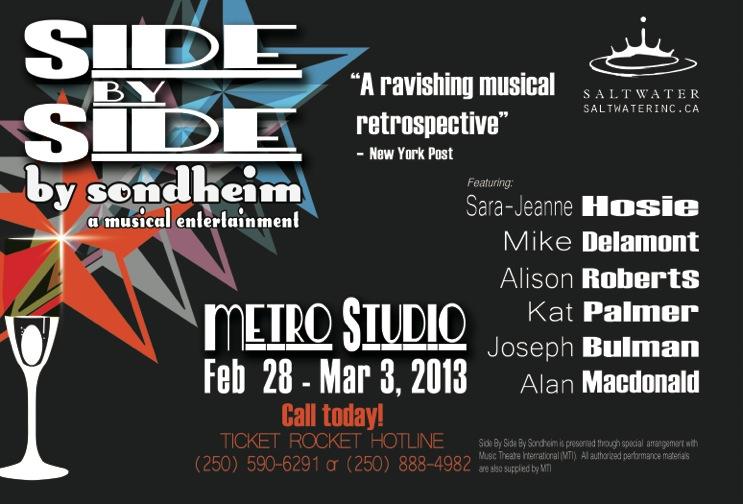 SIDE BY SIDE BY SONDHEIM
A Musical Entertainment presented by Saltwater Inc.
Music and Lyrics by Stephen Sondheim
With Music by Leonard Bernstein, Mary Rodgers, Richard Rodgers & Jule Styne
Produced on Broadway by Harold Prince in association with Ruth Mitchel
Metro Studio, 1411 Quadra Street, Victoria, BC
Showtimes:
Thursday, February 28 @ 8:00 pm
Friday, March 1, 2013 @ 8:00 pm
Saturday, March 2 @ 2:00 pm
Saturday, March 2 @ 8:00 pm
Sunday, March 3@ 4:00 pm
Tickets $30.00/ $22.00 thru Ticket Rocket, online, in person, or by phone at 250 – 590 – 6291
STARRING
Mike Delamont          
Sara-Jeanne Hosie*
Alison Roberts*
Kat Palmer
Joseph Bulman
Alan Macdonald
with
Michael Drislane and Shane Beech, Pianists
Sean Guist, Director
Phoebe Rumsey, Choreographer
Joanne Hounsell, Music Director

"A ravishing musical retrospective" New York Post
"This is a dream of a show……happy, funny, witty and so compassionate. It makes you feel good!" New York Times
"Saltwater is musically inspired and theatrically driven to engage the senses and the imaginations of everyone."