Brighton Beach Memoirs by Neil Simon, Blue Bridge Repertory Theatre's current production running July 2nd – 14th at the McPherson Theatre is a coming-of-age celebration of family that will resonate with today's audiences according to director Janet Wright.
"No matter what, the family comes first – even if you are angry at someone, you pull together, and you are devoted to one another." says Wright.
Brighton Beach Memoirs, written in 1983, is part of the trilogy that includes Biloxi Blues and Broadway Bound, and recounts the semi-autobiographical tale of Simon's youth during the Depression.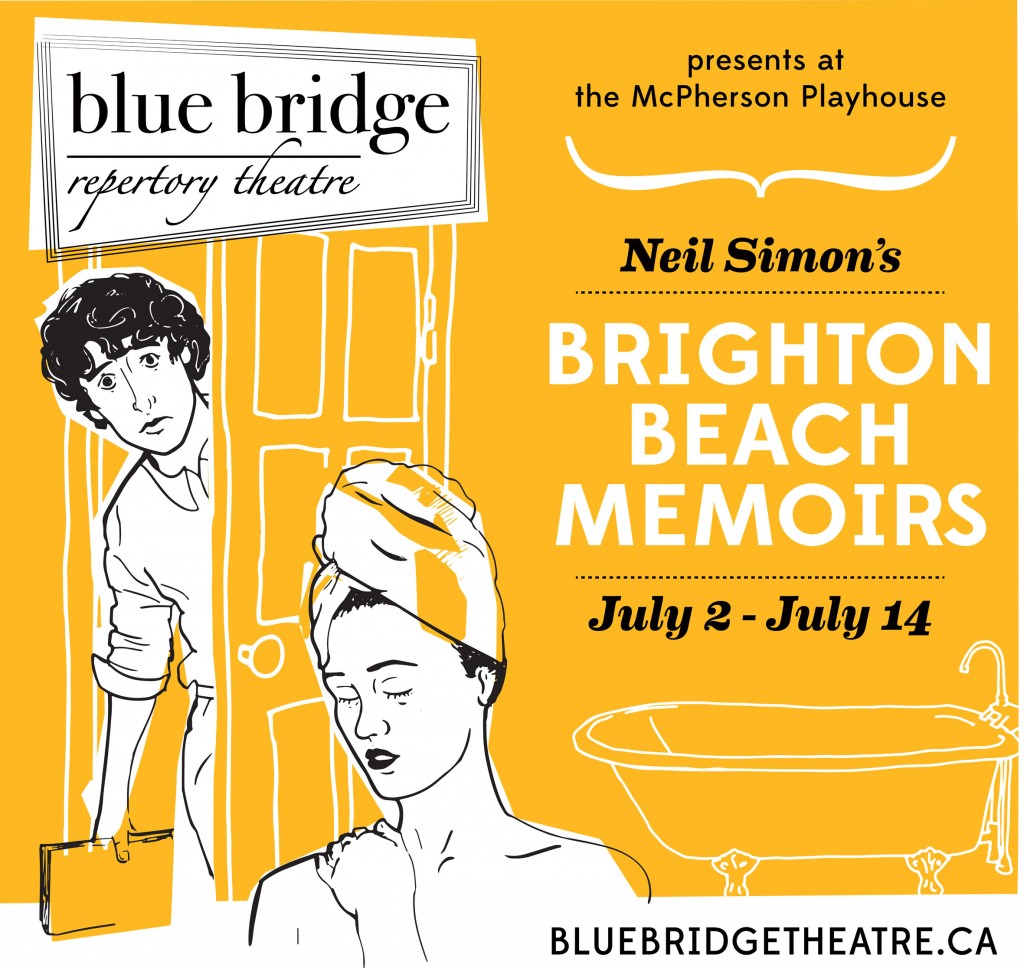 Actor Jane Spidell (who plays Kate, the mother, for this production) points to the universality of family and "the struggle to communicate effectively with in your own family. (The play) is set in 1937, we are in another millennium, but the simple dynamics of family are still valid."
Amitai Marmorstein believes his character, Eugene, will hit a nerve with younger audiences. "Brighton Beach Memoirs is about using what you come from, your history and your family, to bounce yourself forward. Simon uses the fodder of his family to express his art. There's something profound about sibling relationships, any person can really understand that dynamic."
Both Marmorstein and Wright have previous ties to the play – Wright played Kate, in a 1985 version, and Marmorstein was Eugene recently in Prince George for Theatre North West.
"Simon understand irony" states Wright.
Cast members Marmorstein, Brian Linds (Jack, the father) and Kate Dion-Richard (Nora) were able to draw on their Jewish heritage and culture to add another layer to the play. "There's a certain cadence to the language, everything is asked in questions; a lot of the jokes are what I grew up with." says Marmorstein.  He points out that Simon is considered by many to be of the same calibre as celebrated Jewish writers like Aleichem and Hillel.
Spidell is quick to mention that Brighton Beach Memoirs is a funny take on reality "it's a crowd-pleaser, it's got all the elements – there are dramatic moments, even tragedy, and a core of love. There is something for everyone to recognize, a lot of layers to enjoy, and so much going on you'd even want to see it twice."
Other cast members include Sebastien Archibald (Stanley), Samantha Currie (Blanche), and Elizabeth Duncan (Laurie). Set design is by Carole Klemm, Costumes by Patricia Reilly, Sound Design by Brian Linds and Lighting Design by Rebekah Johnson.
Simon is a Pulitzer-Prize-winning American writer who has written over 30 plays and close to 30 screenplays.  He has received more Oscar and Tony nominations than any other writer.  Next to William Shakespeare he is the most performed playwright in history.  Simon is perhaps best known for his award winning play and film The Odd Couple.
Brighton Beach Memoirs by Neil Simon, directed by Janet Wright
July 2nd – 14th at the McPherson Playhouse
Tickets: $24.50 (July 2/3) $45.25 –  $54.75
McPherson box office (Centennial Square) 9:30 am to 5:30 pm Mon-Sat
by phone at 250-386-6121 or online at rmts.bc.ca.
Group sales discounts of up to 20% for groups of 8 or more are also available by calling Blue Bridge Repertory Theatre's offices at 250-385-4462.
**Student RUSH tickets available one hour prior to the show. Up-to-date Student ID card necessary. Call RMTS to learn more.
Disclaimer:  I have a close association with Blue Bridge Repertory Theatre; my son, Elliott Loran, was one of the founding artists from the 2009 season. and I am a past board member. I have been offered complimentary tickets to review Brighton Beach Memoirs.