The first impression of Blue Bridge Theatre's Uncle Vanya  (June 4-16, 2013 at the McPherson Playhouse) is one of elegance. Designer Nathan Brown's simple, effective and stylized panels hang like draperies in bygone châteaux or large Norman cathedrals.  The décor relies heavily on lighting (Giles Hogya) and sound (John Mills-Cockell) to create the ambience of the piece – there is a certain sense of the elegiac, of portent and fore-shadowing, and vast impassive expanses
Amidst this immensity, Astrov (Jacob Richmond) slouches stage left, in lazy conversation with Marina (Naomi Simpson) – their placid world has been upset of late by the arrival of the Professor Serebyakov (Chris Britton) and his young wife Yelena (Amanda Lisman).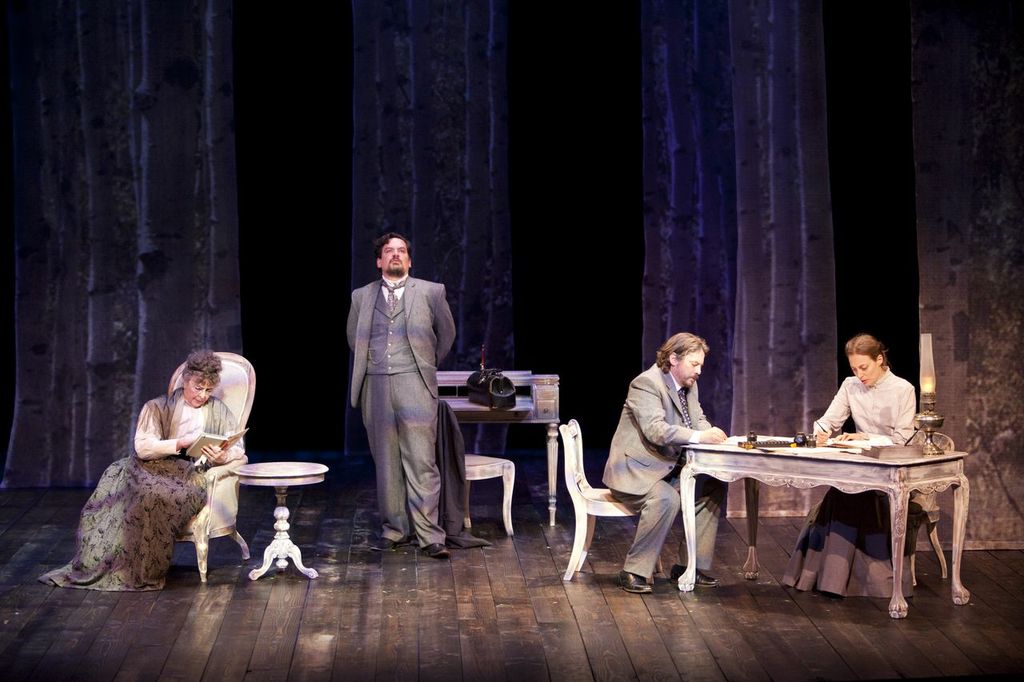 Iris MacGregor Bannerman (Mariya), Jacob Richmond (Astrov), Duncan Ollerenshaw (Vanya), Casey Austin (Sonya). Photo: Tim Matheson
Written by the great Russian playwright Anton Chekhov in the last years of the 19th century as a means to subsidize the cost of his medical degree and support his family, Uncle Vanya remains remarkably contemporary and universal.  Self-important and largely unaware individuals, bitterly disappointed with the arc of their lives, take out their ennui in snide remarks and bickering, forgotten by the world in their out-of-the-way country estate.
Chekhov maintained to his death that his plays were comedies and farces, not tragedies or dramas. In conversation with Director Brian Richmond earlier this week, I asked for clarification.
"It's the very fact that this group of characters, in their lack of self-awareness, their foibles, and their narcissism never truly evolve. A dramatic character evolves (and changes)."  Richmond maintains. "We've been laugh-tracked to death, but it's only one aspect of comedy".
Characters are given over to long periods of exposition – some of the most brilliant being the musings of Astrov on the consequences of man's destructive nature. Any environmentalist today would believe his speeches to be contemporary.  How did Chekhov know?  Jacob Richmond plays Astrov as the detached outsider, never wanting to be truly involved, capable of great insight but lost to his own heart.  His performance is mesmerizing; delicious displays of drunken and brazen behaviour cut the philosophizing and provide comedic relief.
Duncan Ollerenshaw (the eponymous Uncle Vanya) vacillates between moodiness, bitterness and rage – for years he's toiled away, un-noticed by his mother Mariya (Iris MacGregor Bannerman – the company's dialect coach in her BlueBridge acting début), yearning for Yelena, resigned to his fate and longing to break free. Ollerenshaw walks the fine line between farce and tragedy in his portrayal – at times a petulant child but capable of bursts of rage-induced energy when his very livelihood is threatened.
Casey Austin is simply luminous as Sonya, his niece and companion-in-toil; giddy and love-struck in her devotion for Astrov, ever the family conciliator, and ultimately faithful to her lot in life.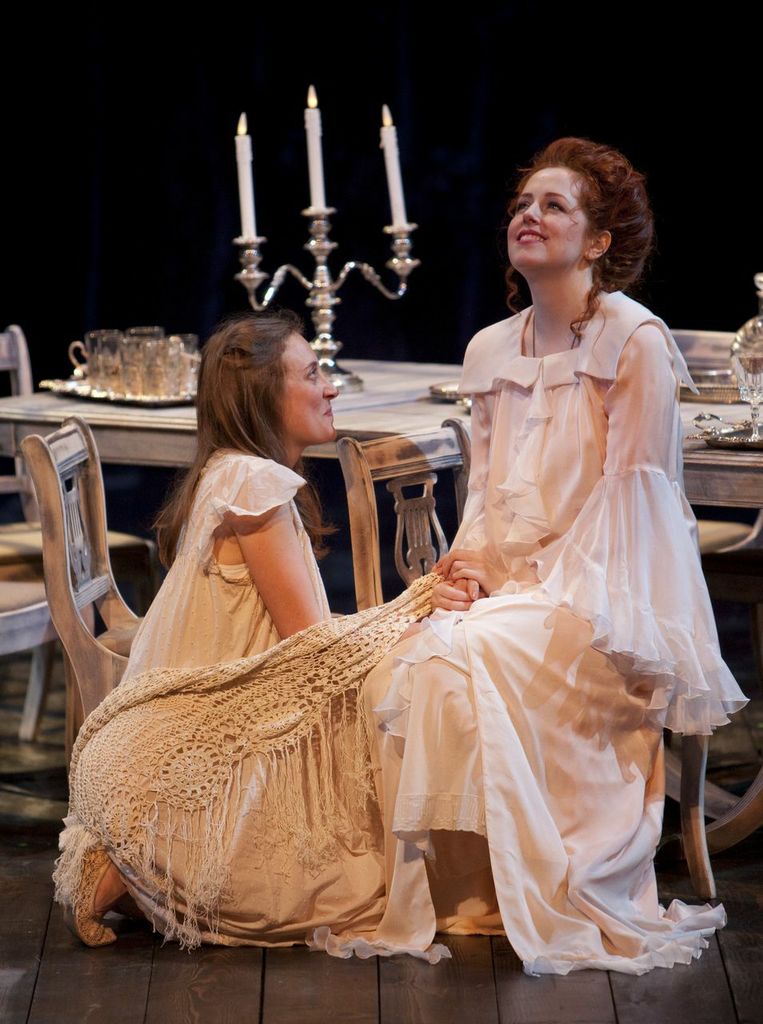 Amanda Lisman (Yelena) and Casey Austin (Sonya). Photo: Tim Matheson
By Astrov's own admission, everything turns around Yelena. Amanda Lisman's fine classical training is evident – perfectly in check, composed, yet letting her emotions run ever so slightly to then be reined in, aware of being unaware yet incapable of doing anything about it.
Chris Britton plays Professor Serebyakov to odious, buffoon-like, perfidious perfection.  His sense of entitlement, seen from a century of distance, is the true farce of this piece, but could definitely give audiences pause to consider our own situations.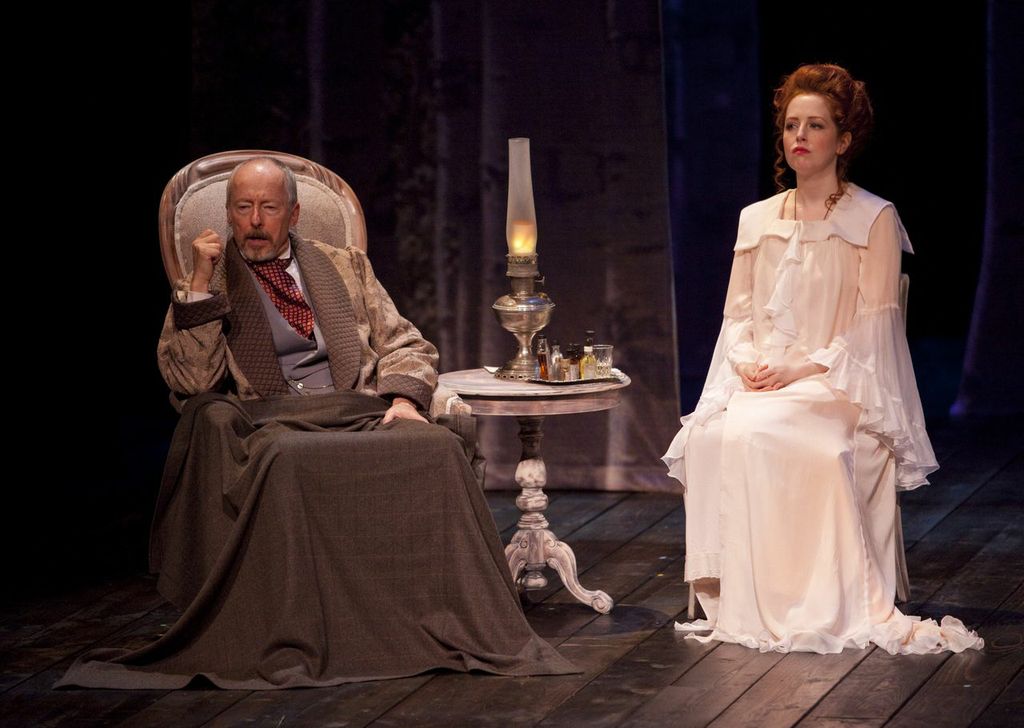 Chris Britton (Serebyakov) and Amanda Lisman (Yelena). Photo: Tim Matheson
Naomi Simpson (Marina) and Brian Linds (Telyegin) ground the overwrought actions of the main characters with their homey and no-nonsense wisdom. Seen in relief, they bring comedy to the situation.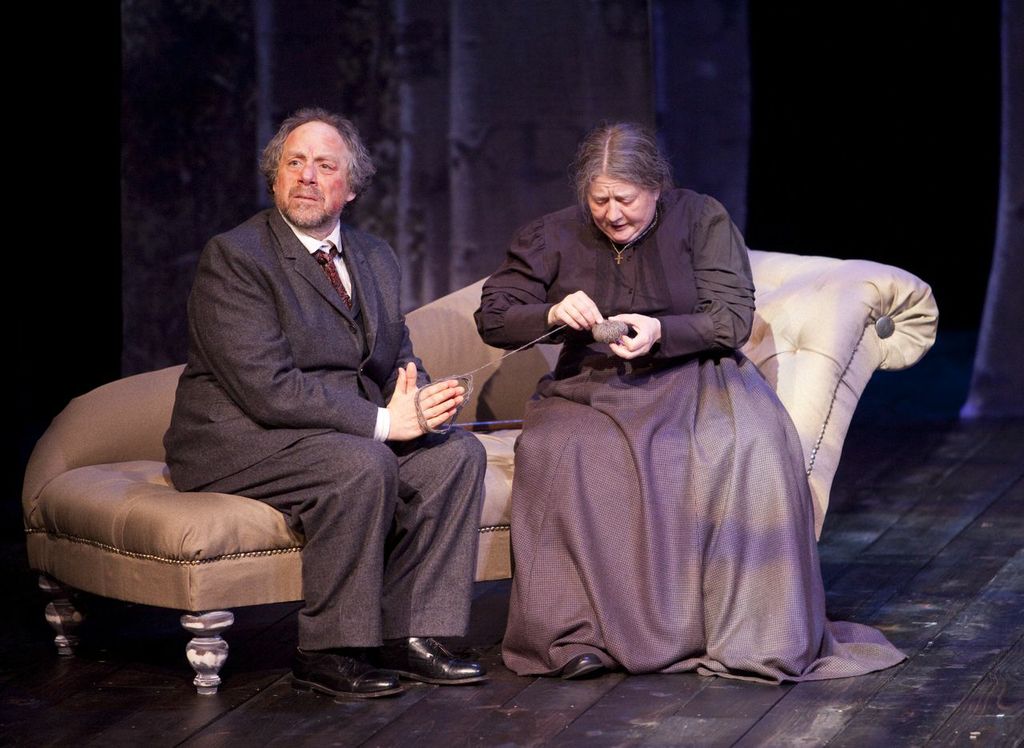 Brian Linds (Telyegin) and Naomi Simpson (Marina). Photo: Tim Matheson
John Mills-Cockell's music and sound design evokes centuries-old Gregorian chant and Russian hymns or folk-songs, and is all original composition. He's a long-time collaborator of Brian Richmond's with Dark of the Moon (UVic Phoenix) and Death of a Salesman (Blue Bridge) being the most recent.
Blue Bridge Repertory Theatre's Uncle Vanya is an intelligent, perfectly-crafted and elegantly-designed play. It's mesmerizing, lucid, entertaining and beautiful. The ensemble cast display incredible stagecraft.  I left the theatre very pleased indeed.
Whether you line up with the more traditional view of Chekhov as drama, or believe the playwright's assertions that he wrote farce and comedy, this rendition of Uncle Vanya will give you much to reflect on.
Blue Bridge Repertory Theatre, now in a fifth season, has firmly set itself in the cultural fabric of Victoria with continued and uncompromising dedication to excellence while providing opportunities for local and national artists to re-imagine the classics.
Uncle Vanya  by Anton Chekhov, directed by Brian Richmond
June 4 – 17th, 2013
Tickets: McPherson Playhouse, online, by phone (250.386.6121) or in person.
Previews $24.50 (June 4 & 5) Matinees $45.25 Evenings $54.75
Starring:
Casey Austin – Sonya
Iris MacGregor Bannerman – Mariya
Chris Britton – Serebyakov
Trevor Hinton – Worker
Brian Linds – Telyegin
Amanda Lisman – Yelena
Duncan Ollerenshaw – Vanya
Jacob Richmond – Astrov
Naomi Simpson – Marina
Creative Team:
Brian Richmond – Director
Nathan Brown – Set and Costume Designer
Giles Hogya – Lighting Designer
John Mills-Cockell – Sound Designer
Chris Mackie – Fight Director
Sandy Halliday – Stage Manager
Caitlinn O'Leary – Assistant Stage Manager