If the respectful collegiality evident during my recent conversation with cast members of My Fair Lady (running August 6-18th at the McPherson Playhouse) is any indication, then Producing Artistic Director, Brian Richmond, and everyone involved with Blue Bridge Repertory Theatre have achieved their mandate of mentoring young artists, while creating a company that consistently aims for the highest levels of artistic excellence (as indicated by the their many awards since inception in 2009).
Rising stars Kholby Whardell (Freddie) and Amanda Lisman (Eliza Dolittle) spoke highly of the techniques and abilities of more senior actors, while Richmond (Henry Higgins) himself acknowledged the fact he is quite a "junior" actor in this cast (he's returning to the stage after decades pursuing directing, dramaturgy and teaching).  The story of Richmond's return demonstrates the atmosphere in which the company works.  Director Sara-Jeanne Hosie (Little Shop of Horrors, A Closer Walk with Patsy Cline) had been engaged as choreographer. During auditions, they were having a difficult time casting Higgins when she turned to Richmond (originally set to direct) and said "Why are we looking if you are sitting right here?" The rest is history.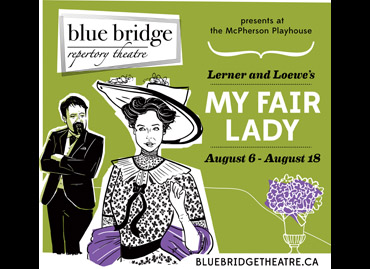 They had envisioned My Fair Lady as a chamber musical, but in reality, at 16 cast members, it is one of Blue Bridge Theatre's largest productions. Victoria audiences will be pleased to see the return of Blue Bridge regulars, and will recognize others from their many roles around the city with VOS, Gotta Getta Gimmick, Canadian Pacific Ballet, Kaleidoscope Theatre, Atomic Vaudeville, and the Canadian College of Performing Arts.
Based on Pygmalion by George Bernard Shaw, My Fair Lady has been described by both author Mark Steyn and The New York Times as "the perfect musical."
Hosie promises a fresh look at My Fair Lady. Patrick Du Wors has created a lavish set (and I will not reveal more details, in order not to spoil the surprise). His design for Little Shop of Horrors was one of my favourites last year.
"My Fair Lady still says something in today's world", asserts Hosie.  "Shaw was a feminist in his portrayal of Eliza; we worked hard to find a balance in the male-female relationships, to see both perspectives, and to understand both perspectives".
"It's a play about language and class. The characters are all victims of the class they were born into" says Richmond.  "My grandparents came to Canada to escape the class system"
There's a spark about Eliza that Lisman wants to capture.  "The musical, written in the 1950s is more romantic than the original piece. In Pygmalion all the women are witty and smart. My Fair Lady is the marriage of a great play and the wonderful music of Lerner and Loewe." Recently returned to Victoria after three seasons of classical theatre at the Statford Festival, Lisman is "grateful for the opportunity to do something different, and excercise the singing skills I've trained over the past decade".
Hosie is eager to "do the piece proud". I'm sure Victoria theatre-goers are just as eager to see this high point of the Broadway cannon.
Blue Bridge Repertory Theatre invites its audiences to be swept away this August with what Producing Artistic Director Brian Richmond calls, "the greatest book musical of all time" – My Fair Lady, book and lyrics by Alan Jay Lerner and Frederick Loewe.

The famed phoneticist and 'confirmed old bachelor' Professor Henry Higgins takes a bet from his colleague Colonel Pickering that he can transform the unrefined Cockney flower girl, Eliza Doolittle, into a lady.  Based on George Bernard Shaw's play Pygmalion, this delightful musical set in Edwardian London will charm audiences with timeless melodies such as, I Could Have Danced All Night, On the Street Where You Live, and I've Grown Accustomed (to her face)!
My Fair Lady, book and lyrics by Alan Jay Lerner and Frederick Loewe
Directed and Choreographed by Sara Jeanne Hosie
August 6 – 18, 2013 at the McPherson Playhouse
Tickets: $24.50 (August 6/7) $45.25 – $54.75
McPherson box office (Centennial Square) 9:30 am to 5:30 pm Mon-Sat
by phone at 250-386-6121 or online at rmts.bc.ca.
Group sales discounts of up to 20% for groups of 8 or more are also available by calling Blue Bridge Repertory Theatre's offices at 250-385-4462.
**Student RUSH tickets available one hour prior to the show. Up-to-date Student ID card necessary. Call RMTS to learn more.
Cast:Shauna Baird Mrs. Pierce
Dan Costain Alfred Doolittle
Matt Coulson Zoltan Kaparthy
Amanda Gray Dancer 1
Caitlin Hayes Chorus 3
Amanda Lisman Eliza Doolittle
Iris McGregor Bannerman Mrs. Higgins
RJ Peters Chorus 1
Brian Richmond Henry Higgins
Stephanie Sartore Chorus 4
Sarah Tradewell Chorus 5
Wes Tritter Colonel Pickering
Lindsay Vukovic Mrs. Eynsford-Hill
Kholby Wardell Freddie
Direction and Choreography Sara-Jeanne Hosie
Musical Direction John Mills-Cockell
Set and Costume Design Patrick Du Wors
Lighting Design Rebekah Johnson
Disclaimer:  I have a close association with Blue Bridge Repertory Theatre; my son, Elliott Loran, was one of the founding artists from the 2009 season. and I am a past board member. I have been offered complimentary tickets to review My Fair Lady.