I got a Kobo for Christmas in 2012 and thus started the year, by fluke, reading Alice Munro's newest short story collection Dear Life. How fortuitous! I finished the year reading the 2013 Giller prize winner Lynn Coady's books, including Hellgoing.  And added the short stories and novels of Lisa Moore, another east-coaster, who was on the Giller short list, to my repertoire.
Along the way I re-connected with Joyce Carol Oates, Susan Musgrave and Margaret Atwood, became acquainted with Charles Bukowski, and ploughed my way through David Mitchell's Cloud Atlas (I'm still undecided).
A happy find were the Staff Picks to Go book bags from the Greater Victoria Public Library.  The "Family Matters" selection yielded works by Dorothy Gallagher, Shirley Jackson, Steve Burgess, Iain Reid, Alison Bechdel and David Sedaris.  Some books like The Bang-Bang Club and An Anthropologist on Mars were inspired by movies.  A chance post on Facebook introduced me to Ruth Ozeki long before A Tale for the Time Being was short listed for the Man Booker, and another post mentioned Jhumpa Lahiri's The Lowland (another nominee).
I tried really hard to like Junot Diaz, continue to be amazed by Aleksandr Hemon, and was surprised to realize that I'd never before read a book by Louise Erdrich (The Round House) who has an enviable body of work over more than 30 years.
Dan Chaon, Russell Wangersky and Bill Gaston present the weird and wacky in their short story collections, and Anita Rau Badami remains one of my favourite living authors.
Most of the authors on this list have been recognized (either as nominees or as winners) by various award committees or lists including the IMPAC, Giller, Man Booker, Governor General's, Pulitzer, Trillium, Orange Prize, National Book Critics Circle Awards, New York Times Notable Books, Guardian Fiction, Books in Canada 1st Novel, and a couple of prizes as yet unknown to me – the Paragrahe McLennan (from the Quebec Writers' Federation), Marian Engel (for a Canadian woman writer in mid-career), Kiriyama Pacific Rim Prize,  and the Dos Passos Prize (best currently under-recognized American writer in the middle of their career).
The total (there may be a few more to come) is 65 with little over half being by women (I try really hard to keep a balance in this regard).  I hope you find some treasures here – I know that I have!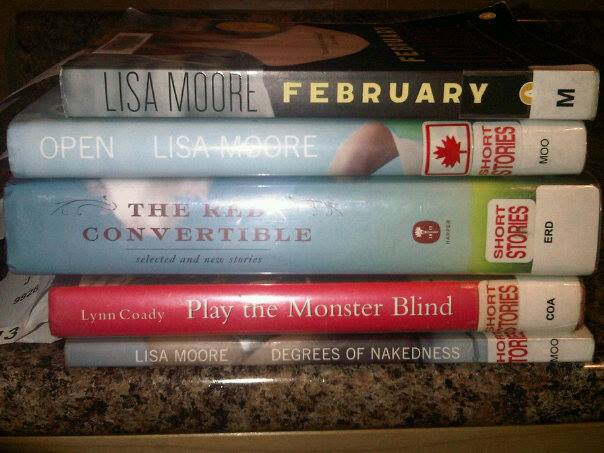 Books I Read in 2013
Among the Missing, Dan Chaon
Dear Life, Alice Munro
Juan de Fuca's Strait, Barry Gough
Rowboat in a Hurricane, Julie Angus
Run With the Hunted, Charles Bukowski
The Rescuer, Joyce Carol Oates
Too Much Happiness, Alice Munro
Tubes   Andrew Blum,
Whirl Away, Russell Wangersky
Cloud Atlas, David Mitchell
Given, Susan Musgrave
The Bang-Bang Club, Greg Mrainovich
This is How You Lose Her, Junot Diaz
British Columbia: A New Historical Atlas, Derek Hayes
Mixed An Anthology of Short Fiction on the Multiracial Experience
My Year of Meats, Ruth Ozeki
The Fortress of Solitude, Jonathan Lethem
The Griffin Poetry Prize Anthology, 2011
A Tale for the Time Being, Ruth Ozeki
An Anthropologist on Mars: Seven Paradoxical Tales, Oliver Sacks
Best European Fiction 2011
What the Dog Saw and Other Adventures, Malcolm Gladwell
Gargoyles, Bill Gaston
God of Missed Connections, Elizabeth Bachinsky
Last Night I Dreamed of Peace: The Diary of Dang Thuy Tram,
Love and Obstacles, Aleksandar Hemon
The Book of My Lives, Aleksandr Hemon
The Glassblowers, George Sipos
To the Edge of the Sky, Anhua Gao
Can you Hear the Nightbird Call, Anita Rau Badami
Hope and Despair, Monia Mazigh
If You Eat, You Never Die, Tony Romano
The Round House, Louise Erdrich
Creatures of Habit, Jill McCorkle
Fun Home, Alison Bechdel
Life Among the Savages, Shirley Jackson
Life Stories, Dorothy Gallagher
One Bird's Choice, Iain Reid
Who Killed Mom?, Steve Burgess
Painting the Dog, Leon Rooke
Player One, Douglas Coupland
Still She Haunts Me, Katie Riophe
the Gum Thief   , Douglas Coupland
Unbuilt Victoria, Dorothy Mindinhall
Deloume Road, Matthew Hooton
Fugitive Pieces, Anne Michaels
How to Get into the Twin Palms, Karolina Waclawiak
The Book of Frog, Jan Zwicky
The Cabala and the Woman of Andros, Thornton Wilder
Fitting Ends, Dan Chaon
Interpreter of Maladies, Jhumpa Lahiri
Nights Below Station Street, David Adams Richards
The Question of Bruno, Aleksandr Hemon
Vaclav & Lena, Haley Tanner
Unaccustomed Earth, Jhumpa Lahiri
Housekeeping, Marilynne Robinson
Unless, Carol Shields
The Lowland, Jhumpa Lahiri
Degrees of Nakedness,Lisa Moore
Victory Meat    Lynn Coady editor
The Journey Prize Winners edition 20
Hellgoing, Lynn Coady
Open, Lisa Moore
Play the Monster Blind, Lynn Coady
February , Lisa Moore
See also:  Books I Read in 2012