Join students of the Canadian College of Performing Arts (CCPA) for Theatrical Treasures, a celebration of Canadiana featuring Village of Idiots by John Lazarus and Ten Lost Years by Jack Winter and Cedric Smith.

Village of Idiots. Photo submitted and used with permission
Founded in 1998 by Jacques Lemay and Janis Dunning, and now under the leadership of Darrold Roles and Ron Schuster, CCPA offers training to prepare students for careers in the performing arts locally, nationally and internationally.
In Victoria, we are fortunate to be able to follow the advancement of these young artists before the bright lights of larger cities draw them away.  (In the spirit of full disclosure – # 2 son completed his training here).
Highlights of the year for many theatre and symphony patrons are their large scale productions with the Victoria Symphony  (March 30-April 1st 2012) and "On Broadway" at the McPherson Playhouse ( Footloose April 27-28th 2012).In addition, Year Two students perform smaller pieces, and produce a Festival of New Works in January.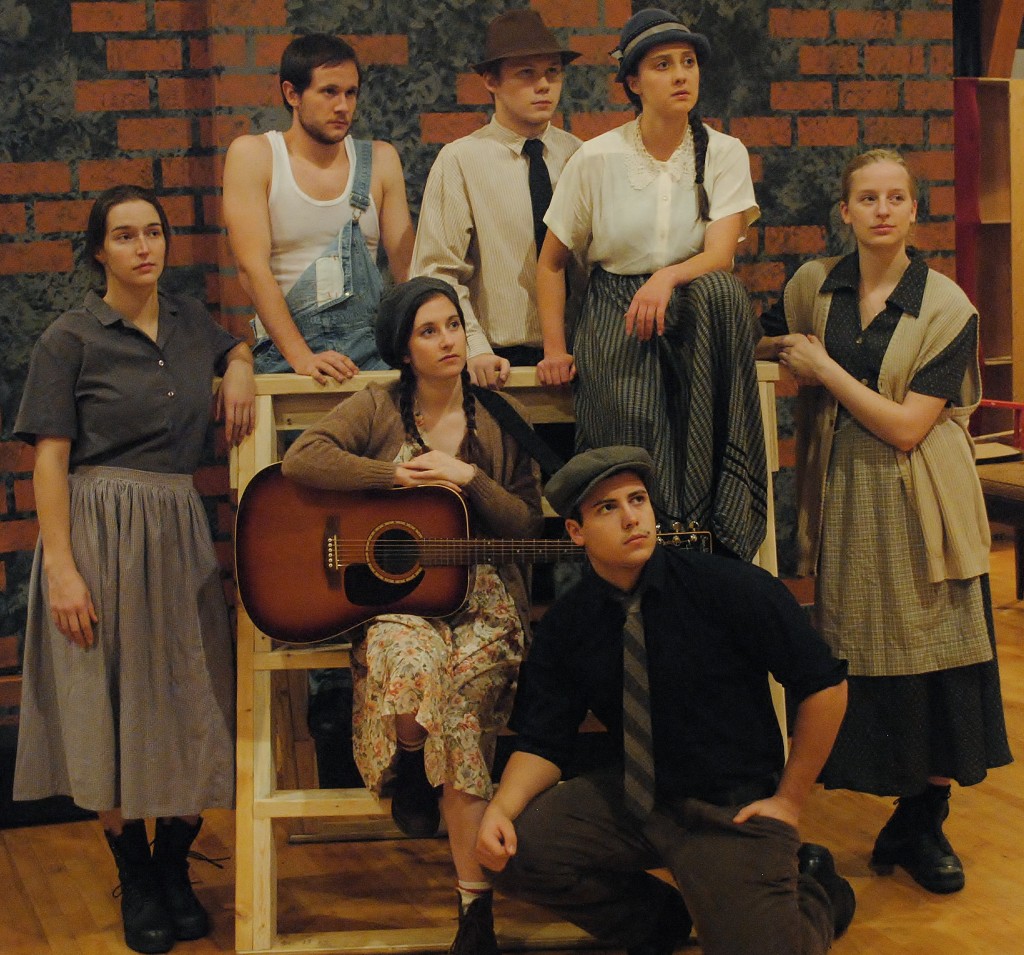 Ten Lost Years Photo: submitted and used with permission
For Theatrical Treasures the college has hired some of Canada's top talent to direct these future stars; Stuart Aikins for Ten Lost Years and Darcy Evans for Village of Idiots.
Mr Aikins is an Emmy-nominated and award-winning casting agent who has worked on major Hollywood films and popular mini-series.He recently received an Outstanding Achievement Award for his contribution to BC film from the Vancouver Film Critics Circle.
Mr Evans was an actor and director for seven years at the Stratford Shakespeare Festival, and the associate director for Little Women on Broadway.  Last season he directed CCPA's Company C in Lord of the Flies.
In

Village of Idiots

playwright John Lazarus adapts several Jewish folktales to tell the story of Yosef, a deserter from the Russian army who collapses in the Polish village of Chelm. As an outsider he marvels at the idiotic but innocent antics of the townsfolk and discovers that his new life has an uncanny resemblance to his old one. 

http://www.theatre.ubc.ca/village_idiots/
Ten Lost Years is based on the book by Barry Broadfoot; dramaturges were Cedric Smith and Jack Winter. It premiered at Toronto Workshop Productions/TWP in 1974 featuring, among others, Jackie Burroughs .

A portrait of the Great Depression and its effects upon this country, it suggests a number of stagings as it views the economic catastrophe on personal and national scales. There is music, humour and some wonderful set pieces (including a radio broadcast with sound effects).

It is the ideal actor's and director's exercise and as such has been performed again and again across the country in companies professional, amateur and educational.

Commentary by Gaetan Charlebois .
When:
Ten Lost Years
Thur December 1st 1pm
Fri December 2nd 7:30pm
Sat December 3rd 2pm
Village of Idiots
Thur December 1st 7:30pm
Fri December 2nd 1pm
Sat December 3rd 7:30pm
Where:
CCPA Performance Hall, 1701 Elgin Rd.
Tickets: Adults $20, Students $15  on sale at the McPherson Box Office  250-386-6121
I volunteer regularly with the Canadian College of Performing Arts. My son graduated from CCPA in 2007.  I'm happy to help promote the work of the college and its graduates. As always, I retain full editorial control over the content on this blog.