CCPA's Company C presents Lend Me A Tenor October 4-6th 2013.
I've had a close connection with the Canadian College of Performing Arts, now celebrating their Sweet 16 season, since my son, Elliott Loran (Ride the Cyclone, Pretty Little Instincts) attended and graduated in 2007.
For me personally, one of the highlights is watching a new generation of theatre artist make the transition from student to professional.  One way to accomplish this is the creation of a collaborative theatrical collective in year III of the program.  Company C enables students, guided by guest directors, to mount three fall productions and take responsibility for every aspect of the performances from set, costume and lighting design to marketing and fundraising.
Their first production of the fall 2013 season is Ken Ludwig's smash Broadway comedy Lend Me A Tenor, directed by Julie McIsaac, herself a CCPA graduate.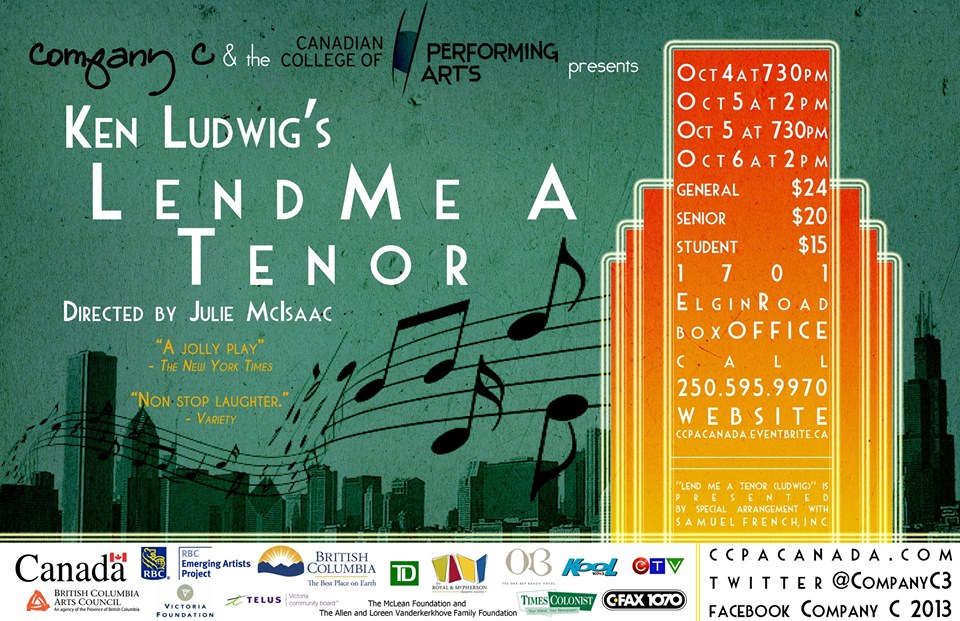 As the Cleveland Grand Opera Company welcome a world-class tenor into their midst for a performance of Verdi's 'Otello,' things start to go haywire when his fiery wife leaves him in a jealous rage. Mistaking the wife's farewell letter as a suicide note, an aspiring opera singer is forced by a ludicrous opera director into filling in for the evening's performance and chaos ensues.

This Tony, Olivier, and Drama Desk award nominated play will leave you in stitches as a cast of hilarious characters get mixed up in the mayhem of putting on an opera.
Lend Me A Tenor debuted in 1986 and was recently remounted in New York in 2010, and London in 2011.
Lend Me A Tenor, CCPA Performance Hall, 1701 Elgin Road
Oct 4 at 7:30pm
Oct 5 at 2pm & 7:30pm
Oct 6 at 2pm
Tickets: $15-24 with student rush tickets available at the door for $7.50
For more information, call the CCPA Box Office at (250) 595 9970.
Julie McIsaac, a  graduate of Carleton University and the Canadian College of Performing Arts, is a multi-disciplinary performer and director currently based in Vancouver.  An award-winning actor/singer, she has appeared on stages throughout Western Canada, including productions at the Arts Club, Bard on the Beach, the Belfry Theatre (the Real Thing, Spelling Bee) the Citadel Theatre, Carousel Theatre, and the Chemainus Theatre Festival.  Most recently, she appeared in Mother Teresa is Dead (Jessie award nomination) and The Spitfire Grill (Ovation award), both at Pacific Theatre.

A founding member of the Honest Fishmongers Collective, her stage credits also include Edgar in King Lear, Ophelia in Hamlet(Jessie award nomination), and upcoming this winter – Isabella in Measure for Measure.  Also a musician, Julie's work as a director typically involves a strong musical component, as seen in Ordinary Days and The Exquisite Hour (both for Relephant Theatre), Countryside Christmas (CTF), and the 2012 summer hit The Merry Wives of Windsor at Bard on the Beach, for which she was the apprentice director.   Career highlights also include working alongside CCPA mentor Christopher Weddell on Richard II (Bard on the Beach). Looking forward to the year ahead, Julie's projects include Des fraises en janvier (Théâtre la Seizième), and a workshop production of her original script The Out Vigil.
I will be attending Lend Me A Tenor as a guest of CCPA and Company C.