Chor Leoni presents Cadillac Cathedral.
No writer better embodies what it is to live on Vancouver Island, for me, than the venerable Jack Hodgins, author and professor emeritus at the University of Victoria. I came late to his work, in the 2000s, and still remember reading passages of The Invention of the World (his first novel, written in 1977) and veritably smelling the tang of the beach at high tide, and hearing the crunch of sand under boots on the shore.
Now, the writer has paired with the equally well-known men's choir, Chor Leoni of Vancouver (last heard here in 2010 when they performed Noble Peace) to produce an evening of storytelling and choral music.
The lions first met Hodgins at the 2010 Vancouver International Writers Festival, where Chor Leoni backed him up at the sold out Pacific Medley reading. From that very successful collaboration sprang the idea that Hodgins would write a new story, Chor Leoni would commission some new songs and choose some old favourites, and they would appear together.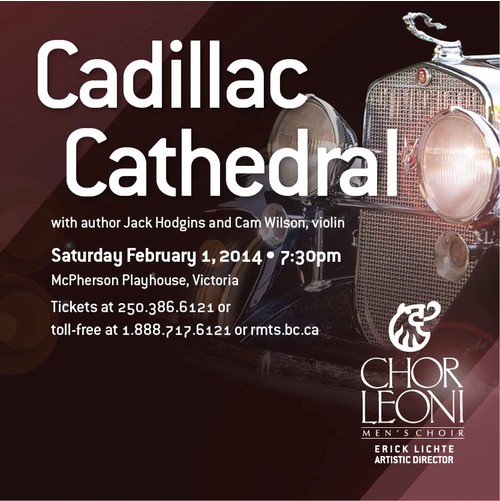 Cadillac Cathedral is a deliciously funny and moving tale about an old hearse rescued from oblivion and an old man given new life along the backroads of Vancouver Island. Thus Cadillac Cathedral was born. ! ! Accompanied by fiddle, guitar, mandolin, banjo, and string bass, it's a recipe for a rollicking good show!
Cadillac Cathedral will be performed in Vancouver, Victoria and Nanaimo.  Celebrate what it is that makes Vancouver Island unique with the magical storytelling of Jack Hodgins, and the masterful music-making of Chor Leoni.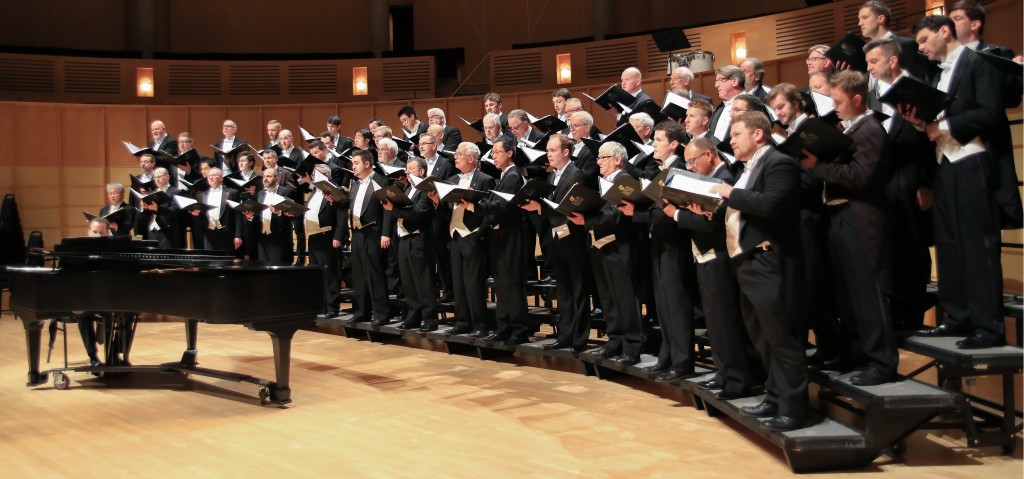 Chor Leoni onstage at the Chan Centre (March 2013) Photo: Mikul Culver
January 31st at 7:30pm
Ryerson United Church,Vancouver, BC
$30 adults l $25 seniors l $15 students [w/ID]
Available online at ticketstonight.ca or by calling 1.877.840.0457
February 1st at 7:30pm
McPherson Playhouse, Victoria, BC
$25 adults l $20 seniors & students (+ service charges)
Tickets at McPherson box office 250.386.6121
February 2nd at 3pm
Port Theatre, Nanaimo, BC
$25 adults l $20 seniors & students
Tickets at Port Theatre box office 1.250.754.8550
info: Chor Leoni office 604.263.7061 chorleoni.org
Disclaimer: I have been offered complimentary tickets to attend Cadillac Cathedral.