Theatre SKAM presents Smalltown A Pickup Musical, August 13 -25, 2013.
If you grew up watching the antics of Rocky, Bullwinkle, Boris and Natasha on Saturday morning cartoons, or flickering silent films where the dastardly moustache-twirling villain tied pretty heroines to train tracks, you'll feel right at home with the broad-brushed characters in Theatre SKAM's Smalltown: A Pickup Musical (playing to August 25th in the Vic High field by the Belfry Theatre).
Imagine the Andy Griffith Show, and add music. It's a guffaw-rich, knee-slapping, humdinger of a time. A multitude of winks, nudges and tropes will have you digging deep for all the references. You'd be at ease taking your 5 year old, and your 80+ year old grandparent!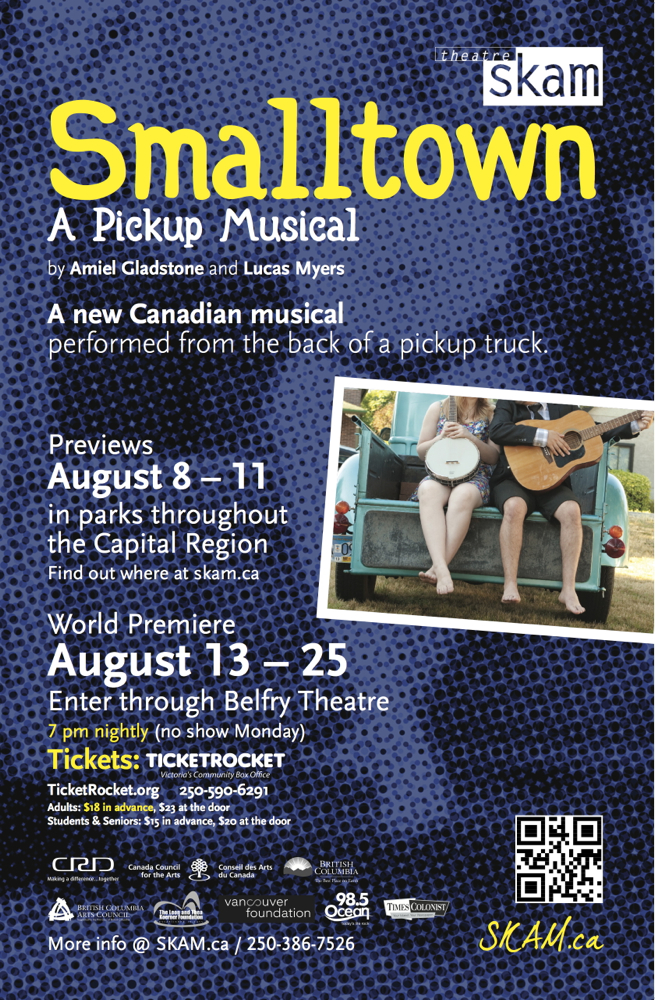 This world première has been a long time coming.  From the moment that co-playwright Ami Gladstone had the idea to stage a play on a truck, through workshops, a very successful Fringe production in 2010, several casts, and staff changes, it has taken Theatre SKAM seven years to bring Smalltown to fruition. The wait has been worth it.
At a time when small towns everywhere struggle to stay alive while maintaining their unique nature amid growing pressures from corporate concerns, the dilemma facing the denizens of the musical is not that far-fetched.  There were topical references to fracking, pollution, destruction of the environment and habitat.
Anyone who has ever lived in a small town, particularly in BC, will recognize the archetypes – M'dam Mayor (Kirsten Van Ritzen) working hard to attract new economic development and tourism, Jakey (Wes Borg) the resident jack-of-all-trades, some perhaps on the edge of legal, mother-earth-goddess and natural food store owner Sola (Sarah Carlé), nature-lover and park ranger Owen (Ryan Scramstad), town sweetheart Kathy Small (Rachel Aberle), and corporate hotshots and developers Stanley Park (Mark Hellman) and son, Gyro Park (Jay Clift).
The musical team – Brad L'Ecuyer (piano), Shima Takeda (violin), Josh Regnier (percussion) –  is also assisted by cast members playing various instruments including, cello (Aberle), clarinet (Borg), guitar (Hellman), tenor sax (Scramstad) and percussion (Carlé, Clift and Van Ritzen).  L'Ecuyer's contribution to the development of the show is significant; working with mp3s from co-playwright Lucas Myers (based in Nelson), he elaborated on a few bars of music and guitar chords to create the complete book of the musical.  Smalltown is filled with snappy and memorable tunes like "Rumour Going Round", "Wouldn't You Like to Live in SmallTown", "Just Call Me" that run the gamut from ballad to blues.  The saxophone riff from George Michael's "Careless Whisper" underlined a hilarious send-up of a seduction scene between M'dam Mayor and developer StanleyPark.
Designer Ian Rye rises to the challenge of creating a miniature set (on the back of the pickup) and incorporating it into action that overflows down rustic ramps into the much larger field. Devices more common to children's theatre draw upon the imagination of the crowd to portray the arrival of the corporate helicopter and BigCo. Steering wheels stand in for vehicles.  Recipients of sudden riches, the good citizens of Smalltown spend their new found wealth on automobiles specifically suited to their preferences – the audience chuckled at the stereotypes.
I'm not sure if the audience member was a plant or not, but during the original town meeting called by M'dam Mayor to brainstorm ideas for survival, she asked for suggestions of a new town motto. "We're in trouble" someone shouted from the crowd.
Fortunately for director Matthew Payne, and the talented creators, cast and crew of Smalltown: A pickup musical – this couldn't be further from the truth.
Pack up the kids, invite your friends, and gather family members for a trip to Fernwood before the pickup truck heads out of town for further reaches of the province.
Theatre SKAM presents:
Smalltown: A Pickup Musical, by  Amiel Gladstone and Lucas Myers
A new Canadian musical performed from the back of a pickup truck
World premiere August 13 – 25, 20137pm
Victoria High field – enter through Belfry Theatre lobby, 1291 Gladstone Avenue
Advance Tickets through Ticket Rocket: $18 / Students & Seniors $15
Tickets at the door $23 / Students & Seniors $20
Cast
Kathy Small: Rachel Aberle
Jakey: Wes Borg
Sola: Sarah Carlé
Gyro Park: Jason Clift
Stanley Park: Mark Hellman
Owen: Ryan Scramstad
M'damn Mayor: Kirsten Van Ritzen
Creative Team
Written by Amiel Gladstone and Lucas Myers
Directed by Matthew Payne
Musical Director: Brad L'Écuyer
Choreographer: Jessica Hickman
Costume Designer: Erin Macklem
Set Designer: Ian Rye
Disclaimer: I attended Smalltown as a guest of Theatre SKAM. I was not required to write a review. As always, I retain complete editorial control over all content published on this blog.