Company C presents Zorba, the musical, December 13 – 15, 2013 in Victoria BC.
I've got a very special spot in my heart * for the Canadian College of Performing Arts (CCPA), and for Company C, their Year III students who produce three shows in four months (September to December) taking on all aspects of production (choreography, costumes, publicity, lighting, stage management, sound) other than directing.
For their final production of 2013, Company C's Zorba promises to bare every aspect of humanity on stage. Both the actors and instrumentalists sit in a bouzouki circle (a traditional Greek story-telling circle) that includes the audience, and tell this beautiful story of love, life, and loss without leaving the stage.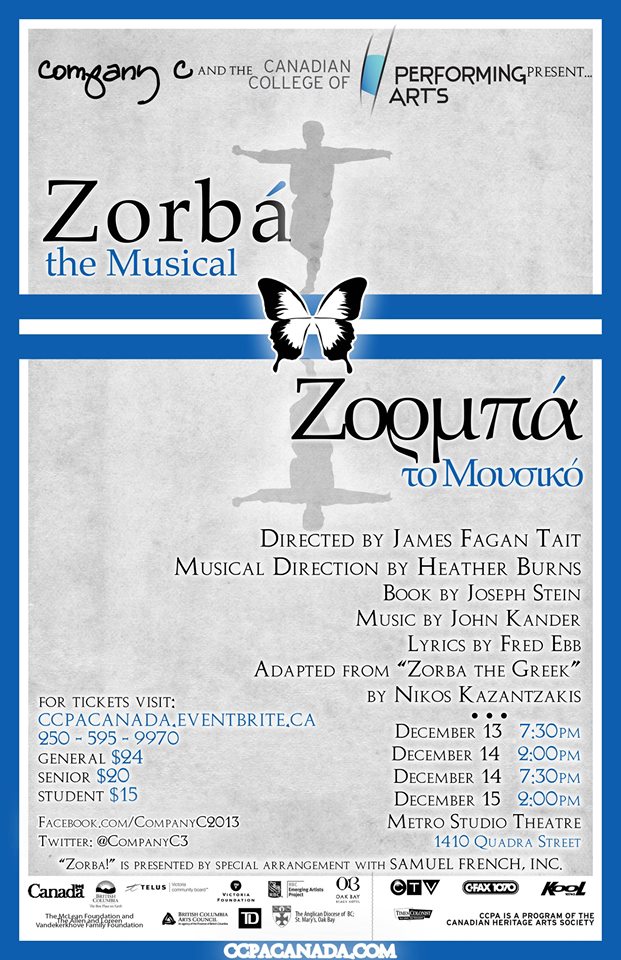 Zorba, written by Kander and Ebb (the song writing team behind hits like Chicago and Cabaret), tells the story of a bookish man named Nikos as he moves to the village of Crete to run a mine. There, he meets a mysterious man named Zorba who promises to work for him and show him his passionate, yet care-free way of life. The show, adapted from the 1952 novel Zorba the Greek by Nikos Kazantzakis and the subsequent 1964 film of the same name premiered on Broadway in 1968 and was nominated for a Tony Award for Best Musical.
The story is narrated by The Leader in a role very similar to The Emcee in Cabaret. She leads the band, actors, and audience as the two men find their own love and deal with loss in their own ways. Incorporating veteran Director James Fagan Tait's brilliant vision, the show (usually performed by a cast of nearly 50) is performed by only 11 actors and 5 instrumentalists (who will also be playing roles in the show), with a set comprised entirely of chairs.  Victoria audiences will remember Tait's recent work in Helen's Necklace and The Life Inside (both at the Belfry Theatre)
Choreographer Rebecca Horvey says: "Being a part of the creative team will be so beneficial to me both as a choreographer and as an actor. Being on the other side of the table, getting inside the director's brain and being able to see your work is so rewarding."
Zorba, the musical, by Kander and Ebb, directed by James Fagan Tait
Performed by The Canadian College of Performing Arts (CCPA) Year III students Company C
December 13th (7:30pm),14th (2:00pm & 7:30pm), 15th (2:00pm)2013
Metro Studio Theatre, 1401 Quadra Street, Victoria, BC
Tickets: Adult $24 Senior $20 Student $15
Available through ccpacanada.eventbrite.com and the CCPA Box Office – 250.595.9970
* As some of my readers may know, my son Elliott Loran (Stratford Festival 2014) graduated from the college in 2007 and, as is common for alumni, has been working steadily since, both locally in Victoria and further afield. The skills he gained, particularly in Company C, have enabled him to produce his own work (Ginger Ninjas, The Swinging Wingding) and be part of very successful ensembles like The Electric Company (Brilliant, the Blinding Enlightenment of Nikola Tesla), Atomic Vaudeville (Ride the Cyclone) and Snafu Dance Theatre (Pretty Little Instincts).