Fear No Opera presents Don Pasquale Saturday June 15th 2013 at Oak Bay High School.
Opera lovers, from aficionados to neophytes, can only cheer the arrival of Fear No Opera to the Victoria BC opera scene.  While the city has long had an enviable reputation as a hot-bed of opera interest (Pacific Opera Victoria has the highest subscriber renewal rate in the country) there is still room for a new company.
Fear No Opera's (FNO) co-founders Amy Steggles and Neil Reimer have one goal – "to inspire you to love opera as much as we do!"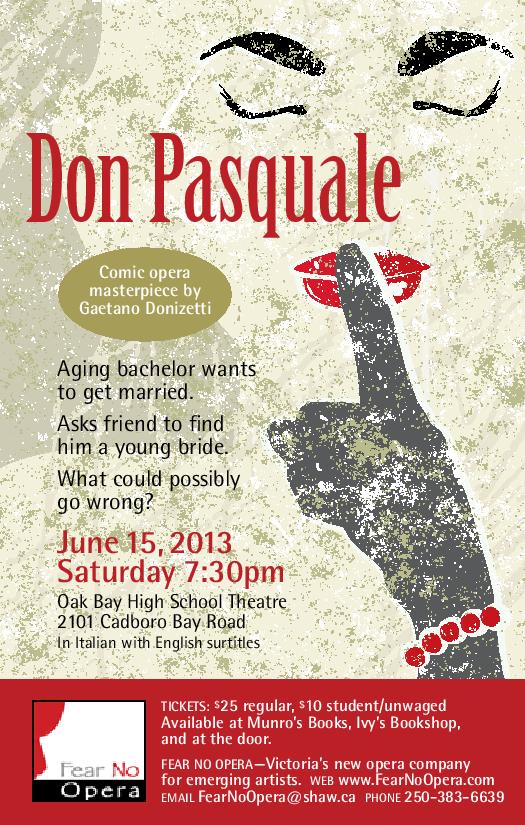 When I originally heard about FNO I couldn't wait to learn more; I'm not as knowledgeable about opera as I would like to be, so anything that can increase my awareness of this diverse and complex art form is welcome.
The co-founders have taken different paths to the same goal – Reimer returned to school after many years as a professional and completed his music degree (voice) at UVic in 2007; Steggles trained as a singer from an early age. In Victoria they continue to study with Benjamin Butterfield.
Fear No Opera presented their first concert, with pianist Robert Holliston, in November of last year, presenting a selection of favourites from Mozart, Puccini, Weill and more. Now they tackle their most ambitious project to date, a full production of Donezetti's Don Pasquale – the tale of an aging bachelor who wants to take a wife and asks his friends for help.
They've enlisted an incredible array of singers (Michael MacKinnon, Adam Dyjach, Jennifer Lang), a seasoned theatre director, Graham McDonald (Blackbird, the Walworth Farce, Shining City, Pornography to name a few) and conductor Brian Wismith (Vox Humana, the Victoria Choral Society) for this endeavour.  Tiffany Nelson and Jan Ross, as well as the stagecraft class from Oak Bay High, provide assistance on the technical side.
Amy and Neil were kind enough to sit down with me to answer a few questions and provide some background on Don Pasquale.
Why did you choose this opera?
Don Pasquale is manageable for our first main stage production.  There are only five characters; we're not using a chorus.  Both the story and the music are fun and very accessible. As a comic opera, there are elements of commedia dell'arte incorporated – it can be taken on a surface level but there are more profound themes as well.
Will there be subtitles?
Yes, Neil has done all the translations, and has worked hard to translate the idioms for contemporary audiences.
 What period have you set the opera in?
Donezetti wrote Don Pasquale as being in early 19th century Rome, but we've set it for mid 19th century England.
Is there anything else you'd like potential audiences to know?
Often when people see the words "emerging artist" they wonder what this means. We'd like to point out that "emerging" does not mean "untrained". Most emerging artists have between 10-20 years of training, and have developed both acting and vocal ability.
I'm thankful for artists who continue to pursue entrepreneurial endeavours to bring audiences the pleasure of live performance. Thanks Fear No Opera.
The aging bachelor Don Pasquale, angry at his nephew Ernesto for refusing to marry a rich spinster whom Pasquale has picked for him, has decided that he (Pasquale) will wed a young bride and produce his own heir.  Ernesto, in love with the poor, widowed Norina, will be disinherited and kicked out of the house.

Pasquale's friend, Dr. Malatesta, is unable to change Pasquale's mind, so to save Pasquale from himself (and to assist Ernesto) Malatesta recommends his "sister" as the perfect choice: fresh from the convent, beautiful and subservient.  In fact, it is Norina who will play the timid mouse – until immediately after the wedding, when she will transform into a shrewish libertine who abuses the Don at every turn.

By the end, Pasquale is desperate to have the marriage annulled, and Malatesta arranges a final night-time confrontation in the garden to reveal the deception and bring the affair to a close.

Featuring luscious melodies and favourite arias like "Bella siccome un angelo", Don Pasquale is a masterpiece of Italian bel canto comedy.
Don Pasquale by Fear No Opera (in Italian with English surtitles)
Saturday, June 15, 2013 at 7:30 pm
Oak Bay High School Theatre , 2101 Cadboro Bay Road, Victoria, B.C.
Tickets: $25 Regular, $10 Student/Unwaged
Available at Ivy's Bookshop, Munro's Books and at the door
Check out the Facebook event! 
The Cast:
Don Pasquale – Michael MacKinnon
Norina – Amy Steggles
Dr. Malatesta – Neil Reimer
Ernesto – Adam Dyjach
Notary/Servants – Jennifer Lang
Conductor – Brian Wismath
Stage Director – Graham McDonald
Pianist – Michael Drislane
Trumpeter – Ian Cohen
I have been provided complimentary tickets to attend Don Pasquale as a guest of Fear No Opera.