Now that the Victoria Fringe Festival is finished, we return to regular programming on this website, with news, interviews, reviews and previews of upcoming productions.
First up—Francine and Frankie B Make ART!, a puppet show for children and adults by Waddle Waddle Productions, Saturday September 6th at the Intrepid Theatre Club (more information at the bottom of the article).
Thanks to Randi Edmundson (one of the co-creators with Stephanie Tiede) for answering a few questions.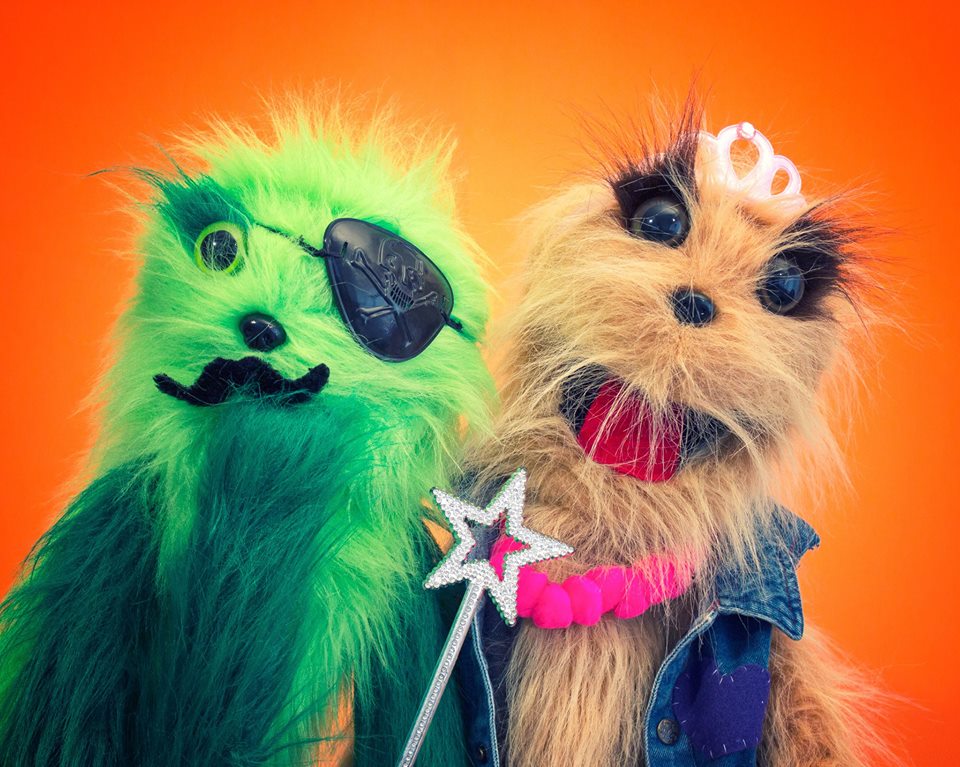 What is Waddle Waddle Productions mandate and vision/mission statement?
We're interested in theatre that encourages the audience to play with one another and the performers. A theme that has been emerging for us is that a little part of every adult wants to get on stage and play. Our first show, Epic Adventure Trail, spoofed virtual reality video games and had the audience fighting villains and saving the world. We make fairly heavy use of audience involvement and Francine and Frankie B Make Art! will be no exception.
How long have you been working with puppets?
I started working with puppets four summers ago while doing a traveling puppet show for IslandLink Library Federation. We adapted children's books into 30-45 min puppet shows and toured Vancouver Island. Last summer, my co-puppeteer Stephanie Tiede joined me to do the summer puppet shows. More recently I went to the Banff Centre and studied puppet theatre with Peter Balkwill from the Old Trout Puppet Workshop. I found that workshop incredibly inspiring. It had me reassess a lot about what I imagined one could achieve on stage. For me, puppetry opens up a lot of possibilities for storytelling.
How did you get the puppet bug?
I have probably always had the puppet bug – it's just been biding it's time until I couldn't resist anymore. My mother is very creative and I can remember her puppeting stuffed animals when we were younger. I'm also finding that puppetry is a wonderful marriage between my love of being ridiculous on stage and my quieter, more crafty side that likes to create lovely things.
What is it about working with (mainly) young audiences that attracts you?
Young audiences are always a lot of fun. You get to be really silly, but you also need to do your job. In my experience, you really know when you are engaging a young audience and when you're falling short or talking down to them. They don't always follow the rules of polite spectatorship that adult audiences do and it's fun to improvise around that. The other aspect of working with younger audiences that I enjoy is that parents and children often work together, especially with the kinds of shows that Waddle Waddle likes to do. Kids draw their parents into the story and vice versa, so that as a family they are engaged in the story, instead of being engaged alone.
Who or what has been your most significant influence(s) in the work you do?
The work that Waddle Waddle does is (so far) fairly influenced by entertainment that is designed for kids but often enjoyed by adults – video games, the Muppets, edu-tainment like the Magic School Bus or Bill Nye the Science Guy. It's possible that it is somewhat of a gen-Y phenomenon, but it seems to me that people really like to go back to stories and games from their childhood. We like to play with those familiar stories, pulling in some more contemporary influences, and bring the audience right inside to play.
Your background?
I graduated from the theatre program at UVic just two years ago, where I specialized in acting and applied theatre. I found that applied theatre (being theatre for education, social change, and community building) has really made it's mark on me in terms of what I perceive as important in art. I am really a fan of theatre or theatre events that involve many aspects of a community.
My wonderful co-puppeteer Steph studied theatre for a year at UVic before moving into Child and Youth Care. She works a lot with young people in a more at-risk environment in Victoria. She's also fantastic at improvisation, having spent a while working with the improv club at UVic.
Why should people come to see the show—how does it appeal to the wide age range you are hoping to attract?
People should come see Francine and Frankie B Make Art! because it will be a little bit crazy and every show will be a little bit different. Francine and Frankie B are two pretty wild puppet personalities that I think everyone will enjoy. We have some great plans for the audience to be involved in the creation of a unique, one time only piece of art. There will be music and dancing and shadow puppetry with many different levels of involvement for the audience.
The two daytime shows will be better for young audiences and the evening show will be better for adults. We love doing shows for families, but we also enjoy a little more adult puppet humour here and there. In all three shows, however, there will be ridiculous puppet times for everyone.
Francine and Frankie B Make Art!, presented by Waddle Waddle Productions
created by Stephanie Tiede and Randi Edmundson
Saturday September 6th at the Intrepid Theatre Club #2-1609 Blanshard (at Fisgard)
Showtimes: 11:30 am, 2:30 pm and 8:00 pm (slightly more adult)
Tickets are available at the door. $10 adults/ $7 students. Youth under 10 are free!
http://www.intrepidtheatre.com/shows/you-show/