Hubris in Athens, a new play by John Green, November 29 in Victoria BC.  Media Release.
Electoral reform: a snore-making topic to be avoided in polite society, a cause worthy of passionate debate, or something to laugh about? Victoria playwright John Demmery Green suspects that most people would pick answer one, but for him the battle to achieve proportional representation is both a passion and something people should have fun with.
Green's new play, Hubris in Athens, sets out to entertain and enlighten audiences as it explores both the problems that plague Canadian democracy and their roots in the mother of all democracies, Athens. Staged readings of the play on November 28 and 29 will raise funds for Fair Vote Canada, a multi-partisan campaign that advocates for change to our "first past the post" electoral system.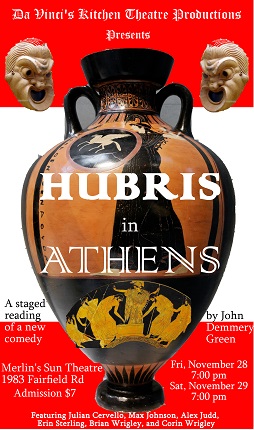 Green promises, however, that the play is not one dimensional. "Hubris in Athens is set in the ancient world, when democracy was truly a strange and novel concept," he explains, "but it deals with many of the problems that continue to plague us today: generation gaps, apathy, class and income disparity, gender inequality, xenophobia, politicians who 'spin' information against the public interest, black and white thinking—these issues have been with us since the time of the Greeks and before. And that's exactly why we have to keep going, we have to keep making things more fair, more equitable, more representative. We can't accept that our system, the way it is right now, is perfect. There's lots of room for improvement."
But the playwright and his company of local actors insist that those who attend will laugh. "It's definitely a comedy," says actor Julian Cervello, known for his recent leading roles in the Victoria Shakespeare Society productions of Henry V and Measure for Measure, and for his one-man productions of The Canterbury Tales. "John is a fan of the 'old' comedy of Aristophanes, the 'city' comedies of Ben Jonson, the political comedies of Bertolt Brecht, and the Marx brothers. You'll find a little bit of all of them in this show." Cervello himself will read the part of a refugee from Sparta who, he says, "finds himself in a situation Chaucer would have appreciated—that of a man accused of adultery with the wife of his benefactor. But did he do it? The jury will have to decide."
Cervello is joined by fellow VSS actor Alex Judd, who will read the role of Menon, an out-of-control juror who creates endless trouble for the magistrate (read by Max Johnson, associate producer for Theatre Skam). Other readers include Screen Actors Studio alum Erin Sterling, local filmmaker, actor and director Brian Wrigley, and Corin Wrigley, whose recent credits include Lord Ross in Shakespeare By the Sea's production of Macbeth and Lady Alicia in the Victoria Fringe hit Lady Audley's Secret.
John Demmery Green is a graduate of University of Victoria's theatre and writing programs and a member of the Playwrights Guild of Canada. He is the founder of Da Vinci's Kitchen Dramatick Theatre Productions Companie, which produced recent Victoria Fringe Festival offerings The Occupied Mind of Mr. K and Awkward Hangouts of History.
Hubris in Athens, a fundraiser for Fair Vote Canada
Merlin's Sun Theatre, 1983 Fairfield Road, Victoria BC
Friday, November 28 and Saturday, November 29 at 7pm
Ticket price: $7
Reservations: 250-370-9800