In our ongoing exploration of 2013 as The Year of Taking More Risks, Having More Fun, and Expanding Cultural Horizons, why not spend a Sunday afternoon at the historic Spencer Mansion, home of the Art Gallery of Greater Victoria (AGGV), listening to the cool tunes of some of the city's most renowned jazz artists.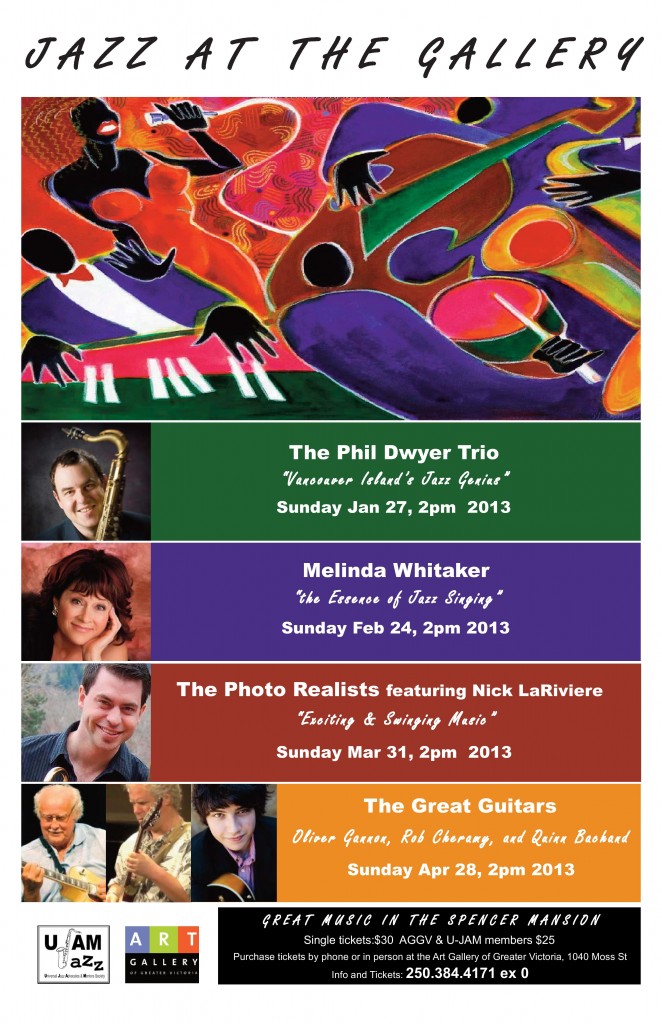 Founded in 2010 as a collaboration of the UJAM (Universal Jazz Advocates and Mentors) Society and the AGGV, Jazz at the Gallery enters its 4th season with a line-up that features rising stars  and seasoned veterans.  In a small intimate setting, with seating for 75, fans get the double benefit of music and art (admission to the gallery is included in the ticket purchase).
Jazz at the Gallery has proved popular with lovers of both art and jazz, and the concerts sell out.  The series was nominated for a Monday Magazine "M Award" in 2011 as  "Multimedia Event of the Year".
As a child growing up on the Westcoast of Vancouver Island, how I wished for the sophistication of art galleries and jazz music.  Now, I get to experience both!
The first event kicks off on Sunday, January 27th at 2 p.m. with Juno Award-winning pianist/saxophonist Phil Dwyer, accompanied by bassist John Hyde and percussionist Hans Verhoeven.  A multi-instrumentalist, composer, producer, and arranger, Dwyer burst on the jazz scene in Canada in his late teens and by his early 20s was, to quote Globe & Mail journalist Mark Miller, "startling jazz audiences with his unprecedented command of both tenor saxophone and piano" and with his "extraordinarily authoritative playing….set the country on its ear".

February's concert will showcase the unique voice of chanteuse Melinda Whitaker, filling the Spencer Gallery with songs from the heart, including samples from her latest CD "Lucky So and So".  She will be accompanied by a five-star group led by acclaimed pianist Brent Jarvis.  Discover for yourself why jazz critic Joseph Blake announced her arrival in "the Pantheon of jazz vocalists".

For the third concert of the series a new group, The Photo Realists, takes to the stage.  With trombonist/vocalist/composer/arranger Nick La Riviere fronting the group, you can expect to be thoroughly entertained with a toe-tapping performance of fresh music.  Helping him accomplish the task will be Karel Roessingh, piano, along with Damian Graham, percussion, and Ross MacDonald, bass.

The series concludes in April with a new version of the famous Great Guitars, this one featuring six-string veterans Rob Cheramy and Oliver Gannon with young guitar sensation Quinn Bachand.  They will be joined by bassist Joey Smith to heat up the Gallery with their infectious flourishes and fandangos.
"This inspired partnership with the Greater Victoria Art Gallery doubles the creative genius that is present in our community, presenting the improvisational flourish of great jazz musicians  in remarkable surroundings", states UJAM president Barry Gough.   "Building on the success of previous seasons, these are events not to be missed."
Jazz at the Gallery
the last Sunday of each month (January – April), 2-4pm
January 27, February 24, March 31, April 28
Tickets $30, or four-concert subscription $100
Art Gallery of Greater Victoria office, 1040 Moss Street
Phone 250-384-4171.