Kid Psychic and Shyface, an Intrepid Theatre YOU Show, October 4, 2014.
Intrepid Theatre's YOU Show series affords emerging artists the opportunity to workshop and perform their show, as a way of giving back to the community. Artists are provided rehearsal space, the use of the 55 seat Intrepid Theatre Club and the services of a technician.  The YOU Show is the brainchild of Megan Newton, Intrepid's former Operations Manager who passed away in 2012.
October's YOU Show features Kid Psychic (and Shyface) which began as a 10 minute mini-play at the Belfry Theatre's SPARK Festival 2013 (another excellent venue for the development of new work).  Co-creators Monica Ogden and Kathryn Taddei of Patronus Theatre have a long history of working together on projects and are close friends, just like their characters Sam (Kid Psychic) and Shyface.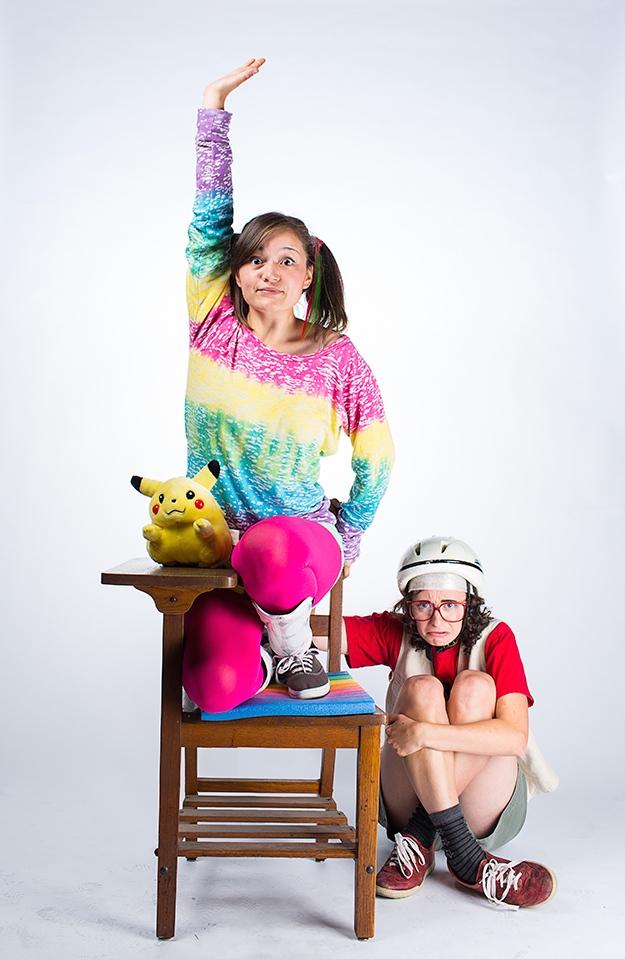 Monica Ogden (Kid Psychic) and Kathryn Taddei (Shyface). Photo: Derek Ford
From Elementary to High School, Kid Psychic and Shyface—first seen at the 2013 Belfry SPARK Fest—have big questions to ask

Imagine a tree fort. A magical space you retreat to, with personality bursting out the little wooden windows. This is Sam's home. On October 4, 2014, Patronus Theatre presents Kid Psychic (and Shyface) as part of the YOU Show Series at Intrepid Theatre Club.

Kid Psychic is an eccentric and outspoken girl with questions her teachers can't answer, like: What is true love? Why do good people do bad things? And what the darn toot is a tampon? When she meets Jenny (Shyface) she is thrilled to have a best friend who isn't her backpack. Together they attempt to answer these questions, create educational dances to Bryan Adams songs and age from seven to seventeen in the span of an hour.

"The education system is something most of us have been through," says Monica Ogden, co-creator of Patronus Theatre, "and we wanted to step back and examine how this system prepares kids for society."

"One of our primary focuses was exploring how much kids' creativity is stifled by school, and how much they're actually capable of," says Kathryn Taddei, a.k.a. Shyface, "so to do that, we got as goofy as we could! Parts of the show will even be improvised, complete with a fortune reading for a lucky audience member…"

Patronus Theatre is an emerging company in Victoria: one writer, one improvisor, coming together to collectively create. Monica Ogden is an improvisor with the award winning company Paper Street Theatre, and has been improvising, acting and teaching for 8 years. Kathryn Taddei is a writing student at UVic whose work has appeared at LanghamCourtTheatre's ACTivate festival, and online.
KID PSYCHIC (AND SHYFACE)
SATURDAY OCTOBER 4, 2014, INTREPID THEATRE CLUB, 8:00PM
TICKET PRICE: $10 AT THE DOOR
DURATION: 60 MINS