Kindness Rocks is the brainchild of Jonas Falle and Jeanette O'Keeffe of Mooncoin Productions.  Designed to bring the message of kindness – to self, others and the planet – to high school students province-wide, their high-energy productions have reached over 50,000 young people in BC since 2009 with messages of kindness, compassion, forgiveness and social responsibility.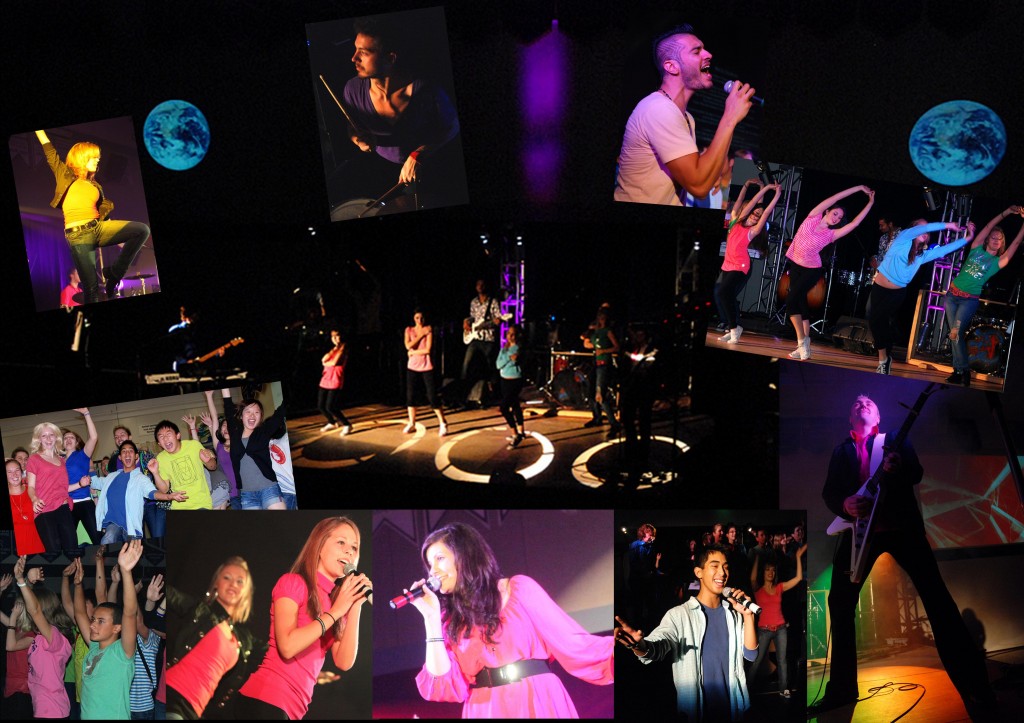 image provided by Kindness Rocks
In conjunction with Pink Shirt Day (Anti-Bullying Day), Kindness Rocks appeared in Victoria for the first time at Victoria High School February 29th 2012 (there is also another concert scheduled for March 2nd at Spectrum High School).
Through my friendship with Raul Pacheco-Vega, I was connected to Eudora Koh of Magnolia Communications, PR consultants to the Kindness Rocks concerts. Eudora invited me to attend.
My "children" are now young adults in their 20s. They went to a small high school, and to my knowledge, were not the target of debilitating bullying. Times have changed with the advent of social media – I wanted to know more about how to address the challenges faced by young people today.*
The cast and crew of Kindness Rocks are very professional. The music was upbeat – two of the band members are also in the up and coming Vancouver band, Dirty Radio.  Musicians included two guitarists, two drummers and two keyboardists.  I appreciated that the concert featured songs written by the cast, including young teens.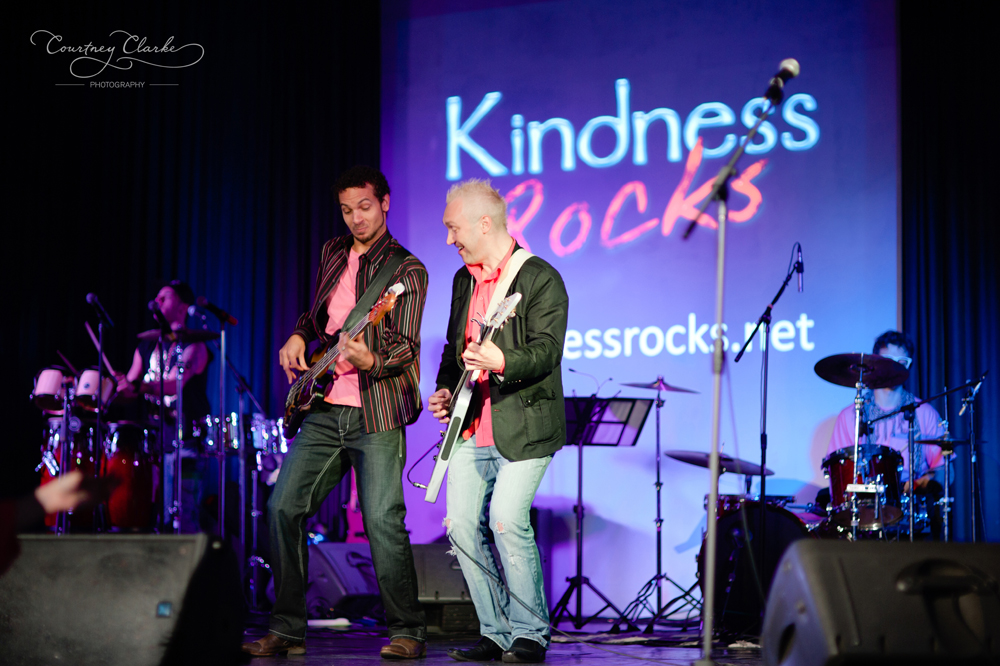 Photo: Courtney Clarke used with permission
The messages were heart-felt and above all, honest. People talked about being bullied and being the bully.
Kindness starts with self and ripples out to school, community & world.

Comparing ourselves to others. We don't have to!

You're perfect, you don't need to change anything about yourself.

Everyone is good at one thing! Find out what it is and follow your passion. Make it happen.

Deliberately excluding people is a form of bullying too.

I'll never find out what I can do unless I do all I can to find out – Brock Tully (founder of the World Kindness concert).

Are we being what we want the world to be?

I'm starting with the man in the mirror. I'm asking him to change his ways.
In advance of the concert, Vic High students from the dance team and the choir were invited to participate.  Classroom study guides, choreography, and lyrics  are available on the website.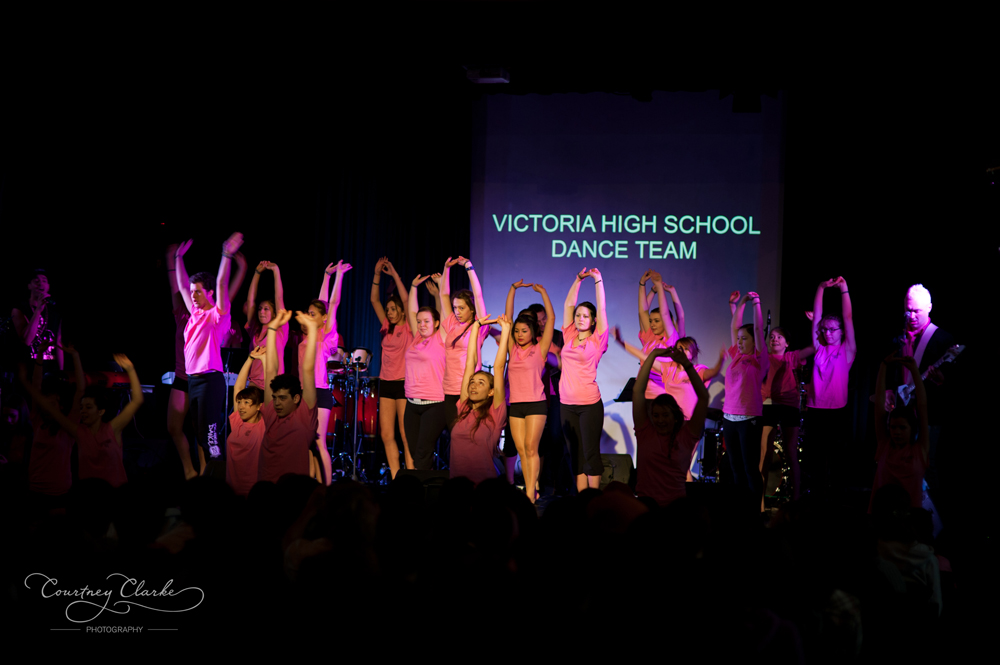 Photo: Courtney Clarke used with permission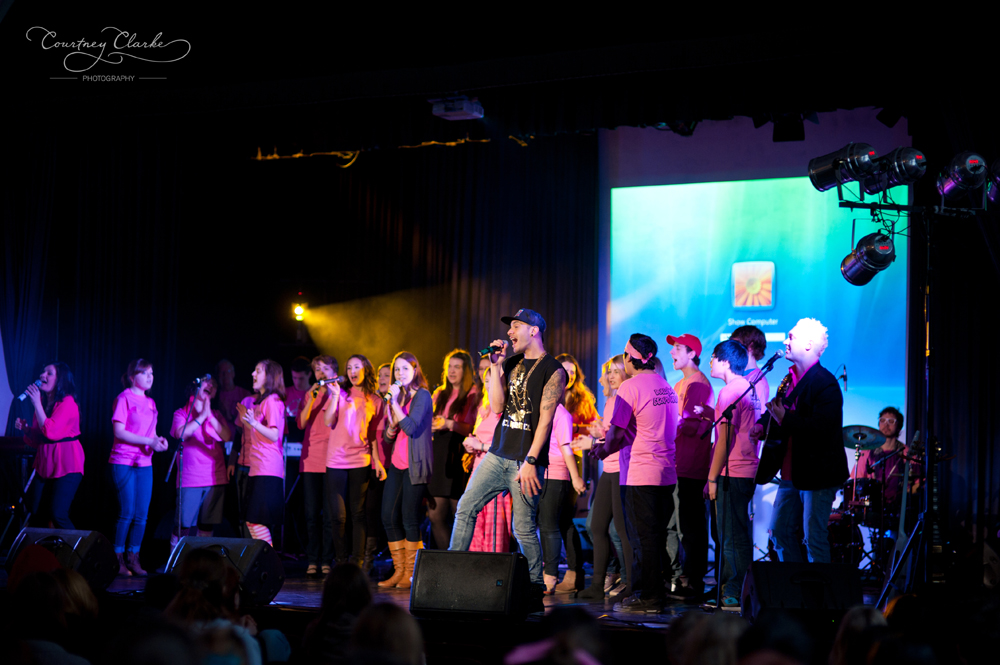 Photo: Courtney Clarke used with permission
The Kindness Rocks concerts are sponsored by Coast Capital Savings.  For information on how your school can host a concert, contact Mooncoin Productions.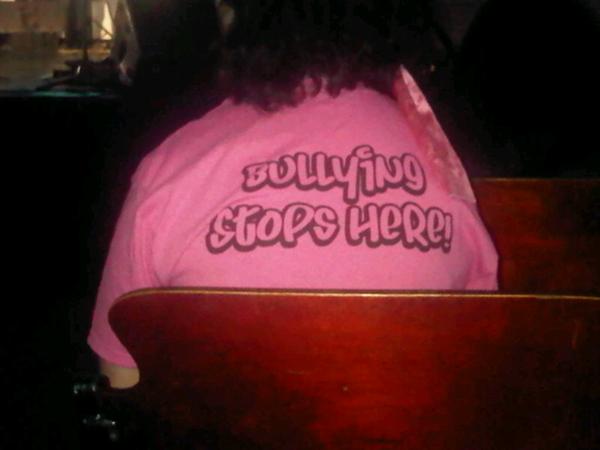 * from Bullying Canada:
One out of 4 kids are bullied, one out of 5 kids are the bully, 282,000 high school kids are attacked each month nationally.
Approximately one in 10 children have bullied others and as many as 25% of children in grades four to six have been bullied.
A 2004 study published in the medical Journal of Pediatrics found that about one in seven Canadian children aged 11 to 16 are victims of bullying.
Studies have found bullying occurs once every seven minutes on the playground and once every 25 minutes in the classroom.
In the majority of cases, bullying stops within 10 seconds when peers intervene, or do not support the bullying behaviour.
We are all raising the next generation. It's no longer enough to see it as someone else's "problem". Exclusion bullying is not just a "kids" issue – it happens to adults too. We have a responsibility to make the world a kinder and safer place for everyone and we can start small.  Thanks Kindness Rocks for teaching us all that bullying is not cool, and that our everyday actions have impact.
Above all, anti-bullying is not only for Pink Shirt Day – if you know of a school that could benefit, please contact Kindness Rocks.
[vsw id="XoGBSybZk0g" source="youtube" width="425″ height="344″ autoplay="no"]