Blue Bridge Repertory Theatre has definitely knocked it out of the park with the final production of their 2012 season – Little Shop of Horrors.  From the moment the curtain opens to reveal the incredible printed backdrop (featuring an iconic 1950s New York alley streetscape) to the closing number, the show is replete with an incredible array of stylistic and vocal elements that taken together, make it a banquet for musical theatre lovers.
Based on the 1960s cult B movie, (thought to be inspired by John Collier's 1932 story Green Thoughts), Little Shop of Horrors skewers horror movies, science fiction, musical theatre, life inNew York and romantic comedy.
Created by composer Alan Menken and writer Howard Ashman in 1982, the original show was critically acclaimed and won several awards including the New York Drama Critics Circle Award for Best Musical, the Drama Desk Award for Outstanding Musical, and the Outer Critics Circle Award.  Many may remember the 1986 movie of the same name, starring Rick Moranis.
A nebbish Seymour (Kholby Wardell) lives in the back room at Mushnik's Skid Row Florist, and secretly yearns for the love of the shop assistant Audrey (Sara-Jeanne Hosie). In his spare time, he cultivates rare plants.
Life changes when he brings home the strangest plant of them all – named Audrey 2.
With an amazing attention to detail, set and costume designer Patrick Wors employs a largely grey and black palette to convey the destitution and poverty of the neighbourhood, dwarfed as it is by massive skyscrapers. In the beginning, only Audrey stands out with her fashionable clothes, firmly ensconced in the Mad-Man era.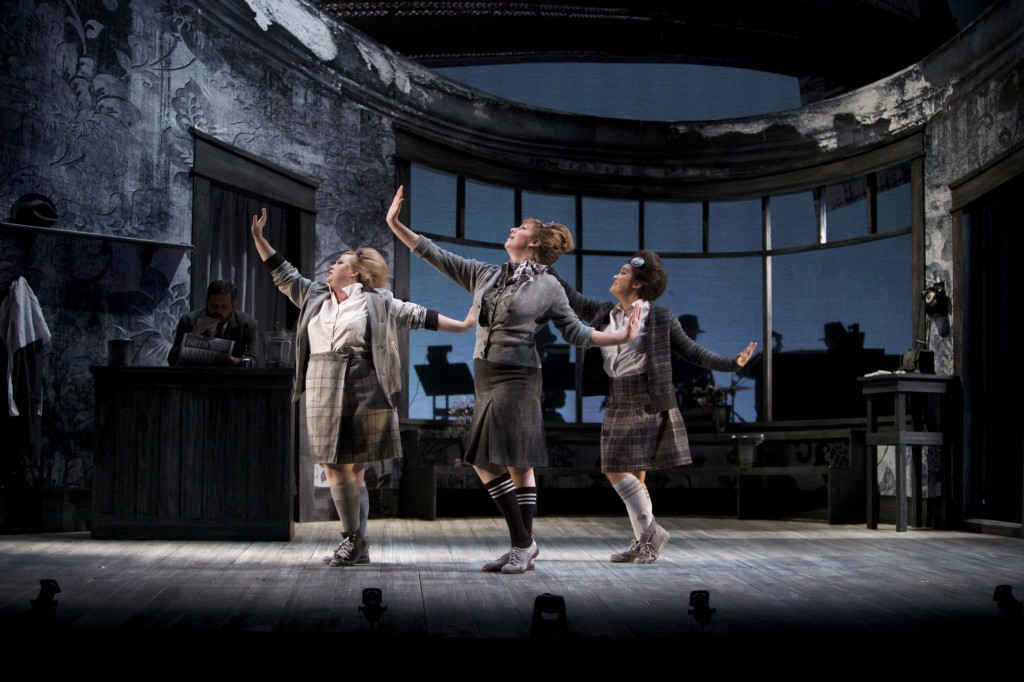 Kelly Hudson (Ronnette), Sarah Carlé (Chiffon), Jana Morrison (Chrystal). Photo: Milan
Slowly, as the plant Audrey 2 begins to grow and fortunes change, colour enters the picture, first appearing as touches for Seymour (his tie) but eventually mirrored in jewel like tones projected on the scrim behind the musicians (kudos to Lighting Designer Rebekah Johnson for creating the jazz-club-like atmosphere).
The Ronnettes (Sarah Carlé, Kelly Hudson and Jana Morrison) all bee-hive hairdo, bobby sox and finger snaps, finally appear for the penultimate number in shimmery gowns more worthy of The Supremes.
Puppet creators Hank Pine and James Insell mirror this shimmer in the fabric of each successive iteration of Audrey 2.  Pine's whimsical love of steampunk makes an appearance in the mask worn by Orin (Christopher Mackie) for Now (It's Just The Gas).
Audrey 2 herself is a masterpiece, capable of swallowing people whole. Pine and Insell are well known to Victoriaaudiences for their sometimes wacky work with Atomic Vaudeville and its hit musical Ride The Cyclone.
Underlying all this stylistic wonder is the strong vocal work of the cast and equally impressive music from the band (musical theatre legend Jim Hill, veteran drummer Don Leppard, Leon Nagasaki and newcomer Sebastian Britneff).
Sara-Jeanne Hosie's clear voice goes from quiet and intimate revelations (Somewhere That's Green) to belt-worthy heights when she declares her love for Seymour (Suddenly Seymour). Her ditzy, clueless and battered portrayal of Audrey contains many a wink and nudge to comedies of the era.
Kholby Whardell brings a dash of Ride The Cyclone dance moves (Little Shop is directed by Cyclone creator Jacob Richmond) to his duo with Damian Calderwood for Mushnik and Son.  Calderwood riffs a very convincing nod to Tevye throughout the show.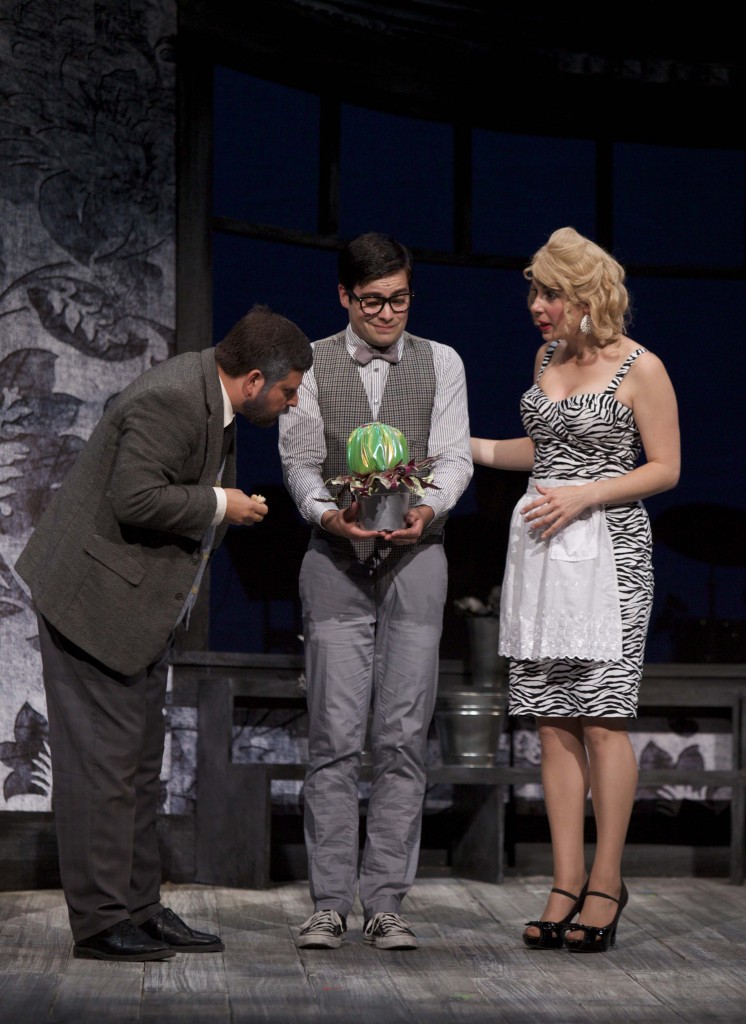 Damian Calderwood (Mr. Mushnik), Kholby Wardell (Seymour), Sara-Jeanne Hosie (Audrey). Photo: Milan
Following a strong performance as Slim (Of Mice and Men), it's a pleasure to have Christopher Mackie back onstage camping it full-hilt as Orin (the Dentist) and numerous other equally menacing male roles. My biggest howl was reserved for his cameo of Clare Boothe Luce beggingSeymour to do a cover for her magazine.  I wonder how many other equally mirth-worthy moments I may have missed.
It's hard to play a secondary role to the very real stage presence of a mammoth man-eating plant, but it is truly the sophisticated, sensuous and bluesy stylings of Jeff Jones that bring Audrey 2 to life. This is a reprise for Jones after a show inTorontofor the Canadian Stage Company (2007).
The comedic genius of Menken and Ashman seems tailor made for the quirky direction of Jacob Richmond and Brooke Maxwell. They take an already-rich script and inject their particular brand of vaudevillian humour to great effect. Choreography by long time collaborator Treena Stubel adds significantly to the visual element. Particular highlights were the Ronnettes ensemble moments, and the tango of Seymour and Mushnik.
Stunning set and costume design, beautiful vocals and music with eminently hum-able tunes make this a production of Little Shop of Horrors that deserves to be seen more than once in order to plumb the depths of its strange little world.
Little Shop of Horrors by Alan Menkekn and Howard Ashman
July 31 – August 12th at McPherson Playhouse
Tickets : McPherson Box Office, online, by phone (250.386.6121) or in person.
$45-$55
Cast:
Sara Jeanne-Hosie – Audrey
Kholby Whardell – Seymour
Jeff Jones – Audrey 2
Christopher Mackie – Orin
Damon Calderwood – Mr Mushnik
Kelly Hudson – Ronnette
Sarah Carlé – Chiffon
Jana Morrison – Chrystal
Jim Hill – piano
Leon Nagasaki – bass,
Don Leppard – drums
Sebastien Britneff – guitar.
Creative Team:
Jacob Richmond – Director
Brooke Maxwell – Music Direction
Sets and Costumes –  Patrick DuWors
Lights – Rebekah Johnson
Treena Stubel – Choreography
Celine Stubel – Assistant Choreographer
Hank Pine and James Insell – Puppets
Sara Robb – Stage Manager
Caitlinn O'Leary – Assistant Stage Manager
Dialect Coach – Iris MacGregor Bannerman
Disclaimer: As always, I retain editorial control over all the content published on this blog. I am a season subscriber to Blue Bridge Theatre, and a past board member.