Meridiem Wind Orchestra presents Legacy: Song & Dance April 22 2018
I love wind instruments for their versatility.
Audiences in Victoria are fortunate to have many highly experienced musicians with this specialty.  The Meridiem Wind Orchestra brings together both professionals (who play with the Victoria Symphony, the Naden Band of Maritime Forces Pacific and Victoria Operatic Society), talented amateurs and music educators (from the University of Victoria and regional school districts) to serve as models for a new generation of musicians, the over 1500 young people currently involved in band programs in the capital region.  The orchestra was created in 2012 (they are now in their sixth season) and has two other mandates—to create a collaborative experience for professional musicians and to inspire music lovers with high quality performances of outstanding repertoire written for the symphonic wind ensemble.  Dr. George Corwin (University of Victoria School of Music, Civic Orchestra of Victoria, Palm Court Light Orchestra) conducted the ensemble for many years.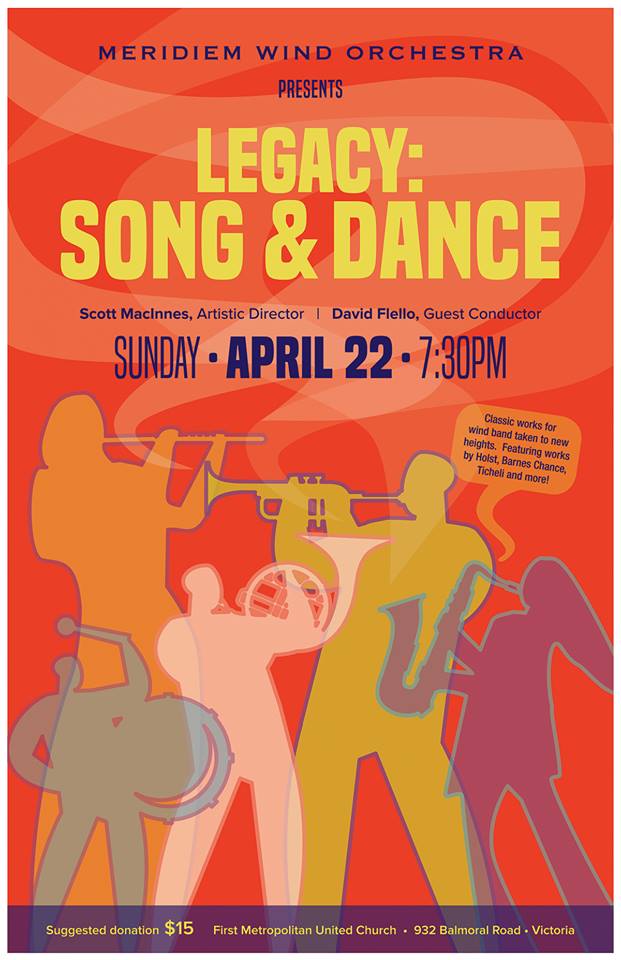 For their April 22nd concert—Legacy: Song & Dance—the orchestra, under the guest conductorship of Dave Flello will perform repertoire from over 100 years of the wind band tradition with classic works like Holst's 'First Suite in Eb', written in 1909, through to Robert Buckley's much more current composition, 'LOL'. Audience members who have played in wind bands will find pieces they remember. Likely the most recognizable piece, 'Amazing Grace' will be paired with the lesser-known Scottish tune, 'Tir Na Nog'. What all the pieces have in common is their ability to demonstrate the beautiful depth and variety of sound that a wind ensemble can create.
The Meridiem Wind Orchestra is a unique ensemble currently in its sixth season. Although Victoria boasts a rich selection of community ensembles, the Meridiem Wind Orchestra stands out due to its complex repertoire which demands a skill level that only highly trained instrumentalists obtain.  Past programs have included wind ensemble repertoire of historic works, popular and contemporary music, orchestral transcriptions, as well as new compositions by Canadian composers.
Meridiem Wind Orchestra presents: Legacy: Song & Dance
Scott MacInnes, Art Director
David Flello, Guest Conductor
April 22, 2018. 7:30pm
First Met United Church
932 Balmoral Rd, Victoria
Suggested donation: $15