The Mystery of Edwin Drood, Langham Court Theatre March 4-21, 2015. A review
I never had the chance to see Jerry Gosley's legendary Smile Show (which played in Victoria for over 40 years until the 1970s) but I'm sure his legacy is in good hands after seeing The Mystery of Edwin Drood at Langham Court Theatre (March 4-21, 2015).
Drood (the original title of Rupert Holmes' 1985 musical) is quick-witted, high-energy, expertly  executed, fast stepping, and comes complete with a beautiful virginal maiden (Cati Landry as Rosa Bud), a dashing hero (Heather Jarvie-Laidlaw as Edwin Drood), the dastardly villain (Montgomery Björnson as Jasper), exotic foreigners, drunken workmen, and surprise endings. If you love Victorian melodrama and British music hall, beautiful costumes and spectacular lighting effects; if you appreciate the work that is involved in acting, singing and dancing together as an ensemble—you will want to attend.
This ambitious undertaking with 22 cast members uses the device of a play within a play, and sets the action within the confines of a British music hall circa 1892.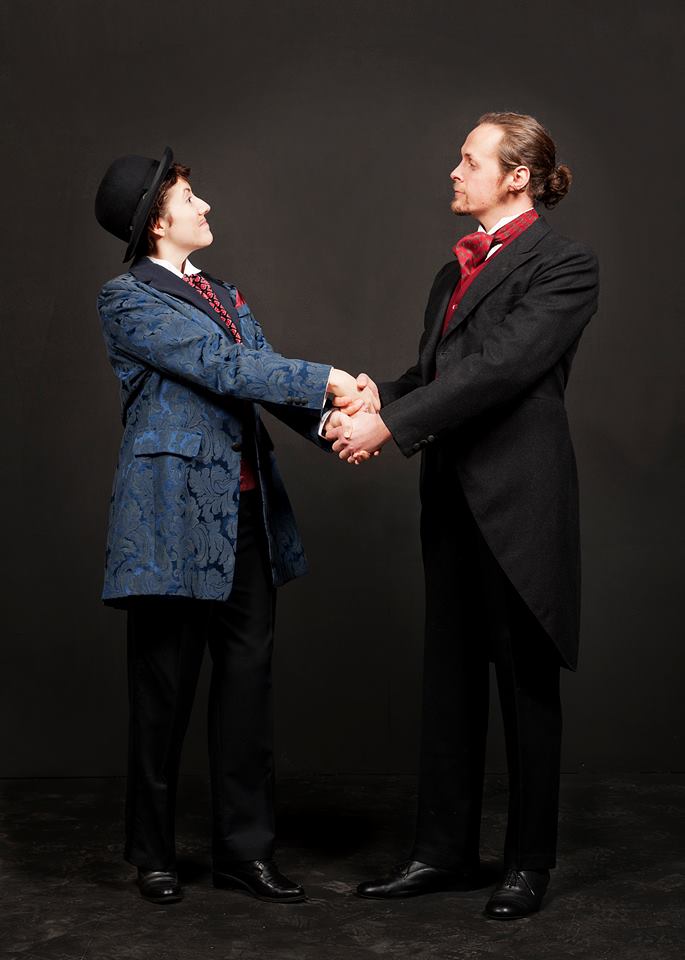 Heather Jarvie-Laidlaw as Drood and Montgomery Björnson as Jasper. Photo: David Lowes, Art Studio 21 Photography
It's a fabulous and frivolous fun frolic through all the tropes of the British music hall genre—from patter songs, to comic duos, barely clothed dancers, rambunctious characters, Orientalism, and a lead played by a cross dressing woman—Heather Jarvie-Laidlaw as the title character.Audience reaction is part of the performance; come prepared to boo, hiss, shout, laugh and clap.
Taking charge of a cast comprised of veterans and newer faces director Roger Carr works magic with choreographer Sylvia Hosie and music director Donna Williams to create a show that keeps audiences guessing until the last minute with plenty of plot twists and turns.  In fact, The Mystery of Edwin Drood has twelve possible permutations of endings as the audience votes on the final outcomes.  What an additional challenge for the cast.
Carr is a master of timing—by moments the pace was blistering (the patter song Both Sides of the Coin with Alan Penty as the Chairman and Montgomery Björnson as Jasper particularly comes to mind), at others slow and tender with unrequited love (Two Kinsmen with Jarvie-Laidlaw and Cati Landry).
Penty presides with aplomb and has some of the funniest moments (complete with drum rolls) with Drew Kemp as the drunken gravedigger Durdles.  Susan Wilkey, by turns solicitous and avaricious, captures the conflicted essence of the opium den overseer Princess Puffer in The Wages of Sin.  Creepy overtones abound in the beautifully rendered Moonfall and  Moonfall Quartet with Cati Landry's soaring high soprano joined by  Tara Britt, Cecilly Day and Renée Mallard.  Michael Romano as Bazzard (the actor who is never chosen for a leading role) has a fine cameo in Never the Luck.
The night I attended, Alf Small (who also plays the Reverend Crisparkle) was revealed to be the detective Dick Datchery singing Out on a Limerick with crisp precision and humour. Tara Britt (Helena Landless) and Corin Wrigley (Neville Landless) inject an exotic note as the Ceylonese orphans taken in by Crisparkle. Jarvie-Laidlaw reveals all in The Writing on the Wall with a performance that finishes in superb and strong fashion on a wonderful high note.
Sylvia Hosie, assisted by dance captains Katelyn MacKellen and Ursula Szkolak keeps everybody on their toes as they sashay, pirouette and can-can around the stage.  The succubae dance sequence (Ainsley Willcox, Ursula Szkoklak, Katelyn MacKellen, Leah Moreau) in Jasper's Vision flows exquisitely with rhythmic movement and acrobatics.
Pianist Joe Hatherill is be applauded for his nearly 2 ½ hours of accompaniment—a recent arrival to Victoria, his experience with musical productions spans more than three decades, and it shows.
The design elements reflect a high level of dedication to craft. An entire performance could be spent lost in the elaborate details of the costumes alone—I ogled the ruches and ruffles, the lace, feathers and bustles, hats and peaked bonnets, cravats, taffetas and silks. Designers Diane Madill and Susan Ferguson were assisted by four sewers as well as a crew of assistants and dressers. No detail was forgotten in the quest for authenticity.
Karrie Ayotte paints poetically with light—in particular in the dream sequence as the two-faced villain Jasper (Montgomery Björnson) is overcome by the effects of laudanum. Al MacKenzie's sound design heightens moods with thunderous storms, spooky noises, and the bustle of the town.
Lately at Langham Court Theatre there have been elements of the set design (Bill Adams) that have elicited spontaneous applause from the audience; Thursday night's opening was no exception, with the arrival of the train at Cloisterham Station.  Adams was also responsible for the team of scenic painters who created the vast colourful landscapes of the High Street.
Langham Court Theatre is well known for the quality of their large productions; The Mystery of Edwin Drood is no exception—the ensemble moves and sings as one, yet each member retains distinctive characteristics that add to the audience's enjoyment.  Ticket sales are sure to  be brisk for this musical treat.
Return to the grand ol' days of the music hall and be drawn into a play within a play. The unfinished final work of Charles Dickens offers a shadowy, intricate plot with a bonus: the audience votes on the ending! A brooding, sinister, and brilliant music teacher obsesses over the young Rosa Bud. Meanwhile, Rosa's fiancé Edwin Drood disappears amidst a colourful cast of characters.

Creator, Rupert Holmes, utilizes pantomime and Dickens' novel, as well as his experiences with Victorian-style music hall performances to create the central premise of the show. The Mystery of Edwin Drood began as part of the New York Shakespeare Festival and then moved to Broadway and played for a total of 608 performances. It won five Tony Awards in 1986, including Best Musical. In 2012, revivals of the musical played in London's West End and at Studio 54, Broadway.
Audience participation optional • Some coarse language • Suggestive scenes • Not suitable for children
THE MYSTERY OF EDWIN DROOD  Book, Music & Lyrics by Rupert Holmes
Directed by Roger Carr
Music Direction by Donna Williams
Choreography by Sylvia Hosie
March 5 to March 21, 2015 | Preview March 4th
Ticket Information
$26 Adults $24 Students / Seniors (ages 65+)
$10 Student Rush Ticket (15 min before curtain with ID, based on availability)
For more information, contact Langham Court Theatre:
805 Langham Court
Victoria BC V8V 4J3
Box Office / Admin: 250-384-2142
Email: boxoffice@langhamtheatre.ca
Further  reading:
History of British Music Halls http://www.vam.ac.uk/content/articles/t/the-story-of-music-halls/
Rupert Holmes  http://en.wikipedia.org/wiki/Rupert_Holmes
CAST (Actor / Character):
Alan Penty: Mr. William Cartwright-Chairman of the Music Hall Royale; doubles as Mayor Thomas Sapsea
Alf Small: Reverend Chrisparkle-doubles as Mr. Cedric Moncrieffe
Cati Landry: Rosa Bud-doubles as Miss Deirdre Peregrine
Chad Laidlaw: Mr. James Throttle, Stage Manager and Barkeep
Corin Wrigley: Neville Landless-doubles as Mr. Victor Grinstead
Drew Kemp: Durdles-doubles as Mr. Nick Cricker
Heather Jarvie-Laidlaw: Edwin Drood-doubles as Miss Alice Nutting
Joe Hatherill: Mr. Thomas Purcell, maestro of The Music Hall Royale Orchestra
John Manson: Deputy-doubles as Master Nick Cricker
Michael Romano: Bazzard-doubles as Mr. Phillip Bax and as Waiter
Montgomery Bjornson: John Jasper-doubles as Mr. Clive Paget
Susan Wilkey: Princess Puffer-doubles as Miss Angela Prysock
Tara Britt: Helena Landless-doubles as Miss Janet Conover
CAST-COMPANY:
Cecilly Day
Gloria Snider
Katelyn MacKellen
Kevin Stinson
Leah Moreau
Peter Gatt
Renée Mallard
Ursula Szkolak
Ainsley Willcox
PRODUCTION TEAM:
Director: Roger Carr
Music Director: Donna Williams
Pianist: Joe Hatherill
Choreographer: Sylvia Hosie
Producers: Gil Henry and Peter McNab
Stage Manager: Sylvia Lindstrom
Assistant Stage Managers: Alex Carroll and Nick Stull
Set Designer: Bill Adams
Lighting Designer: Karrie Ayotte
Sound Designer: Al MacKenzie
Costume Designers: Di Madill and Susan Ferguson
Set Decor and Properties: Sally Crickman
Photography by David Lowes / Art Studio 21 Photography http://www.artstudio21photography.com/
Disclaimer:  I was graciously provided with  complimentary tickets to attend The Mystery of Edwin Drood. As always, I retain complete editorial control over all content published on this site.