In a world obsessed with real-time, instantaneous connection, it might seem quaint that two people could maintain a long distance business relationship over decades, and deepen their friendship as a result.
84, Charing Cross Road, the opening play of Langham Court's 84th season, shows a modern audience just how this is possible. With erudite wit, and intellectual thrust-and-parry, writer Helene Hanff (Jennifer Hoener) and bookstore employee Frank Doel (Roger Carr), take us deep into a world long-abandoned for the convenience of telephone calls and email.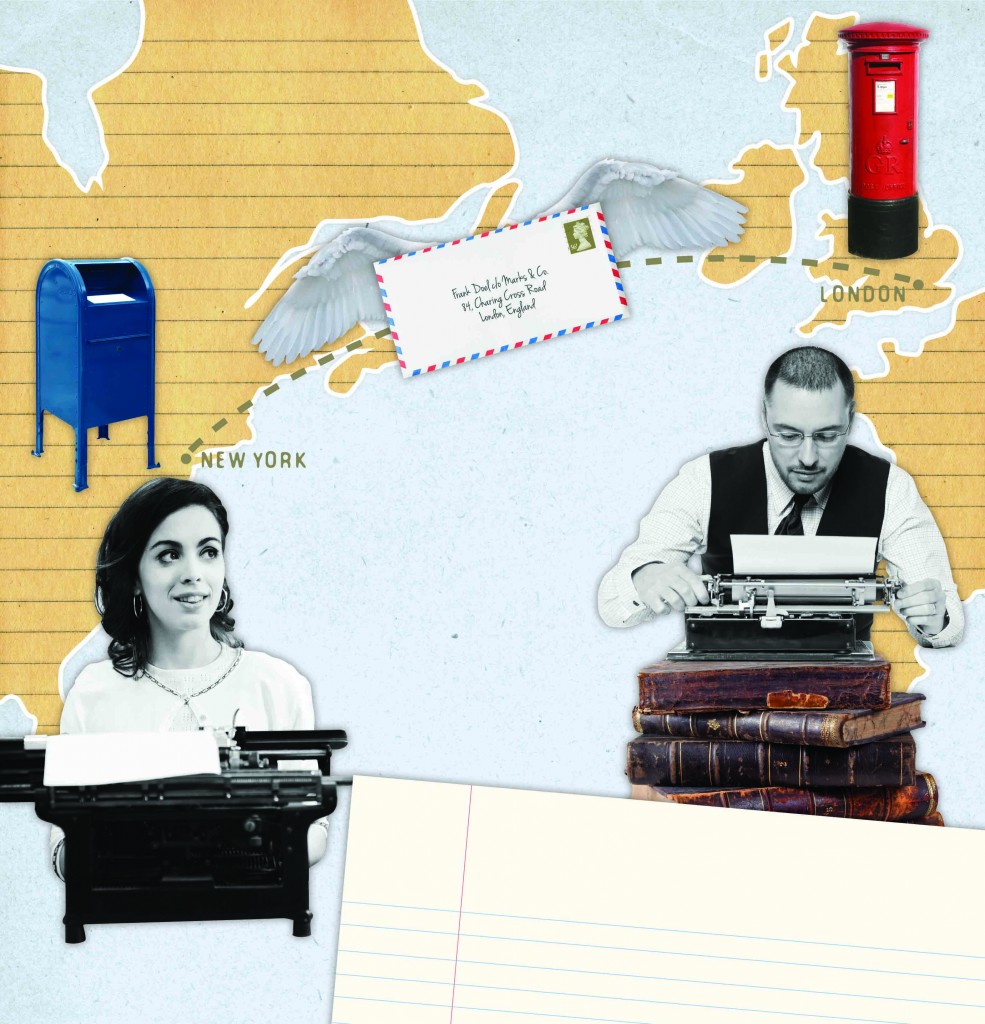 Hanff sent her first missive, a plea for titles she could not find in New York, to Marks and Co. antiquarian booksellers in 1949.  The exchanges with Doel continued up to his death in 1968.
If you've ever had a pen pal, waited anxiously for a return letter, or loved old books,   you'll appreciate this delightful gem of a play.
84 Charing Cross Roadis set simultaneously in New York and London through the ingenious re-creation on split levels of Hanf's apartment and the London bookshop.  It's a marvel to see the shelves and shelves of old books employed by set designer Bill Adams and set decorator Sally Crickman to realistically portray this hole-in-the-wall shop. You could almost smell the mustiness in the air.
Hoener delivers what is essentially a monologue, alone in her apartment.  It's a formidable task, accomplished with ease and brio, and complete with the expected broad New York accent. Roger Carr as Doel is the perfect counterpoint to Hanf's blunt and gruff manner. He's unfailingly kind, and, at first, a stickler for procedure.
Barriers fall however, and over time we meet the other employees of the shop, learning more of their personal lives in the process: Cecily (Dianne Currie) whose husband is with the RAF and stationed in Iraq, Maxine (Alison Fuller) who longs to travel to South Africa, Mr Martin an elderly stalwart.
Nothing is forced, events unfold slowly. Director Sylvia Rhodes ensures that the pacing is perfect, creating a sense of anticipation for the next revelation.  Through all the minutiae of lives – contracts gained and lost, promotions, sickness, travel plans interrupted, financial reversals – the main characters remain tied by the tenuous thread of a shared love for old books and great literature.
Period costumes, co-ordinated by Peta Mackenzie, aptly convey the passing of time, from the late 1940s war-ravagedLondon, to the flower-power era of hippies and long hair.
84, Charing Cross Road plays to the sentimental nature of the audience without becoming maudlin.  It's a gentle reminder of a slower time deftly delivered by an accomplished cast, in a beautiful rich setting.
Although Hanf never met Doel, she immortalized their friendship in her book, which has since been produced on television, radio, film and stage.
84, Charing Cross Roadcontinues to October 20th atLanghamCourtTheatre.
84, Charing Cross Road by Helene Hanff, Adapted by James Roose-Evans
Langham Court Theatre, 805 Langham Court
October 3 – October 20th, 2012
Tickets $21/$19.  Tuesdays purchase 2 tickets for $30.
Cast:
Jennifer Hoener – Helene Hanff
Roger Carr – Frank Doel
Diane Briggs-Hoyle Maxine
Dianne Currie – Cecily
Alison Fuller – Megan
David Elendune – Bill
Sally Crickman – Joan Todd
Paul Gillan – Tom
Alan Omerod – Mr Martin
Peter McNaab – " "
Jon Scheer – " "
 Creative Team:
Director : Sylvia Rhodes
Producer: Vinnie Chadwick
Stage Manager: Penelope Harowwd
Asst. Satge Manager: Paul Gillan
Set Design: Bill Adams
Lighting Design: Chad Laidlaw
Costume Co-ordinator: Peta Mackenzie
Sound Design: Alan Mackenzie
Properties: Jean De Cariter
Set Décor: Sally Crickman
If, like me, you want to learn more about the books mentioned in the play, there is a complete list here.
Disclaimer:  I was offered complimentary tickets to attend the opening night of this play. I was not paid to write a review nor was I required to do so. As always, I retain editorial control over all the content published on this blog