Wouldn't you like to be able to say, just once, "I knew them when they were just starting out"?  You'll have that opportunity at the Canadian College of Performing Arts New Works Festival January 19-21st in Victoria BC.
Join creators in dance, theatre and playwriting; experience the pulse of youthful creation; learn what it means to be a performing artist in 2012.
Enjoy the roots of creation! Canada's future playwrights unveil their brand new works. Plus CCPA's groundbreaking Choreography and Choral Showcase. This festival culminates with SCRIPTEASE, a 10 minute play competition on Saturday March 10.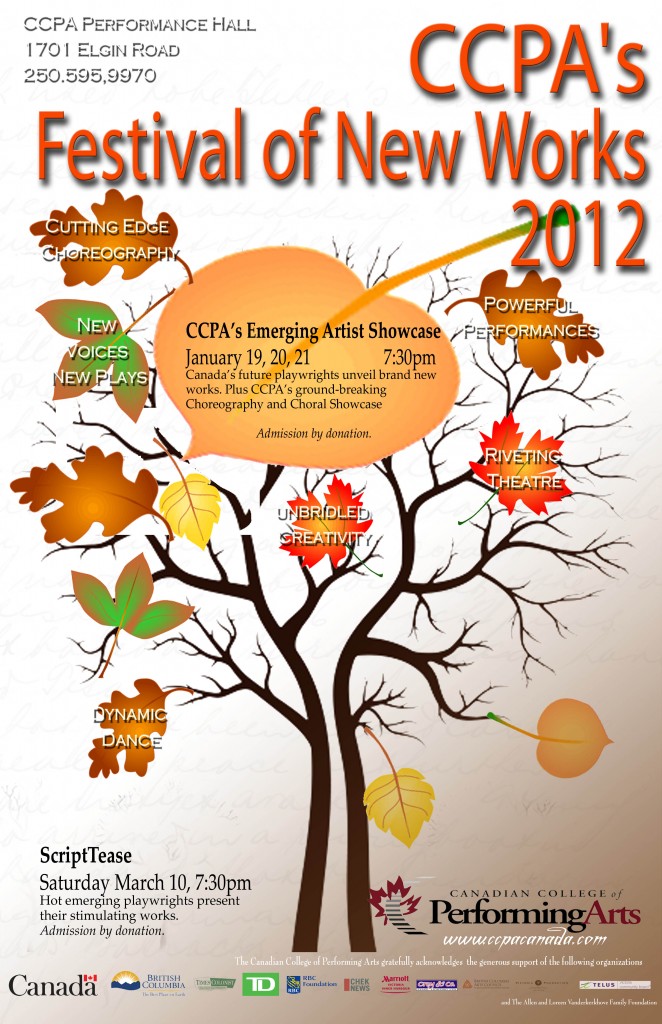 The Canadian College of Performing Arts is one of Canada's premiere performing arts training facilities.  Established in 1998 by Jacques Lemay and Janis Dunning to prepare young artists in dance, theatre and voice (triple threat), the college accepts 40 students in Year One and 20 in Year Two.  There has also been a Year Three intensive program – Company C.
New Works Festival
January 19 – 21 7:30 pm
Canadian College of Performing Arts
1701 Elgin Avenue
admission by donation
I have been involved with the Canadian College of Performing Arts since 2005. My son completed his training there from 2005-2007. This blog post was not sollicited.  I admire the dedication and hard work displayed by students, instructors, administration and board, and help to promote their activities as I am able.