Oak Bay Beach Hotel announces 2014-2015 dinner theatre season. Victoria BC. (media release).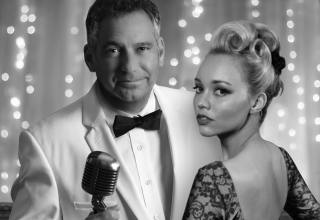 The curtain rises in the David Foster Foundation Theatre on Friday, Sept. 26 for the second season of dinner theatre at the Oak Bay Beach Hotel, showcasing four unique productions paired with gourmet three-course meals.

The first show of the season, Pennies from Heaven, features a loving tribute to the songs and styles of Frank Sinatra, Bobby Darin, Nat King Cole, Ella Fitzgerald, Dean Martin, and Doris Day. Tom Watson, founder of the Timebenders' show, is joined by Kristina Helene whose beautiful voice has caught the attention of producers in Los Angeles where she is currently working on a new album, splitting her time between Victoria and California. Pennies from Heaven runs from Sept. 26 to Nov. 21.

The annual holiday revue, It's Christmas, returns and features songs and stories for the Christmas season. Produced and directed by Matthew Howe and featuring a cast of talented performers, the show will take guests down memory lane, evoking the best of the holiday season. It's Christmas runs from Nov. 28 to Dec. 26.

Not to be confused with your own family wedding memories, "I do, I do!" will feature a nostalgic musical by Harvey Schmidt and Tom Jones. As the show begins, guests are introduced to Michael and Agnes as they prepare for their wedding day, and will follow their expanding family and the inevitable mid-life crisis. I do, I do! runs from Jan. 16 to March 7.

Kelt Eccleston's Kitchen Party, the final production of the 2014-15 season, brings Oak Bay all the way to the Maritimes, where guests will end up in Kent's kitchen to experience music, improv, and head-shaking stories. What will start out as a room of strangers will transform into a room of old friends. Kelt Eccleston's Kitchen Party runs from March 13 to May 2.

Individual dinner theatre tickets are available for $89 per person for each show of the season. Guests may choose to purchase a full season pass for $319 per person, which includes one ticket to each of the four productions, priority table reservations up to two days in advance, plus a complimentary Tuesday night movie ticket, a mineral pool day pass, and 25 per cent off regular room rates throughout the year.

Ticket packs are available for guests and include a choice of 10 dinner theatre tickets, which may be used in a combination of ways, including a table of 10 for one show, the option to attend a few shows with friends, or in any combination the purchaser would prefer. Ticket packs are $799 and include priority table reservations up to 15 days in advance and 25 per cent off regular room rates throughout the year.

Those interested in making a night of their dinner theatre experience are welcome to purchase the hotel's Dinner Theatre Package for $398 (based on double occupancy), which includes two tickets to the evening show, an overnight stay in a king or queen bedded room and breakfast for two. All guests have the option to visit the heated outdoor seaside mineral pools, open 24 hours a day.

On one weekend during each production, the Oak Bay Beach Hotel will be offering bus transportation to up-island residents, picking guests up on the Saturday in Courtenay, Parksville, Nanaimo, Ladysmith, and Chemainus, returning them home on Sunday. The Up-Island Package, which is $299 per person, includes dinner theatre, full breakfast, and one night in a guest room (based on double occupancy).

For more information and to purchase tickets or packages, visit www.oakbaybeachhotel.com or call 1-800-668-7758.

About the Oak Bay Beach Hotel

Reopened in the fall of 2012, the new Oak Bay Beach Hotel has been completely rebuilt on the same spectacular oceanfront lot where the previous hotel sat for more than 80 years. Oak Bay is a residential community with its own village centre, just six kilometres outside of British Columbia's capital city, Victoria. Today, the Oak Bay Beach Hotel offers 100 hotel rooms and 20 luxury residences. Built to five-star standards, hotel and residential amenities include seaside mineral pools, a fitness studio, Boathouse Spa & Baths, The Snug pub, the David Foster Foundation Theatre, Kate's Café and a fine-dining restaurant with a 1,600 bottle tasting room. Not only is this Victoria's first combination full-service luxury hotel and private residence, it is also the only commercial waterfront development in Oak Bay, set across Beach Drive from the prestigious Victoria Golf Club.