Castlereigh Theatre Project returns to Sage Theatre's IGNITE! Festival June 13th – 15th with their newest work, the docu-drama Ocean Fox.
Last seen at IGNITE! in 2011 with the premiere of  their controversial work Castle in the Sky, the brother-sister playwriting duo of Jude Thaddeus Allen and Francesca Albright have been assiduously pursuing their storytelling vision.
Ocean Fox is verbatim theatre, based on hundreds of hours of interviews not only with the protagonist, American dive-master Jef Fox, but with a multitude of individuals connected to his life.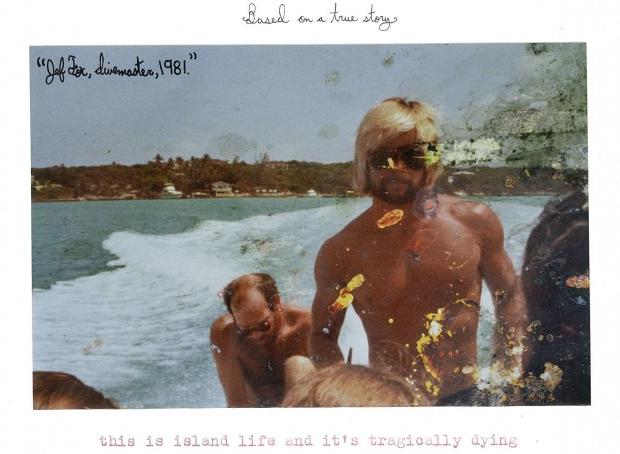 Allen and Albright originally met Fox while on vacation in the Bahamas on the remote Harbour Island.  He seemed to have the perfect life – for over 30 years he'd done exactly what he wanted, surrounded by the sea and miles and miles of pink sand beaches. The duo were captivated by his stories – they'd found their next subject.  Originally hesitant, Fox later gave permission for his life to be examined and dissected, the storyline teased out.
"It's the story of a man who inexplicably refused to change; he'd achieved his concept of what paradise was", says playwright Jude Allen.  "All things evolve and he didn't".

"The play touches on themes of island life, family, communication, the passage of time and legacy.  Fox asks 'what was all this for anyway?' It's a unique play and part of the world that speaks universally."
Allen and Albright's roots were not originally in the theatre but they have attracted some significant collaborators to their projects over the years. They met their dramaturge, Gordon Pengilly, award-winning playwright, at an Alberta Playwright's Network workshop in Calgary.
Castlereigh Theatre Project was formed in 2007 with the initial purpose of writing Castle in the Sky. "In order to get things done, we had to do them ourselves", claims Allen. Based on the tragic 2006 murders in Medicine Hat Alberta of three family members by their 12 year old daughter and her much older boyfriend, it examines incidents around the event, and the aftermath as the community tries to heal.
I had the opportunity to see Ocean Fox in Victoria last year, and sat beside Fox's sister who was visibly moved by the portrayal of her brother. Allen and Albright's work demonstrates a deep desire to push the boundaries of what many have come to consider the theatre-going experience to be.  Theatre-goers who want to explore with them will be fascinated by one man's tale and a window into a life most of us can only dream about.
After the IGNITE! Festival, Ocean Fox will tour in BC (more details soon).
Castlereigh Theatre Project & Sage Theatre's IGNITE! Festival 2013 proudly present:
OCEAN FOX A Play by Francesca Albright & Jude Thaddeus Allen
June 13th – 15th, 2013
Pumphouse Theatre (Joyce Doolittle Theatre) Calgary, Alberta 
June 13th at 7:30pm + June 14th at 10pm + June 15th at 3:15pm
Tickets 403-263-0079 or online
Directed by Kyle Schulte
Dramaturgy by Gordon Pengilly
Starring Grayson Ogle
Stage Managed by Chelsey MacDonald
Original Music by Dannard Anderson, Clement Fowler, Renaldo Grant and Dwight Stewart
Art by Caleb Speller