I don't remember how or when I first learned of the Royal BC Museum's Amplification Project (now in its second year and originally called Site and Sound), but I knew I wanted to experience it. Some of my favourite performers have been involved, and the styles of performance span the genres. This year's event is scheduled for Saturday April 20th and tickets are available here.
The Museum Amplification Project is curated by Chris O'Connor who works in the learning department, and is an immersive, performative installation.
Imagine spending an evening strolling through the museums's galleries as 10 groups (musicians, sound artists dancers, projectionists, poets…) respond to the ideas within the exhibitions. The audience is free to wander and listen in over a two hour period.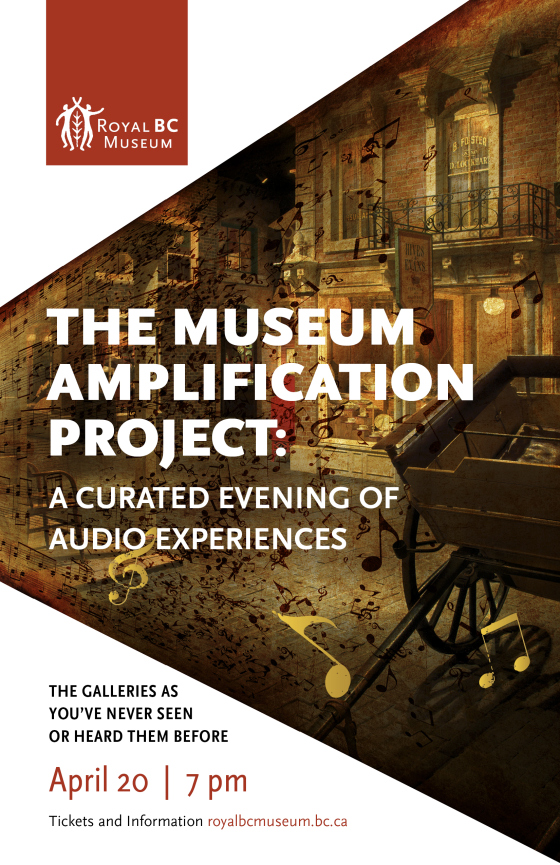 Some highlights of the evening include: live projection and music throughout the Natural History gallery along with a laser show of the northern lights in the forest dome; Limbic Media will be doing an interactive sound and light installation in the mine; Vancouver dancers and sound artists will be transforming the train station and majestic theatre of old town; spoken word poet Jeremy Loveday will be in the Discovery Ship; Coast Salish singers Jonathan and Anthony Sampson will be in the First Peoples gallery.
 The Royal BC Museum Amplification Project
Saturday April 20th at the museum 7-9pm
Tickets: $22.40 and members $20.15