In an earlier post on multi-talented performer Kirsten Van Ritzen, I mentioned a comedy show she is producing with Less Bland Productions for APTN (the Aboriginal People's Television Network). Join the live studio audience February 13 – 17th for the taping of the She Kills Me.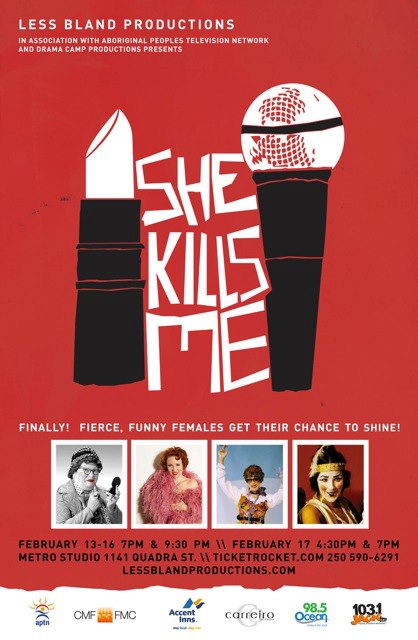 Van Ritzen has assembled a great lineup of funny women from Victoria and across Western Canada for 13 episodes. Genres range from stand-up, to music and burlesque. Performers include local burlesque artist Miss Rosie Bitts, singer Carolyn Mark, solo performer J. McLaughlin, Victoria's poet laureate Janet-Marie Walker, Van Ritzen, and improviser Karen Brelsford.  Audiences will want to note Dawn Dumont who has performed in comedy clubs across North America, and Sharon Shorty, a story teller from the Yukon whose alter-ego is Gramma Susie.
Taping takes place at the Metro Studio (corner of Quadra and Johnson). Tickets ($20 per episode) are available now through Ticket Rocket.
Complete lineup below and performer bios here.
Finally!  Fierce, funny female comics get their chance to shine! She Kills Me is an exciting new series of 13 half-hour comedy shows featuring some of the funniest female comedians in Canada presenting their own original material.

Each episode features two funny women (one Aboriginal and one non-Aboriginal) doing approximately ten minutes each.  The performances are paired in complementary themes or genres.

In the tradition of series comedy specials like Comedy Now, Comedy at Club 54, and Just For Laughs Presents, which have proven to be long-running audience favourites, She Kills Me is aimed at a general audience.

Created by Kirsten Van Ritzen, and produced and directed by Ian Ferguson and Leslie Bland, She Kills Me is licensed by APTN for first window broadcast.
Wednesday Feb 13 (7pm & 9:30pm)
Sharon Shorty
Heather Witherden
J. McLaughlin
Camiel Pell
Sandra Bonner-Pederson
Kirsten Van Ritzen
Thursday Feb 14 (7pm & 9:30pm)
Nicolle Nattrass and Erin Ormond
Sharon Mahoney
Ana de Lara
Shelly Suzuki
Lena Recollet
Christie Anderson
Kirsten Van Ritzen
Friday Feb 15 (7pm & 9:30pm)
Zandra Bell
Romina Miranda
Carolyn Mark
Karen Brelsford
Columpa Bobb
Kirsten Van Ritzen
Saturday Feb 16 (7 pm)
Beverley Elliott and Linda Kidder
Melanie Rose
Cara Lytwyn
Dawn-Marie Dumont
Kirsten Van Ritzen
Saturday Feb 16 (9:30 pm)
Melanie Rose
Cara Lytwyn
Dawn-Marie Dumont
Kirsten Van Ritzen

Sunday Feb 17 (4:30 & 7pm)
Carilynn Nicholson
Katie-Ellen Humphries
Rosie Bitts
Janet-Marie Rogers
Kirsten Van Ritzen
Popular local comic Morgan Cranny (Atomic Vaudeville, the Derwin Blanshard Show, Sin City and more) will warm up the audience.